'In Banbridge Town in the County Down 
One morning last July, 
From a boreen green came a sweet colleen, 
And she smiled as she passed me by.'
What is absolutely, positively true about Greer Garson is that she was born Eileen Evelyn Greer Garson to George and Nina Garson. From the beginning of her acting career until her death in 1996, she maintained her birthplace was Belfast in the year of 1908.
When her birth certificate was unearthed many decades later, it seemed she was actually born in London in 1904. No matter, Google and search engines lay far, far in the future and with that halo of red-gold hair and green eyes, who could deny she was Irish? And ageless?
She did spend all her summers in her grandparents' farm in Castlewellan, County, Down, the happiest days of her childhood: "I longed for the summer months when back in Ireland to …the sweet green countryside… where I ran barefoot like a ragamuffin."
Young Greer began dreaming of being a writer, her first poem was an ode to Ireland "The Siren," opening with "I remember playing under blue skies in County Down…" He father died when she was very young, and she and her mother formed an intense, lifelong bond. Mother was Greer's best friend, forever roommate, manager and frequent date. She shared her dream of becoming an actress with Mother and both knew it had to remain a secret – Granny was too puritanical and too, well, Presbyterian to stand for anything reeking of show biz. Instead Greer went to University then graduate school and after graduation, worked in advertising. One of her co-workers was the usually snide George Sanders who was besotted with "the gorgeous redhead and her brilliant conversation."
More than a beauty, she radiated grace and charisma and with Granny firmly in her grave, she began meeting with casting agents. They knew she worked in advertising, and all dismissed her as "too brainy," "too ladylike," appalled, noting she was "a businesswoman with a BA too!" But the Birmingham Repertory Theatre saw something and hired her as a contract player.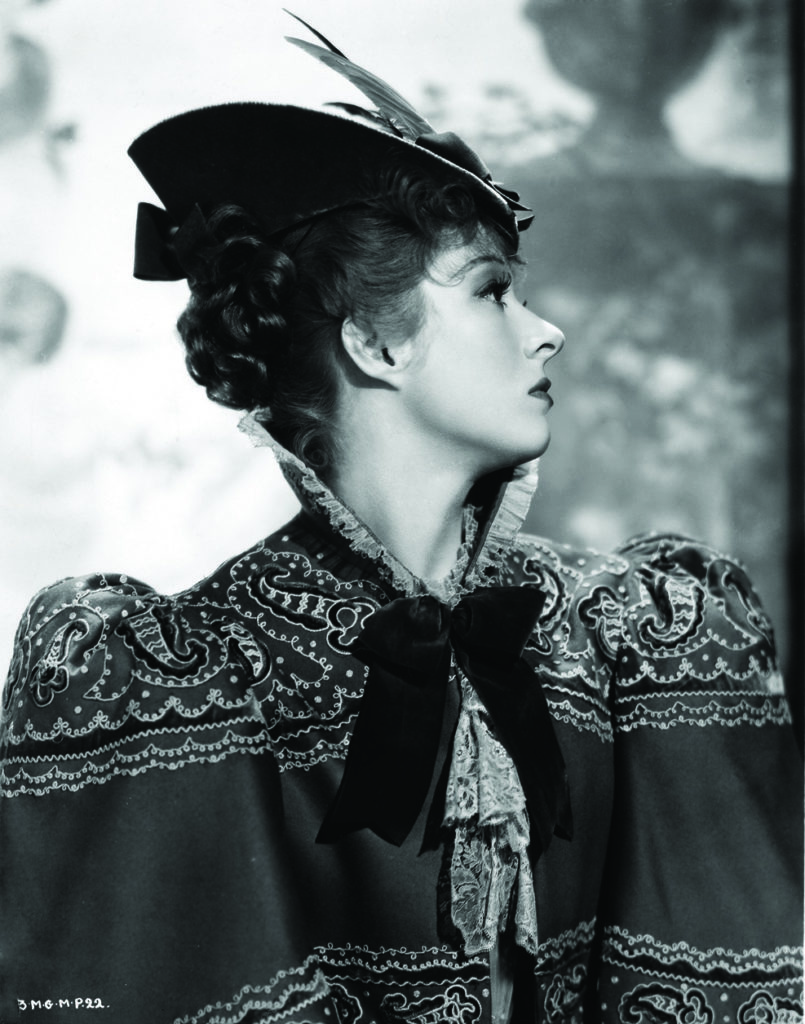 She was a hit at the Rep. and in her second season, fell in love with another player and gushed to Mother about him. Mother, Granny Redux, was horrified (an actor!) and recruited an old admirer of Greer's, Alec Snelson. Snelson began bombarding Greer with letters oversharing about his accomplishments, his promising career in foreign service, his future as a judge in India. Finally, he announced he was coming to London on leave: they were getting married even though they hadn't seen each other in 10 years and even though she kept turning him down. But after her chronic ill health forced her to miss too many performances, the Birmingham Rep. let her go. Snelson saw his opening, rushed in and convinced the sickly, downhearted, 26-year-old (read 30) Greer to marry him. She did and soon realized her blunder – he was a fatuous humbug who reneged on his promise that she could continue her career, he wanted to confine her acting to Officers Wives' Theatrics – she left him five days after the honeymoon.
He waited for her in India, but she stood him up and then, in time, just forgot about him.
Staying in London, she landed the leading role in a play directed and starring Laurence Olivier, the two had a brief romance and stayed lifelong friends.
More plays with Olivier followed and he got her an audition with Noël Coward, who humiliated Greer. He called her "too piss-elegant," "too mannered" and the deadliest slur of all, "too old." But he added "that woman's hair would set every line I write on fire." She got the part. And Coward taught her to modulate her voice and tone down her mannerisms – he made her ready for Hollywood. Hollywood came in the form of Louis B. Mayer, the head of MGM, Hollywood's biggest studio. Mayer was trolling for talent in London's West End and saw Greer in "Old Music," went backstage to ask her (and her mother) to dinner. He loved everything about Greer – her beauty, poise, voice and, always a mother-fancier, her mother.
Accompanying Mayer was Head of Casting (and its couch), Benny Thau, who referring to her unsuccessful screen test, promised Greer, "We can do wonders with your face."(It seemed her nose cast a shadow on her face, a dilemma MGM's plastic surgeons, the best in the business, would soon solve.)
Together they convinced Greer and Mother to go to sunny California … and MGM.
In December 1937, a squib in The Hollywood Reporter announced, "An Irish actor named Mr. Greer Garson had signed a contract with MGM," hardly an auspicious welcome to Tinseltown.
The following year, 1938, was, according to Greer, "the most difficult and unhappiest year of my life," starting with Greer's imperious dictum to Mr. Mayer: she only wanted leading, not supporting roles, an attitude considered haughty (it was) especially since, saving a few failed screen tests, she had never been behind a camera. MGM didn't know what to do with her, no scripts came her way, and they were about to cancel her contract.
She was through with them too, ready to go back to London and the stage but Mother (now something of a California gal) and the priapic Benny Thau (now something of a boyfriend) pleaded with her to stay. Then along came a shy scholar. James Hilton's Goodbye Mr. Chips was a novella about a boarding schoolteacher, a bachelor, who is transformed by his happy marriage to a loving woman, Catherine. She brings radiance into his and his students' world. The role was perfect for Greer, but she hesitated, her character dies in the first act.
Luckily, she remembered she was on the verge of being sacked, took the role and triumphed…she was on her way to being an international star. The tiny part even landed her an Oscar nomination for Best Actress of 1939, the year still the most celebrated year in American film history. Her new celebrity forced Greer to deal with Snelson, the hubby, the judge in the Raj who, for reasons known only to the British Empire, was now Sir Snelson. In 1940, Greer brought divorce charges against him, claiming among other charges, he had a violent temper and was often jealous. Worst of all, Sir Snelson was so cheap, "I think he would have washed my personal underwear to save money."
She was awarded the divorce. More film roles followed including the 1940's Pride and Prejudice where she played a 20-yearold (!) Elizabeth Bennet opposite Olivier, her old beau.
Next began her collaboration with her longtime acting partner, Walter Pidgeon, in the successful weepie, Blossoms in the Dust. In the meantime, Greer was earning a reputation as the most intelligent, educated, witty woman in Hollywood, a lady who hosted tea (Mother by her side) at 4:00 PM daily. All this earned Greer the eternal enmity of a feral Joan Crawford who sensed, correctly, she was being usurped by a new rival, the hoity-toity Miss Garson. When Greer received an Oscar nomination for Blossoms in the Dust, Joan left MGM in a huff.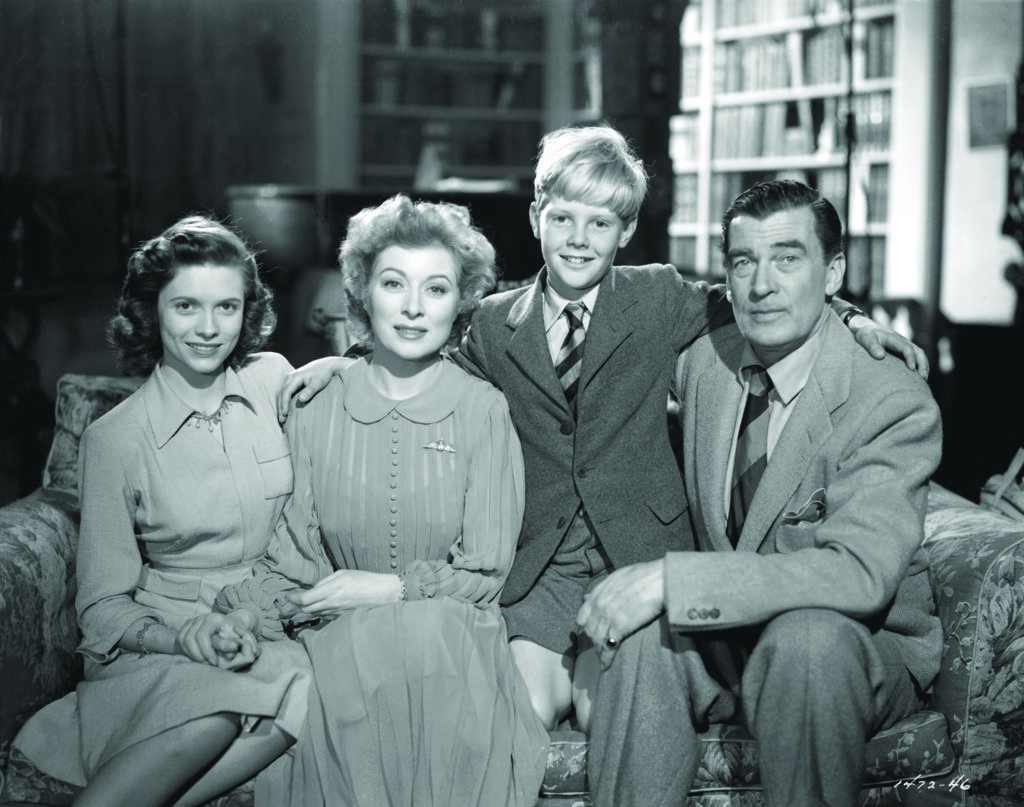 Next was the film that defined Greer as a screen legend, the title role in Mrs. Miniver, a story of the Battle of Britain when England stood alone facing the Nazis. Mrs. Miniver is the anchor of her family in perilous times "brave, gallant, maternal." One oddity in the narrative was the ages of the children: the Minivers had three children aged 22, 7 and 4, a formidable age gap between oldest and youngest but who was counting? Apparently, nobody. Odder still was director William Wyler's insistence that Greer not use aging makeup or padding to play the mother of a college student. In Greer Years, she was 37 but in Hollywood Years she clocked in at 33 and both ages too young to have a 22-year-old son. No matter, Wyler said she was "timeless," and he was right.
She became a hero to Churchill who said Mrs. Miniver had done more for the war effort "than a flotilla of destroyers." FDR believed the film's success had a profound impact on American sympathy towards British and even the Queen weighed in, telling Greer she "made us feel braver than we actually were."
Accepting the Oscar, Greer uncharacteristically bloviated, setting the record for the longest acceptance speech ever. Estimates on the speech varied from 5 to 9 minutes and forced the Academy to limit all acceptance speech to 45 seconds.
Undiminished, Greer went on to receive six more nominations. In 1943, a group photograph of MGM's stars, "More Stars than there are in the Heavens" taken for the studio's 20th anniversary, Greer, the "Queen of MGM" was sitting at the right hand of Louis B. Mayer. In 1944, a Gallop Poll named her "The World's Most Popular Movie Star" and she had the biggest dressing room in the very swanky section, "Star's Row."
In 1943, the "Year of Greer", she starred in the classic Random Harvest, the favorite of her films, and still a favorite on TCM. She showed off, for the first time, her shapely gams, an event heralded by MGM's publicity department, "the red-headed Irish star's lower extremities will be in a spirited highkicking song-and-dance number."
During the filming there was a frequent visitor to the set, her "son" from Mrs. Miniver, Richard Ney, and word spread that Greer, who always spent evenings home with Mother, was now nightclubbing away with Ney. Greer's fans were horrified, the scandal of dignified Greer foxtrotting with her screen son, an actor 11 years younger (make that 15 years younger). One magazine wrote "it's the common belief of all mankind that the man should be as old or older than the woman."
Mother, who pushed the dreadful Snelson on Greer, disapproved too but managed to keep her opinion to herself. The couple "defied the common belief of all mankind" and married in 1943 and the bride unabashedly told reporters she wanted to marry Ney because he made her feel younger.
However scandalized her marriage to Ney, the public was happy to have her back as a woman of courage and nobility, with Walter Pidgeon ("My Prize Pigeon") by her side, in Madame Curie and Mrs. Parkington. She followed with a major hit, Valley of Decision, playing to type (sort of), a young Irish maid with a brogue and singing Irish ballads. Her co-star, Gregory Peck adored her and always claimed, and many others would agree, Greer had the potential to be a great comedienne.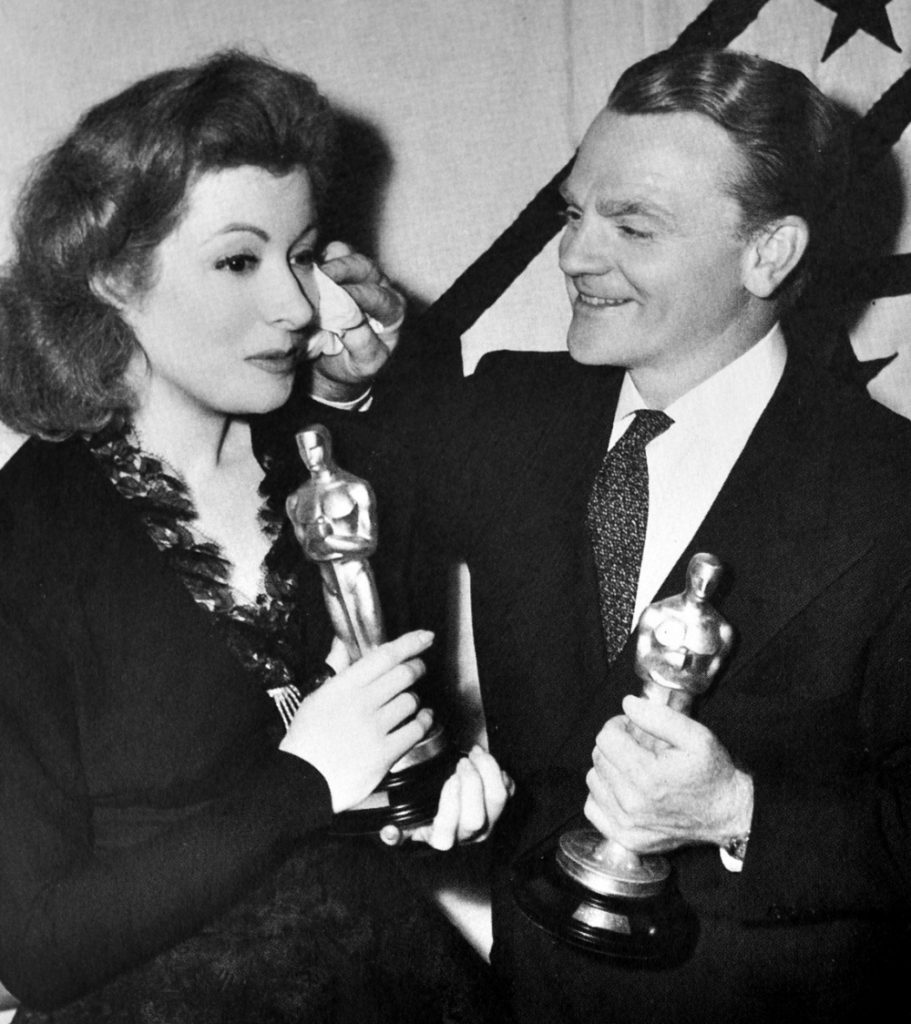 The next films weren't such happy affairs and Greer was beginning to slip off her pedestal. Adventure, MGM's welcome back to Clark Gable ('Gable's back and Garson's got him') was an unhappy affair, the co-stars didn't like each other, and their scenes together showed it. He read her inherent dignity as snooty, she read his crudeness as…crudeness.
The reviews were awful, Bosley Crowther in the TIMES called it "embarrassingly foolish…a deplorable exploitation of the star 'system.'"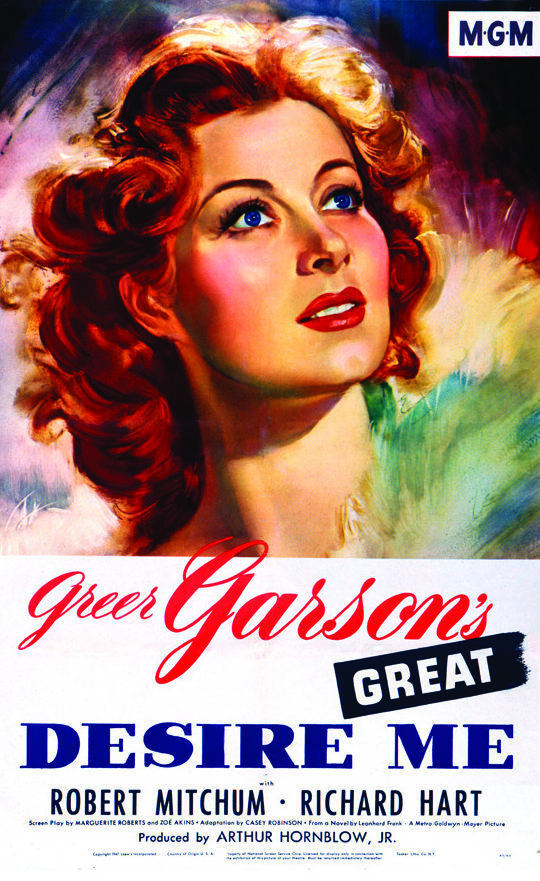 Things went from bad to worse, her next picture Desire Me was an unqualified turkey, so bad no director or writer would claim a credit. Greer couldn't stomach Robert Mitchum's bad breath and he couldn't stomach Greer Garson. (He claimed she took 125 takes to say "No.") Worse, she almost was killed while shooting a swimming scene, a giant wave washed over her and dragged to a rocky promontory. She would have been swept to sea if a fisherman hadn't saved her. She suffered physical injuries and PTSD falling into a withdrawn state. Greer knew the moment Desire Me was released, her career would be seriously damaged.
War over, Richard Ney returned from the navy and soon realized his principal identity would always be as "Greer Garson's husband." His career stalled, he was jealous of his wife's success while at the same time, resentful of his wife's depression, and he hated his mother-in-law who lived just across the hall. In their 1947 divorce hearing Greer testified Ney had taunted her, calling her an "old has-been" (ouch), claimed her "career was finished" and once kicked in the door to her bathroom (while she was in it). She left the stand in tears and next day's headlines were treacle like "Mrs. Miniver's Heartbreak." Le tout Hollywood turned on the despised Ney who hightailed it to New York and a career as an investment advisor and millionaire.
In the 1950's Mayer was booted out and Greer's forte, Women's Pictures, had fallen out of fashion; Garson suffered through a string of lackluster box-office disappointments.
She had begun using strong lights and diffusion lenses, the aging screen performers trick. But none of it really matter – she had been rescued by a hero, a flesh and blood hero, not a celluloid one.
If ever a Hollywood star's life had a "Hollywood Ending" it was Greer Garson's. On a visit to Hollywood in 1948, Peter Lawford introduced Greer to Dallas oilman and rancher, Buddy Fogelson. They hit it off, married two years later and, proving three times a charm, lived happily ever after. Buddy was the owner of the 13,000-acres Forked Lightning Ranch along Santa Fe's Pecos River. Greer took to ranching immediately and the couple raised cattle and trained thoroughbreds. Mrs. Miniver was now a New Mexico cattle woman who wrote articles for the Beef Breeder Gazette.
She loved every minute of her new life. Besides the massive ranch, the couple had homes in Dallas and Los Angeles. There was, of course, a place in every residence for Mother who got along famously with her new son-in-law until her death in 1958. Greer and Buddy were noted philanthropists giving to hospitals, universities, the arts, and state parks. She even managed to return to the stage in a few plays and made her film comeback as Eleanor Roosevelt in Sunrise at Campobello which brought her a 7th Oscar nomination.
After Buddy died in 1987, Greer's health worsened and she spent her final years in a penthouse suite at the Presbyterian hospital in Dallas, lovingly tended to by the staff. She died on April 6, 1996, having lived a seemingly charmed life. Especially considering her actual birth certificate didn't emerge until right after her death. She never found out the jig was up.
*All photos courtesy Photofest.com