Mick Moloney, the folklorist, tenor banjo player, songster, wit, and raconteur offers a tour of Ireland to end all tours.
On both sides of the Atlantic, Mick Moloney is known for his expressive traditional singing and tenor banjo playing dexterity, and he performs widely with Derry fiddler Eugene O'Donnell and set dancing champion Regan Wick, and with the touring ensemble The Green Fields of America. Since Mick emigrated from Limerick to Philadelphia in 1973, he has been recognized for the remarkable output of his contributions to the revival of Irish traditional music in America — producing or playing on over 40 albums, working on documentary films, organizing Irish music festivals, concert tours, and instructional music workshops all over the U.S. And with all of this — while gigging from Alaska to Quebec, Toronto to Tarpon Springs, Florida, to Nicaragua, Senegal and the Congo! — he obtained a doctorate in folklore and folklife from the University of Pennsylvania (one of the institutes at which he teaches), and lectures widely on an exhausting range of Irish cultural topics.
Becoming a "tour operator" and guide is the very last thing Mick ever imagined doing. ("Risking name and reputation by bringing busloads of Yanks into Lena Hanrahan's pub in Feakle?!" Mick said to me with a smirk of self amazement. "Taking strangers on a guided tour of my hometown?!!") But Irish Folklore Tours is a logical focus and outlet for Mick's love of Ireland and its traditional culture, and his prolific scholarship, abundant performing and teaching talents, patience, and wit. Given the extraordinary demands of the job, ("They have me body and soul 18 hours a day for ten days. It's a non-stop performance!") Mick plans to conduct four tours a year between May and September, with four different itineraries starting in Shannon and ending up in Dublin.
Last summer's northern tour wound northward from Clare through Galway, Mayo, Sligo, Donegal, and southeast through Fermanagh, Tyrone, Meath and Dublin. It featured Clare tin whistle player Micho Russell, ghost stories of Leaminagh Castle, the rocks of Connemara, passage graves, ring forts, holy wells, Donegal thatcher Jimmy Carr, Saint Columcille, a host of great singers and musicians, the Ulster History Museum, visits to the geographical settings of famous poems and songs — and much more. The southern itinerary wound south from Clare through Limerick, Kerry, Cork, and Tipperary, through Waterford, Wexford, and up to Wicklow and Dublin, featuring beehive huts, the lakes of Killarney, Liam Clancy and miscellaneous other entertainers and attractions.
You are enlightened and entertained daily and nightly by our tour guide Mick and his in vitro team of local specialists: brilliant archaeologists Mick Gibbons and Paddy O'Leary, astute cultural geographer Jack Burchaell, sagacious historians Sean Spellacy and Colin Rynne, dynamic dancing masters Dan O'Connell, Timmy the Brit, and Johnny and Deirdre Morrissey, masterful storytellers Eddie Lenihan and Batt Burns, colorful singers Jimmy Crowley and Frank Harte, and distinguished poet Michael Coady.
Your nervous system, intellect, imagination, musical ear, thigh muscles and whimsy bone are so phenomenally over-stimulated that you feel like you've crammed a whole lifetime into one week. And just when you feel your brain cannot stash another fact, Doctor Moloney tests your retention and Irish trivia quotient with a 60-question quiz (What are crannogs? In what town were the Clancy brothers born?) — with prizes of Sligo fiddler Michael Coleman CDs for the winners.
It was such a monumentally memorable and eventful trip, the only postcards I sent home were ones I dashed out from Bewley's Cafe in Dublin on a rainy day after it was over. Here are the jumbo REAL IRELAND postcards I would have written, if I hadn't been busy crawling under megalithic dolmens to snap photos, checking out the archaeological excavations at King John's Castle in Limerick, enjoying languorous hot baths in our four-star hotels, learning to dance Plain sets at the GAA Club in Terenure, daydreaming about the Bronze Age dwellers of smoky stone huts in Craggaunowen, getting to know my lively travel companions, and generally exhausting my senses…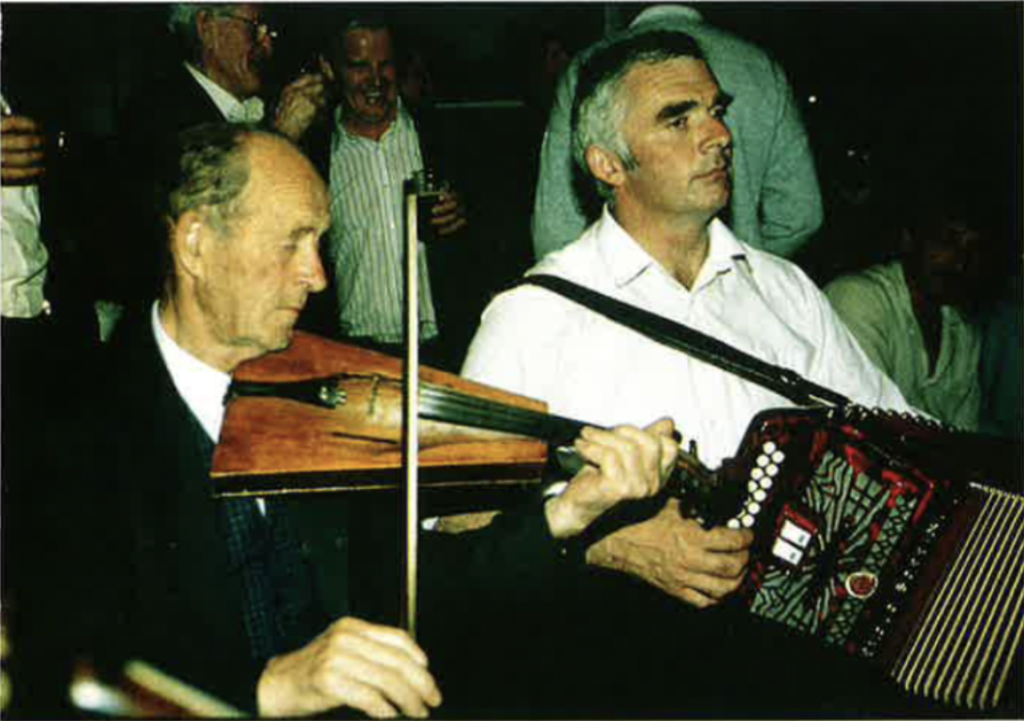 Months after the trip, the visuals and soundtrack are still rolling in my head. The fiddle tunes of Ed Reavey as we rounded the Devil's Elbow, and cheered at Willie to drive it all over again — backwards! Peter Berry from Seattle serenading us at breakfast at Morrison's Island Hotel with his new traditional wirestrung harp made in Kenmare from black sally, alder and 2,000-year-old bog pine. Walking in the drizzle around thatched medieval farmsteads in South Kilkenny, the biting wind that blew over Vinegar Hill, twilight with brooding Celtic crosses at Glendalough, and Dan the postman McCarthy, who brought a U.S. postman's uniform all the way from Redlands, California to give to the very first Irish letter carrier he saw. And how one day Dan showed up proud-as-you-please wearing an Irish letter carrier's uniform.
And then there was that madcap raid at Mooney's. Liam Clancy ducked out the back door, leaving the rest of us, 33 Yanks of varying ages and occupations, hailing from Alaska to Florida, with our invincible tour guide, to be "found on" the premises after hours. We stood there facing the local Waterford gardai, gripping full pints, fiddles, mandolins and whistles, our pockets stuffed with magic crystal from Skellig Michael and crumbs of Great Blasket Island earth, our legs broken in by romping over bogs to see beehive clochans and learning to dance Kerry sets at Dan O'Connell's in Knocknagree. As the gardai stared us down, we scrambled out without a whimper, we piled into the bus and drove off into the night crooning "My Irish Molly." Having had a taste of such wonderful craic is it any wonder that 15 of last year's tour are set to do it all over again this year.