"40 Shades of Green" Back by Popular Demand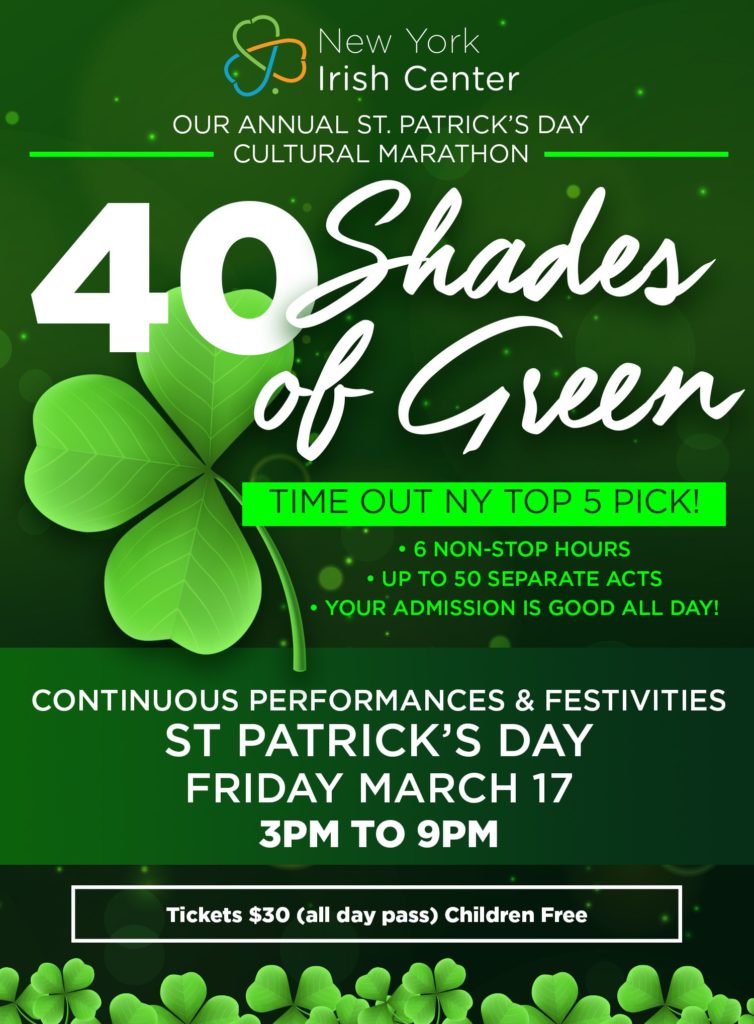 Time Out New York's #2 Top St. Patrick's Day activity "40 Shades of Green" is back at the New York Irish Center by popular demand. Click here to get your tickets today!
Kicking off at 3 pm through 9 pm, a sensational cast of 40 local and international performers, artists, and personalities will take the stage for its second annual Celtic Cultural Cabaret for six hours of celebration, sponsored by Tourism Ireland.
Individual tickets are $30, with admission valid for the entire six-hour Cabaret. Children under 12 are admitted for free.
This year's emcees include Amy Brett, Fiona Walsh, and George C. Heslin, the Executive Director of the New York Irish Center.
Performers set to take the stage are: Donie Carroll (performing with the Comhaltas youth group), Connor Delves, Molly Downs, Rob Dunne, Gigi Eugenia, Gregory Harrington, Cathy Maguire, Peter Maguire, among many more!
The New York Irish Center, the hub of Irish culture and community enrichment in the Big Apple, is located at 1040 Jackson Avenue in Long Island City – just seven minutes (one stop) on the 7 train from Grand Central Station.
Visit the newyorkirishcenter.org for updates.
"Paddy Irishman" Exhibit Debuts in New York City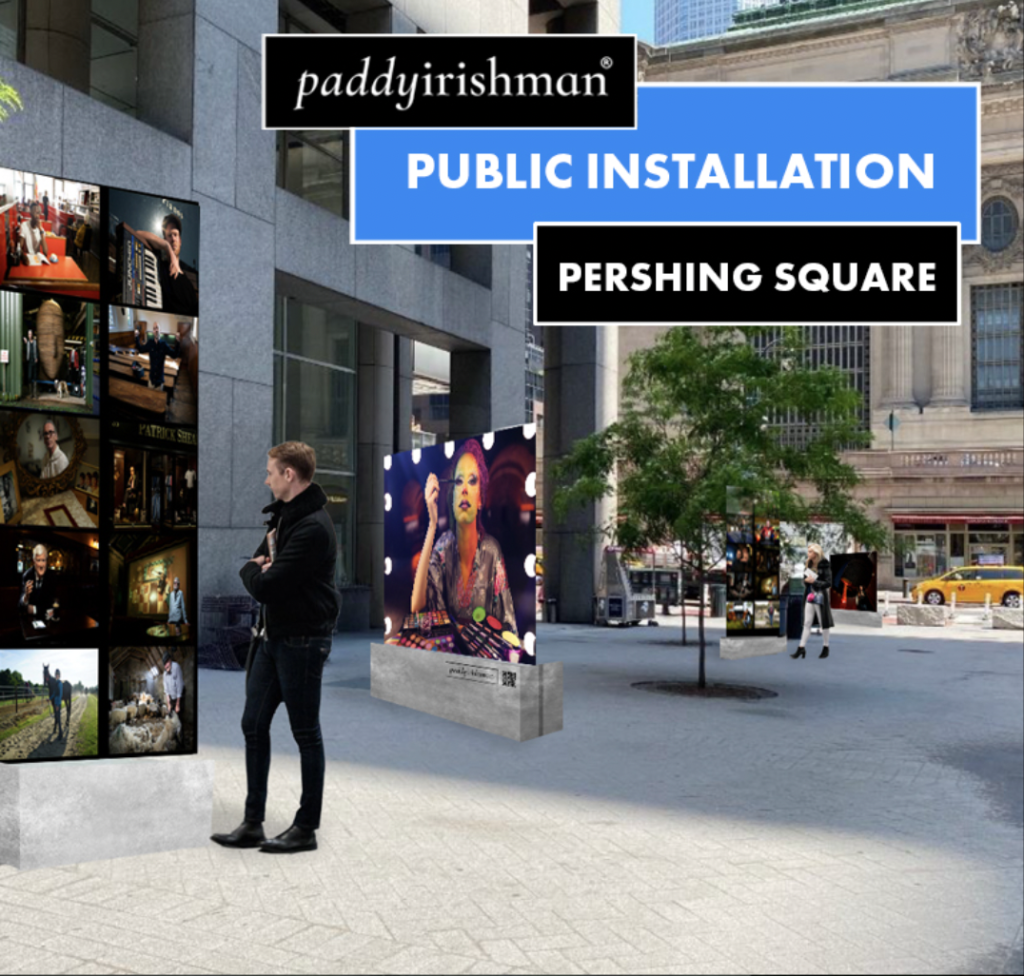 A unique, large-scale photo exhibit called "Paddy Irishman" will be unveiled in Manhattan just in time for St. Patrick's Day.
The free "Paddy Irishman" exhibit premieres at the immersive technology space Lume Studios in the Tribeca neighborhood of Manhattan on Tuesday, March 14, from 12 pm to 9 pm, and an outdoor debut in Pershing Square from Wednesday, March 15 through 22.
"Paddy Irishman", a photographic collection by award-winning cinematographer and photographer Ross O'Callaghan, shows 50 men named Paddy breaking through the offensive stereotype forced upon Irishmen for centuries. Each photograph in the exhibit debunks the Paddy Irishman cliché by depicting individuals of different ages, backgrounds, ethnicities, and sexualities in large-scale photographs, paired with candid audio reflections from the subjects detailing their lives and modern Irish experience.
Some of O'Callaghan's subjects include comedian and TV personality Patrick Kielty, double bronze Olympic boxer Paddy Barnes, and miscarriage-of-justice survivor Paddy Hill of the Birmingham Six.
Paddy Irishman will also be at the New York Irish Center in Queens from April 12 through 19 as part of the 25th anniversary of the Good Friday Agreement.
Sober St. Patrick's Day® to Honor Congressman Kennedy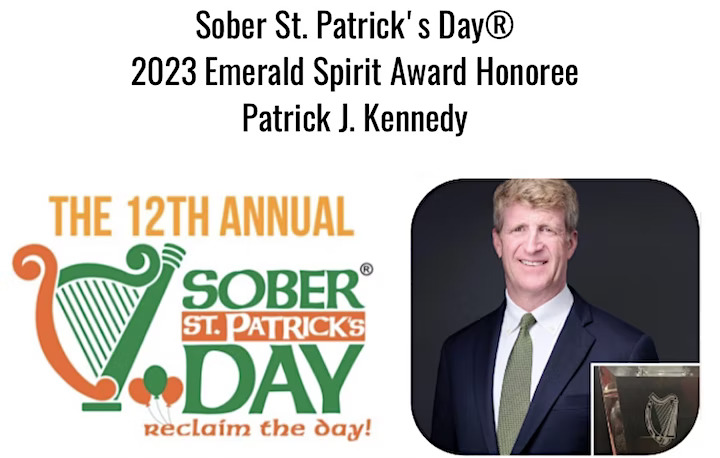 New York's favorite alcohol-free St. Patrick's Day event, Sober St. Patrick's Day®, is returning to Fifth Avenue for its 12th annual celebration and to march in its second parade. RSVP and get your tickets here!
Sober St. Patrick's Day® festivities kick off at 11am on Friday, March 17, with the new Pre-Parade Emerald Spirit Award Reception in the undercroft of the Church of Our Saviour (Park Ave. & E 38th St.) to honor former Irish American Congressman Patrick J. Kennedy for his policies and advocacy for substance and alcohol abuse awareness.
At 2 pm, the group will head to Fifth Avenue to march in the latter end of the historic St. Patrick's Day parade. All are welcome to join.
Following the parade march, Sober St. Patrick's Day will head back to the Church of Our Saviour undercroft for an evening of family-friendly, alcohol-free activities are in store for attendees from 5-7 pm.
The program includes Irish music, Féis, storytelling, literature, and refreshments with All-Ireland Champions, award-winning Irish Dancers, including 7-Time All Ireland Champion Button Accordionist John Whelan; Brian Conway, 5-Time All Ireland Champion Fiddler; award-winning step dancers with the Donny Golden School of Irish Dance; Co. Cork-based Douglas Comhaltas Youth Group; singer, guitarist, recording artist and philanthropist Donie Carroll; Jerry O'Sullivan, America's leading Uilleann Piper; keyboard player Brendan Dolan; and singers Liz Simmons and Flynn Cohen, who also play guitar and mandolin.
General admission tickets start at $35.
Sober St. Patrick's Day® is a unique organization whose mission is to "reclaim the true spirit of St. Patrick's Day by changing the perception and experience from an occasion for binge drinking and other misuse of alcohol to a celebration of the richness of Irish culture and the legacy of St. Patrick."
For more information on Sober St. Patrick's Day and to reclaim your day sans alcohol, visit https://www.soberstpatricksday.org/.
Irish-Jewish St. Patrick's Day Shabbat Dinner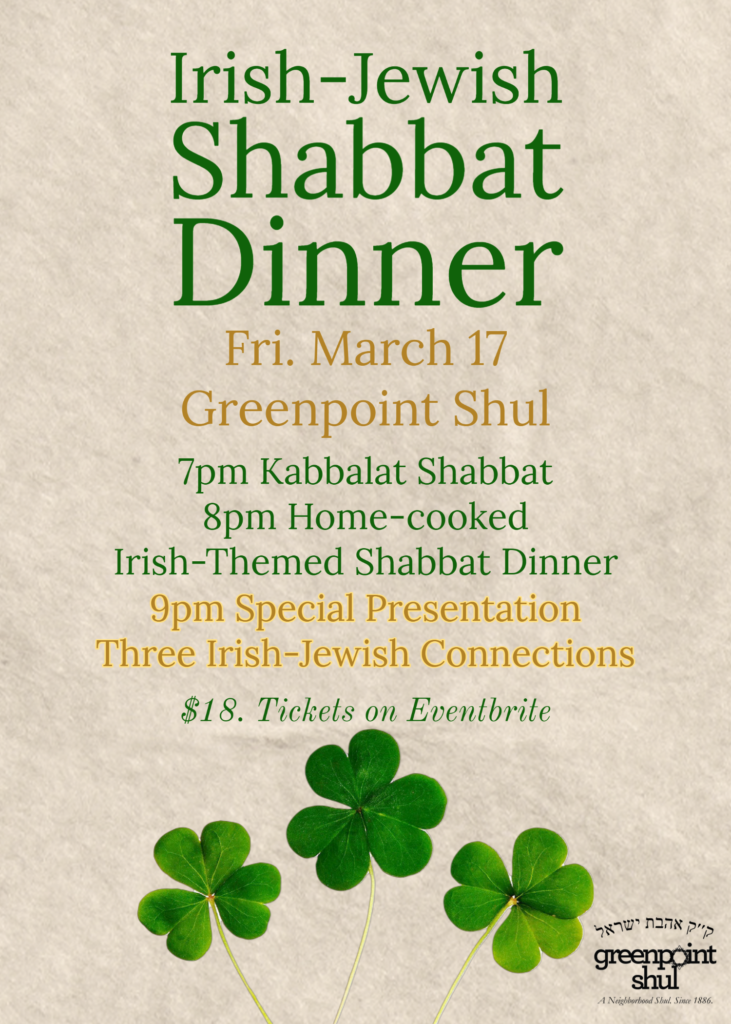 Greenpoint Shul on Noble St. in Brooklyn is hosting an Irish-themed Shabbat dinner on St. Patrick's Day to celebrate three meaningful historical connections between Irish-Jewish communities, and of course, Irish cooking.
The evening starts with Kabbalat Shabbat service (meaning receiving the Sabbath) with candles, prayers, and blessings at 7 pm, followed by a home-cooked Irish Shabbat dinner with homemade corned beef, Irish soda Challah bread, and Guinness aplenty at 8 pm.
At 9 pm, the "Three Irish-Jewish Connections" special presentation will be hosted by Dr. Christine Kinealy, a respected authority on Irish history, author, and founding director of Ireland's Great Hunger Institute at Quinnipiac University; Turlough McConnell, President & CEO of Ireland on America Communications and Chairman of Ireland's Great Hunger Board; and Peter Murphy, noted researcher of Irish history and the author of several works, including, Poor, Ignorant Children: Irish Famine Orphans In Saint John, New Brunswick.
"Three Irish-Jewish Connections" presentation shows three chapters in the fascinating history between the Irish and Jewish peoples:
The international Jewish community providing aid during Ireland's Great Hunger,
The robust and proud relationship between Ireland and the Jewish community as shown by former Irish President Mary McAleese during her visit to Congregation Shearith Israel in Manhattan,
The large community of Jews that escaped Austria during WW2 and found refuge in Northern Ireland.
The Irish-Jewish Connection Shabbat Dinner is open to all interested, with tickets starting at $18 and sponsorship opportunities ranging from $72-360. For tickets and event information, click here.
Cross-Border Orchestra of Ireland at Carnegie Hall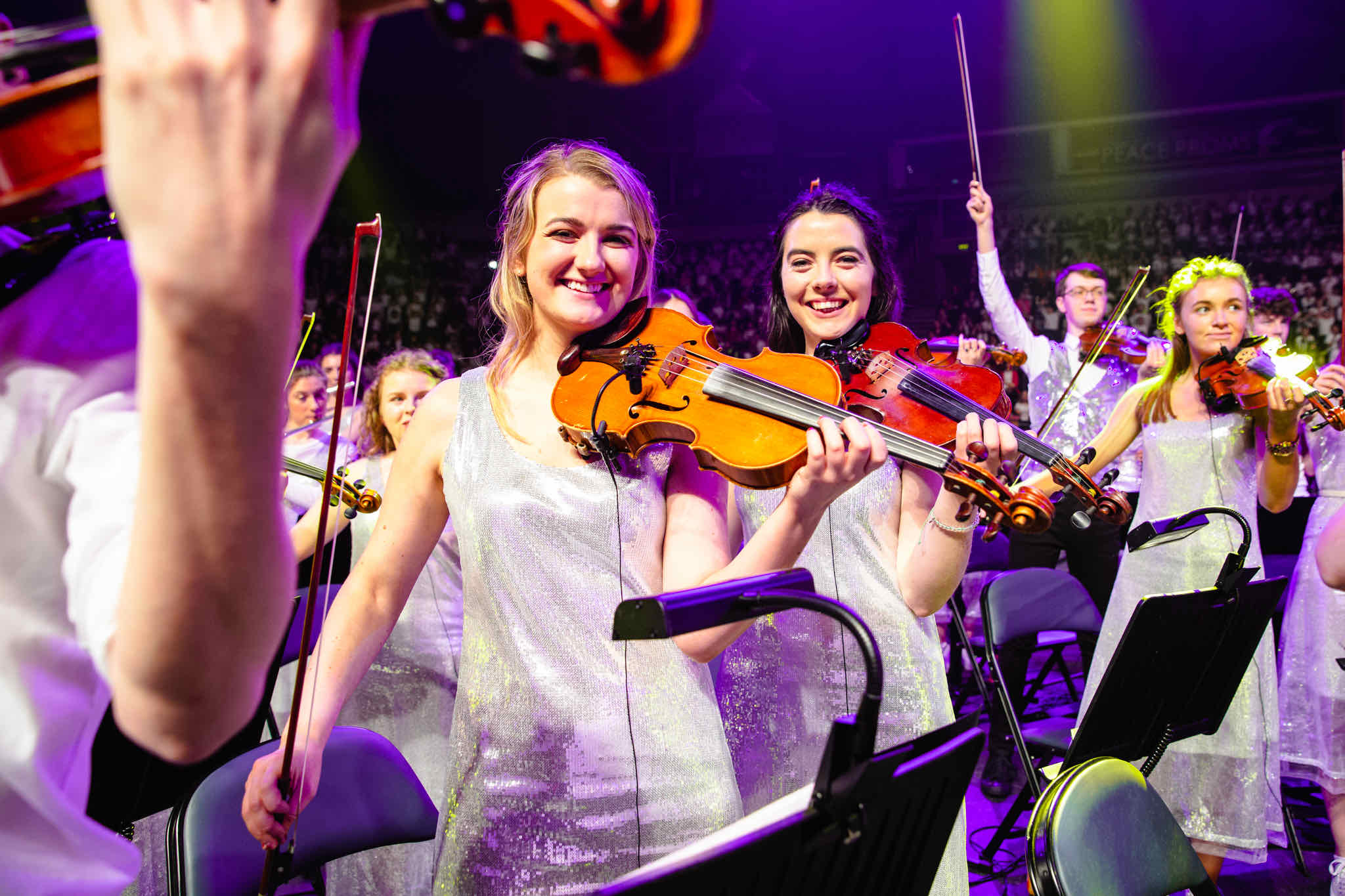 This St. Patrick's Day, Ireland's acclaimed youth orchestra, the Cross Border Orchestra of Ireland (CBOI), will present their finale show 'Ancora' at the Stern Auditorium/Perelman Stage at Carnegie Hall at 7 pm. Get your tickets here!
This year's tour commemorates the 25th anniversary of the Good Friday Agreement as well as the orchestra's own 28th anniversary. The orchestra, led by Sharon Treacy-Dunne, grew out of the Peace Agreement process.
Played by young musicians aged 14 to 24 from Ireland and Northern Ireland, the orchestra is a unique blend of symphonic Celtic instruments like the Uilleann pipes, bodhrán, harp, fiddle, and Ulster Scot bagpipes.
Led by the orchestra's charismatic conductor Greg Beardsell, "Ancora," features guest artists Lauren Murphy (the award-winning vocalist and songwriter) appearing as guest soloist; the all-Ireland champion Uilleann Piper Conal Duffy, and world champion Highland Piper Grahame Harris. Richie Dunne (principal violin) is the orchestra leader. Also traveling with the 140-player orchestra are the Ulster Scots Dancers from the Michelle Johnston School of Dance in Belfast.
Formed as part of the peace initiative process in 1995, the Cross Border Orchestra of Ireland (CBOI) brings together young people of all religious and ethnic backgrounds from all over Ireland to nurture vital cross-border and cross-community relations. Upwards of 35,000 children and youth in Ireland and Northern Ireland actively participate in their peace through music programs called Peace Proms annually.
The High Kings at the Empire State Building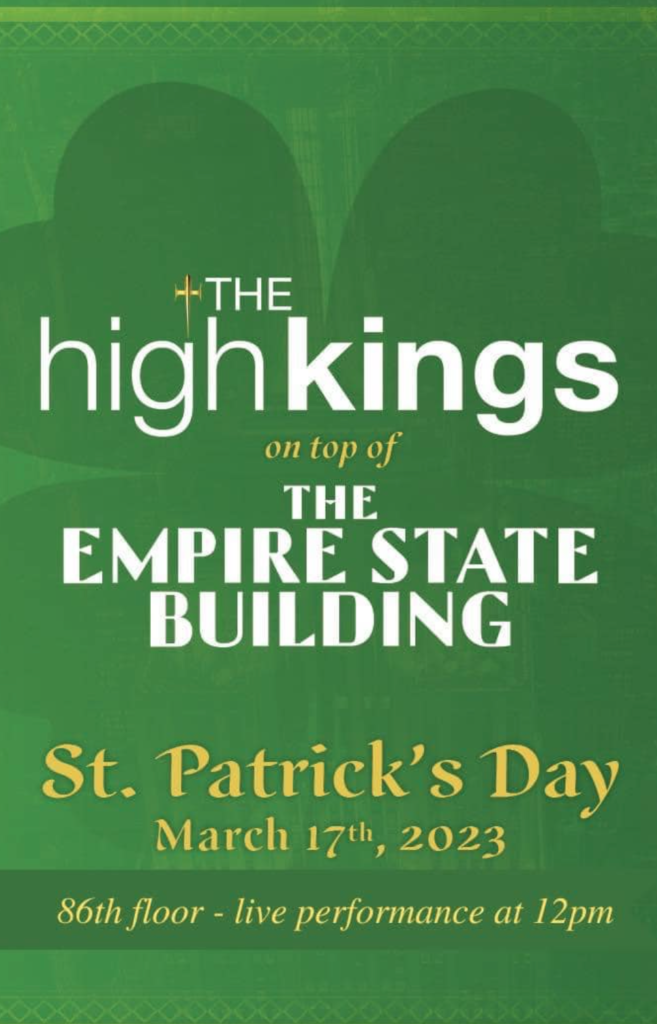 One of Ireland's top folk bands, The High Kings, are coming to New York!
At 12 pm on St. Patrick's day, the multi-platinum artists are giving an iconic performance on the 86th floor observation deck of the Empire State Building.
Get your tickets here while they last, or plan for their highly awaited show at the Tarrytown Music Hall in Westchester at 8 pm, just 45 minutes north of the Empire State Building by train.
St. Patrick's Day Parades Across New York
| Long Island | Date/Time | Parade Route |
| --- | --- | --- |
| Bayport Blue | Sun. March 12, 11:00 AM – 12:00 PM | Bayport to Blue Point along Montauk Hwy. |
| Huntington | Sun. March 12, 2:00 PM – 3:00 PM | New York Ave. & Main St. |
| Center Moriches | Sun. March 12, 2:00 PM – 3:00 PM | Main St. |
| Brentwood | Sat. March 18, 1:00 PM – TBD | Washington Ave. & Clarke St. |
| Hampton Bays | Sat. March 18 11:00 AM – 12:00 PM | Ponquogue Ave. to Montauk Hwy. |
| Patchogue | Sun. March 19 12:00 PM – 1:00 PM | Rt. 112 to West Ave. along Main St. |
| Glen Cove | Sun. March 19 1:00 PM – 2:00 PM | Forest Ave. to Glen St. |
| Wantagh | Sun. March 19, 2:00 PM – 3:00 PM | Wantagh Ave. to Triangle Park |
| Westchester | Date/Time | Parade Route |
| --- | --- | --- |
| Eastchester | Sun. March 12, 3:00 PM – 4:00 PM | Immaculate Conception School to White Plains Rd. |
| Yonkers | Sat. March 18, 1:00 PM – 2:00 PM | Along McLean Ave. (The Bronx & Yonkers) |
| Mamaroneck | Sun. March 19, 1:00 PM – 2:00 PM | Along Mamaroneck Ave. |
| Mt. Kisco | Sat. March 25, 1:00 PM – 2:00 PM | Main St. & South Moger Ave. |
| New York | Date/Time | Parade Route |
| --- | --- | --- |
| Throggs Neck, The Bronx | Sun. March 12, 12:00 PM – 1:00 PM | E. Tremont & Lafayette Ave. |
| Manhattan | Fri. March 17, 11:00 AM – 12:00 PM | Along Fifth Ave. |
| Park Slope, Brooklyn | Sun. March 19, 12:30 PM – TBD | Bartel Pritchard Sq. to Prospect Park W. |
| Northern New York | Date/Time | Parade Route |
| --- | --- | --- |
| Mahopac | Sun. March 12, 2:00 PM – 3:00 PM | Route 6: Mt. Hope Rd. |
| Goshen | Sun. March 12, 1:00 PM – 2:00 PM | Along Windermere Ave., Greenwood Lake |
| Kingston | Sun. March 12, 1:00 PM – 2:00 PM | Kingston Plaza |
| Pearl River | Sun. March 19, 1:00 PM – 2:00 PM | Pfizer parking lot to South Main St. |