In celebration of Irish-American Heritage Month, CIE Tours, the premier tour operator for guided vacations to Ireland, Britain and beyond is offering a "Go for the Green" flight promotion with airfare starting at $499 when travelers book a guided vacation or a Classic Itinerary self-drive tour of Ireland.
The limited time offer runs from March 1 through March 31, 2023, for travel through the end of 2023 with no blackout dates. Airfare savings are available from 85 U.S. gateways to Ireland and includes: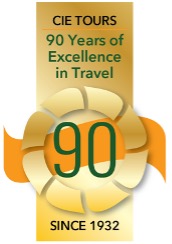 $499 from Boston, New York, Hartford, Cleveland, and Philadelphia.
$699* from 21 gateways including: 15 in the Northeast and Mid-Atlantic regions, Chicago, Los Angeles, Orlando, San Francisco, Seattle, and Washington-Dulles.
$899* from all other gateways.
Travelers can choose from 15 of CIE Tours' popular Ireland guided vacations or one of 10 pre-set itineraries to take as a self-drive tour. CIE Tours will roll out the green carpet for guests to explore the best of Ireland from iconic sites to hidden gems.
Travelers will find additional value in CIE Tours' All-In Inclusive Advantage whereby everything on the itinerary and most meals come included in the up-front price for guided tours. There are no hidden charges, add-ons, or fees for excursions on an itinerary, leaving more money in guests' pockets.
To qualify for the offer, travelers and travel advisors must book between March 1-31 by calling 800-243-8687 or via online chat. Visit the Website for full terms and conditions.
In 2013, two of Irish America's contributors had the opportunity to travel on CIE Tours Taste of Ireland tour which gave one traveler the opportunity to see Ireland in a different way and the other the opportunity to visit for the first time. Sheila Langan and Tara Dougherty shared their experience and photos with Irish America.
Travelers on CIE Tours consistently rate the tours and tour guides with five stars for the accommodations, history, and knowledge shared, and the experience of seeing the countryside.


About CIE Tours
CIE Tours is the premier tour operator for Ireland and Britain vacations, earning a reputation for excellence rooted in its signature Irish hospitality since 1932. The 2022 travel season marks 90 years of operation for the Morristown, New Jersey-based company during which it has taken more than three million travelers on the vacation of their dreams. Expertly crafted vacations to Ireland, Scotland, England, Wales, Iceland, and Italy suit every travel style and taste – from the camaraderie of coach tours and custom group travel to a variety of independent adventures, small group tours, and personalized private driver experiences.
CIE Tours knows how to take care of every detail and provides exclusive access, authentic experiences, and in-depth knowledge of each destination. Only CIE Tours offers the "All-In Inclusive Advantage" which guarantees that every experience and most meals are included, so there are never any hidden expenses. Above all, the genuine warmth and expertise of its guides and hosts shine through, with guest satisfaction ratings of 95%. For more information, visit www.cietours.com.