An Cailín Ciúin
An Cailín Ciúin/The Quiet Girl marks a watershed moment for Irish-language cinema.
Catherine Clinch is the quiet girl of the title and stars in virtually every scene. The 12-year-old came to the film via audition tapes sent in by pupils from Ireland's Gaelscoileanna.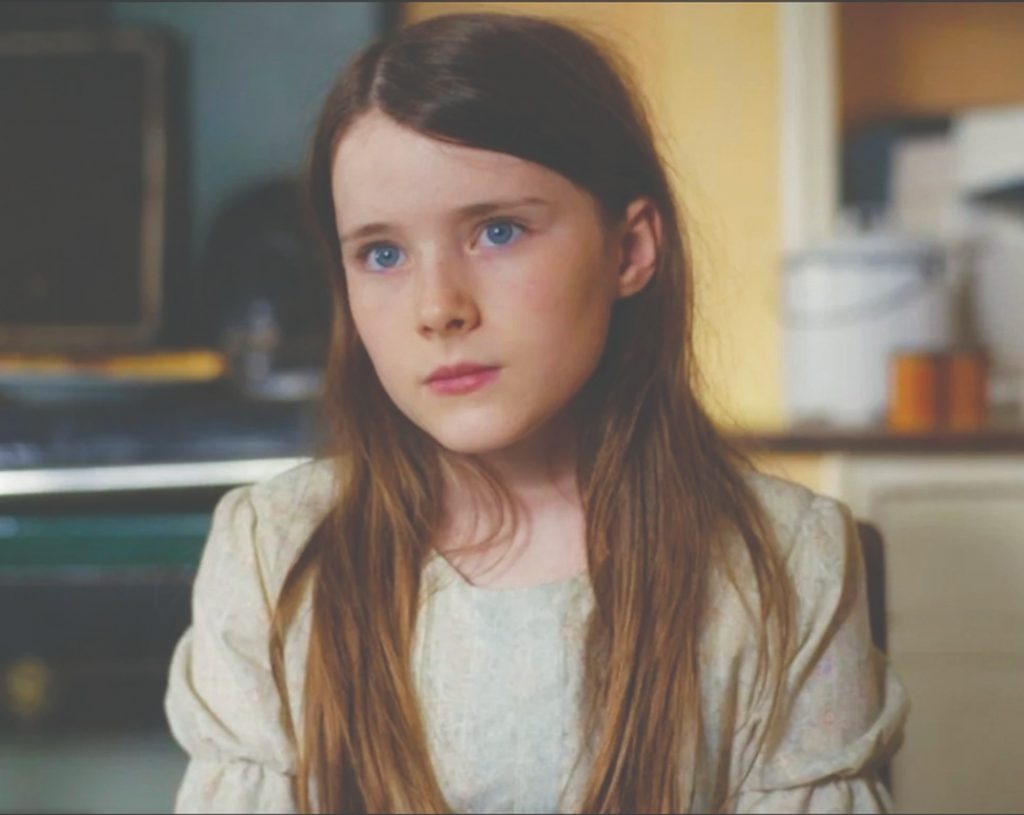 Gaelscoileanna are schools where children are taught through the medium of Irish. They are becoming increasingly popular as more and more parents realize they want their children to be able to speak Irish. In 1972, there were eleven primary and five secondary schools teaching through Irish in the Republic of Ireland. Today, there are 185 and 76 respectively.
There's a growth in popularity north of the border too. There are currently 35 Irish-language primary and five Irish-language secondary schools in Northern Ireland.
Irish has gained some unexpected proponents too, with Linda Ervine, the sister-in-law of the late unionist politician David Ervine, leading a project that aims to connect people from Protestant communities to their history with the Irish language.
Nach saibhir an oidhreacht í? (What a rich heritage we have?) Our music and our songs, our dance and our storytelling, our distinctive Hiberno-English and our ancient Irish language.
— By Sharon Ní Chonchúir
Colin to "Talk," But "Room" Quiet
There's been some good news and bad news in the Irish American theater world.
On the positive side, longtime actor and comic Colin Quinn has launched yet another show in New York City, this one entitled "Small Talk" at Greenwich House Theater in Manhattan through May 6, 2023. Drawing on a lifetime of chatting to friends, family and strangers, Quinn is a charismatic presence on stage, as he shares tips on how to be personable.
He demonstrates in many different situations how small talk is an essential tool for making your way through life, and something that should be taught to your kids.
Quinn is funny, but he also gets you thinking about why subjects that matter.
The New Yorker magazine described Quinn's performance as "raspy-voiced, Brooklyn-accented, and rat-a-tat loquacious."
Quinn said of the show, "I'm doing this show because I'm fascinated with how personality in general (and individuals in particular) have fed into society."
On to the bad news front, Emma Donoghue's novel Room was a great publishing success that became an Oscar nominated-movie, so it made sense to bring it to the stage. But now, its future in in doubt. "In a surprise move," the New York Times noted on March 16, Room's run "has been scuttled because of a money shortfall." The Times added: "Room…was to start performances in 18 days, with the Tony winner Adrienne Warren starring. There was already a marquee illuminated outside the James Earl Jones Theater, and tickets were on sale."
Producer Hunter Arnold described it as "an indefinite postponement."
Craicfest Celebrates 25
Craicfest, an annual event celebrating Irish arts, music, and film is celebrating 25 years this year. Terrance Mulligan came up with the concept in 1988 and has screened over 350 films and introduced all kinds of music groups since then. This year's film fest was hosted by Village East Cinema in New York City on March 2nd-4th. Opening night premiered The Ghost of Richard Harris, which explores the life and times of the remarkable actor as seen through the eyes of his three sons, actors Jared and Jamie Harris, and director Damian Harris.
To learn more about Criacfest, visit: thecraicfest.com