Parade a Good Time for Good Cause
Good weather meant a good time for a good cause at the 2023 St. Patrick's Day Parade in Manhattan.
Over two million people were estimated to have attended the annual march along Fifth Avenue, that was part of a broader Irish American effort to raise awareness of – and money for – hunger and food insecurity this year.
Leading the way was parade Grand Marshal Kevin Conway, who is not only a proud Irish American and successful vice chairman of Clayton, Dubilier & Rice, LLC, a global private equity firm, he is also highly active in a wide range of charitable foundations.
"I am honored to serve as the Grand Marshal of the 262nd New York City St. Patrick's Day Parade," he said on being named to lead the 262nd Annual march up Fifth Avenue. At his many speaking engagements over the weeks leading up to the parade, Conway drew a parallel between today's citizens who go hungry, and the Ireland of the 1800s that his ancestors left seeking refuge in America during the Great Hunger.
"The theme of this year's parade is Food Insecurity, a somewhat overly polite way of saying we need to feed the hungry and take care of those who don't have food on their tables. Hunger is often an invisible problem – especially in young children who need proper nutrition to thrive," he said.
 This year the St. Patrick's Day Foundation board committed to raising awareness and critical funds to support soup kitchens and pantries, and organizations that feed the poor and neediest in New York City. "For a country of great wealth, it is startling to see the hunger statistics in this amazing country,"
Conway said. "In New York City, visits to food pantries are up 70 percent
compared to 2019, and up another 20 percent in the last six months, as food prices began to increase dramatically with inflation. Roughly 1.5 million New Yorkers – and one in four children – do not get enough to eat."
Conway has long been active with organizations such as Catholic Charities and the Feeding Our Neighbors program.
He and his wife Dee also are long-time supporters of many other charitable and civic causes, including Tuesday's Children, Adventures in Learning, Little Flower Children's Services, and many other charities addressing education, social services, and the needs of the disadvantaged. 
A native New Yorker, Conway was born in Queens, along with his identical twin brother Brian, one of five children of James and Dolores (Gilhooly) Conway.
He traces his Irish heritage through James Conway, his great-grandfather who emigrated from Drumshanbo, Co. Leitrim in the late 1800s, and John Beechinor, his maternal great-great-grandfather who hailed from Newmarket in County Cork.
Of his walk up Fifth Avenue, Conway later commented: "The parade was a wonderful experience but also a chance to do some good. I am happy we were able to raise well over one million dollars to help feed the hungry… and gifts are still coming in!"
American Irish Historical Society
The future is looking brighter for the American Irish Historical Society.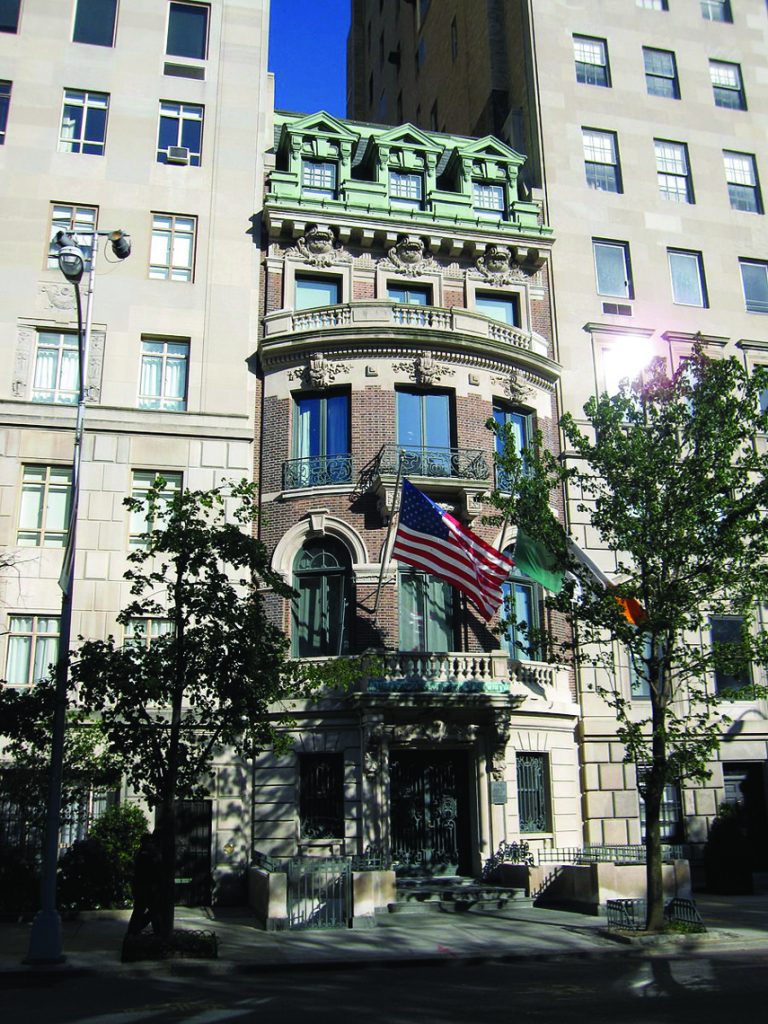 In recent years, the august institution – for decades based in a toney spot on Manhattan's Fifth Avenue – has been embroiled in financial and familial squabbles.
But state officials are now putting a plan together that may well allow the Irish American Historical Society (AIHS) to maintain its building and remain an integral part of the Irish American community.
"We had to save it," New York state attorney general Leticia James told the Irish Voice newspaper. "It's an amazing place. The books and the artifacts are incredible."
A few months back, James appointed an interim board of directors, which has just submitted preliminary plans outlining the path forward.
In a symbolic gesture, the AIHS doors – 991 Fifth Avenue and 80th Street, across from the Metropolitan Museum of Art – were open for the big parade on March 17.
One of the next steps, James said, is appointing a permanent AIHS board.
It's been about two years since the AIHS board of directors decided to sell the Fifth Avenue building for more than $50 million.
The move sent shockwaves through the upper echelons of the Irish American community.
Subsequent criticism compelled James to halt the sale and attempt to find a solution to keep the building within the Irish American community.
For years, the AIHS was overseen by Dr. Kevin Cahill, whose son, Chris, also served as executive director. Dr. Cahill died on September 14, 2022 at the age of 86.