Often referred to as "nectar of the gods" mead is possibly the oldest alcoholic beverage on earth. From a banquet in Bunratty Castle to a modern Meadery in Kinsale, our travel writer is raising a glass to the honied wine.
On a dark rainy evening in January of this year, I found myself being ushered into the great hall of a 15th century castle in County Clare by a bearded man in Tudor costume. "Welcome to Bunratty," he said as he pressed a goblet brimming with golden liquid into my hand.
Once I and the other guests had assembled in the hall, our host introduced himself as the Earl of Thomond's butler. He told us a little of the history of the castle and of the Earl of Thomond, a title that was bestowed upon the O'Brien dynasty of north Munster in 1543 and died out with the last Earl in 1774.
He also explained that what we had in our goblets was mead made from a traditional Irish recipe that combined pure honey with wine and herbs. He recounted how mead was once the drink of choice of Irish High Kings and their noble clans. It was believed to have magical powers of virility and fertility too. This is why a month's supply of mead used to be gifted to medieval brides and grooms on their wedding day. The term 'honeymoon' is derived from this custom.
"Sláinte agus saol chugaibh," (translation: long life and health to you) the butler intoned as he raised his glass of mead and took a sup before he and the Bunratty Castle singers burst into medieval song. I followed his lead and took my first sip of a drink that has age-old roots in Ireland.
Mead is said to be the world's oldest alcoholic beverage, with some claiming that a drink made from fermented honey was being produced in Northern China as far back as 6500 BC. If true, that means the discovery of mead preceded the invention of the wheel.
Throughout history, various cultures have referred to mead as 'the nectar of the gods,' 'ambrosia' and 'honey wine.' Here in Ireland, it was known as 'miodh' in our native Gaelic tongue and I have decided to embark on a journey of discovery, tracing the history of miodh from its ancient beginnings to the modern revival of interest in this delicious drink.
My journey begins at the Hill of Tara. This seat of the High Kings of Ireland contains the archaeological remains of the Tech Midchúarta (which translates as the great mead hall). It once accommodated up to 1,000 men, who would all drink mead from a meathar – a large wooden sharing vessel that had four lips and four handles.
The landscape here contains so many echoes of life in old Ireland. There are forts dating from the Iron Age, the Mound of Hostages passage tomb which is over 5,000 years old, and standing stones that include the Lia Fáil or Stone of Destiny which was an integral part of the coronation ceremony for Ireland's High Kings.
Mead has been part of Irish culture ever since that regal era. In the story of the "Children of Lir," it's mentioned that Fionnuala drinks mead before she and her brothers were transformed into swans by their jealous stepmother Aoife. Saint Finian was said to have lived on bread and water six days a week in order to be able to feast on salmon and mead on Sundays. And Saint Brigid is believed to have miraculously filled an empty vessel with mead to serve to the King of Leinster.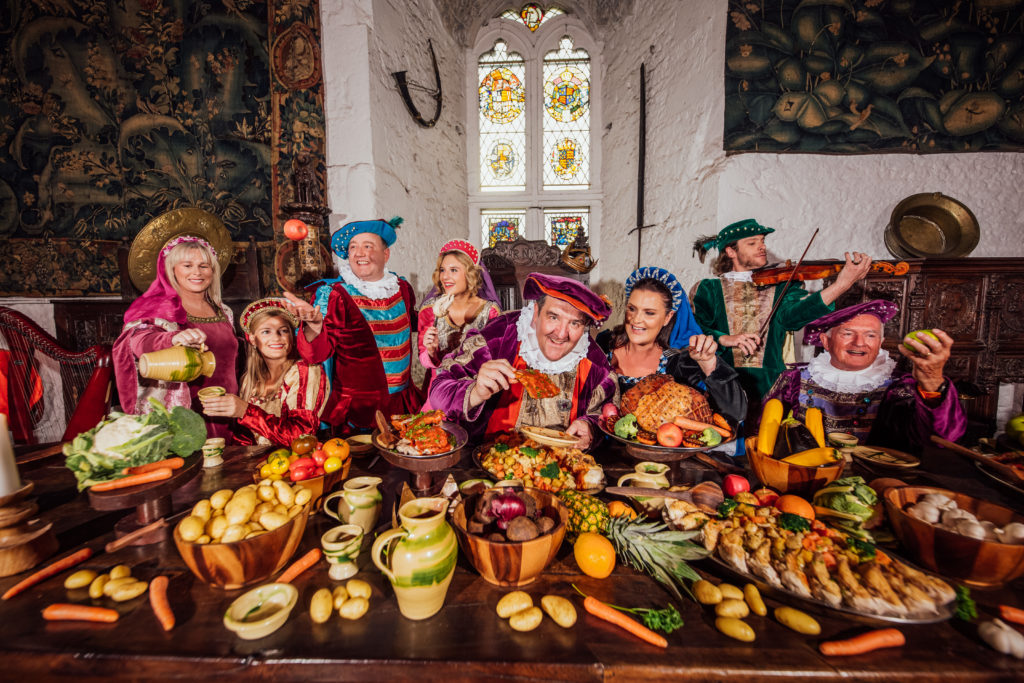 The history of mead in Ireland may have started with an Irish monk named Modomnóc (also known as St. Molaga). He brought the custom of beekeeping to Ireland in the 5th century AD. He had learned beekeeping skills while studying in monasteries in Scotland and Wales as a novice and when he was sent home to play his part in converting the Irish to Christianity, legend has it that his bees followed his boat across the Irish Sea.
Modomnóc later founded a church in Timoleague in County Cork. The impressive ruins of a Franciscan friary still stand on the site of that church today and if ever you're in West Cork, they are definitely worth a visit.

From there you can travel to Ballyvourney, a town that continues to revere Saint Gobnait who lived soon after Modomnóc. She was born in County Clare in the 5th or 6th century and went on to become Ireland's patron saint of bees and beekeepers. From Clare, she traveled to Kerry and Cork, where she established a monastic settlement a mile or so north of Ballyvourney. The foundations of this settlement are still there today and include a circular stone hut known as Saint Gobnait's Kitchen and two holy wells which are venerated by locals.
People still talk of how Gobnait was reputed to have been able to control her bees. The tale of how she once commanded them to swarm and drive off raiders from her village is commemorated in a stained glass window in the Hogan Chapel at University College Cork in Cork City. Created by Ireland's renowned stained glass artist Harry Clarke in 1916, the window shows Gobnait surrounded by her bees, with a honeycomb at her feet.
It wasn't just the Irish who loved mead. The Vikings did too and their idea of heaven itself – Valhalla – takes the form of a great mead hall.
British nobility also enjoyed their mead. In a book by Queen Elizabeth I's beekeeper Charles Butler, her favorite mead recipe is described as being flavored with sweetbriar, bay leaves, thyme, and rosemary.
Ireland's love affair with mead began to wane in the 18th century. Sugar from the New World was beginning to satisfy our craving for sweetness. Beer, ale, and wine had become cheaper to make. Forests were being felled, resulting in a catastrophic loss of habitat for bees, and the closure of monasteries meant a loss of beekeeping expertize.
The last commercial meadery in Ireland was John Donoghoe and Co. in inner-city Dublin. In an advertisement he took out in the Freeman Journal newspaper in 1822, he offered his 'healthful beverage' of mead for sale at 4 shillings and 4d per gallon.
When that meadery closed, more than 200 years would pass before another was to open. It was opened by husband and wife Denis and Kate Dempsey just half an hour's drive east of Timoleague, the birthplace of beekeeping in Ireland.
Ironically, it wasn't the rich history of mead appreciation in Ireland that inspired them to open their meadery, but a trip to America. "We'd heard about mead in history and literature but didn't realize how delicious and versatile a drink it was until we tried craft beer in the U.S.," said Kate. "Once we tasted it, we were hooked."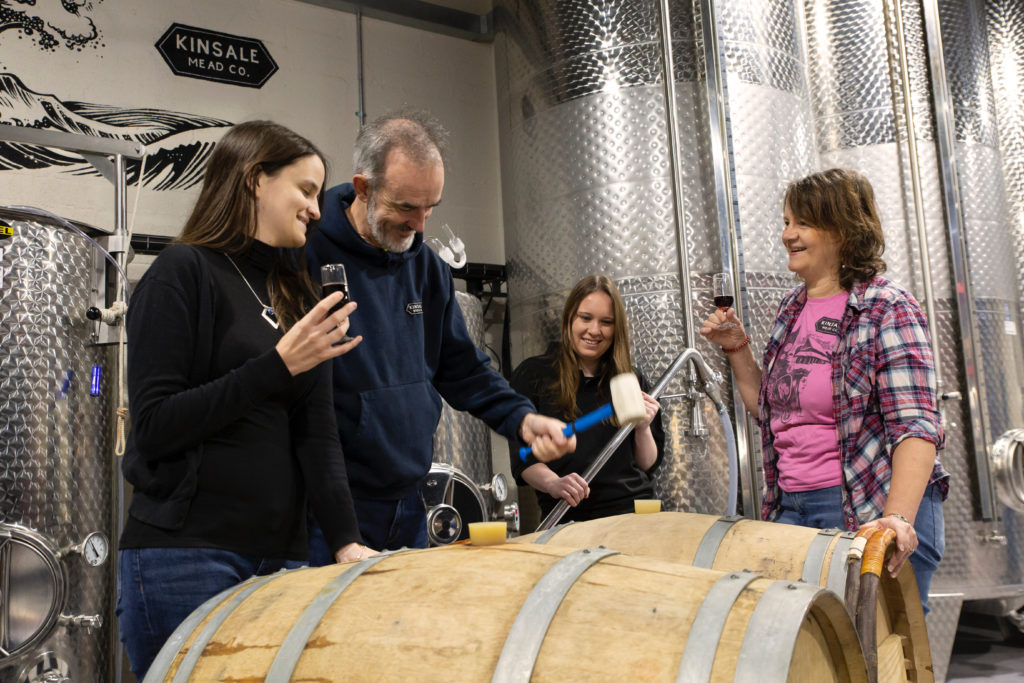 When they returned to Ireland, they started to experiment with historical recipes that combined pure raw honey with indigenous fruits, berries and botanicals. By 2016, they had decided the time had come to start producing mead commercially.
"I'll always remember where we were when we decided to take the plunge," said Kate. "We had brought a friend to visit the Hill of Tara and there, standing on the footprint of the great mead hall – where the High Kings of Ireland were said to have filled the meathar with mead and shared it with their guests – it seemed like the right decision for us."
Seven years later, this family-run business now produces three types of mead. There's the traditional-style Atlantic Dry Mead; Wild Red Mead which is made by fermenting honey with blackcurrants and dark cherries; and Hazy Summer Mead which involves fermenting honey with six types of summer berries.
These meads have won awards."Our Hazy Summer Mead won gold at the 2019 International Mazer Cup which is like the Olympics of mead," said Kate. "We are proud to be able to say that we are making world-class mead at our meadery here in Kinsale."
I would recommend visiting their meadery. They provide tours, in which they recount the history of mead and how it features in the myths and legends of Ireland. They also offer tastings of the different honey used in their mead-making processes, talk about bees and their importance in biodiversity, and demonstrate their mead-making process. The tour culminates with a glass or two of Kinsale mead, a modern Irish iteration of one of the world's original alcoholic drinks.
From the historic Hill of Tara via the medieval castle of Bunratty and the monastic sites of Timoleague and Ballyvourney to the bustling town of Kinsale, the history of mead in Ireland is a fascinating one. Exploring it brings you on a journey of discovery that begins in Ireland's ancient past and brings you right up to the modern day.
At Tara, there are archaeological sites that tell of Ireland a millennia ago. Being in Bunratty Castle transports you to the medieval era and you can't help but imagine yourself among the nobility and their servants who once made their home here. And in Kinsale, you'll meet a hard-working modern family who have made it their goal to revive the long-lost custom of drinking mead.
I'll always remember my personal discovery of mead. On a cold winter's evening, I sat down at a long table with my husband and son to my left, a couple from Boston to my right, and some young people from Mayo sitting across from me. We had all just enjoyed our first goblet of mead and were looking forward to a four-course medieval banquet.
Tapestries that were woven in the Middle Ages and antlers from extinct elk hung on the walls around us as we spent the next few hours conversing, slurping soup from bowls, gnawing at spare ribs that made our hands sticky, and being entertained by the Bunratty Castle Singers accompanied by talented harpists and violinists. It was as if we had traveled back in time, to an era when mead was the drink of the day.
A bagpiper played as we left the castle and walked into the dark night, with notes receding into the distance, I realized that in learning about the history of mead in Ireland, I had gained a deeper understanding of the history of Ireland itself.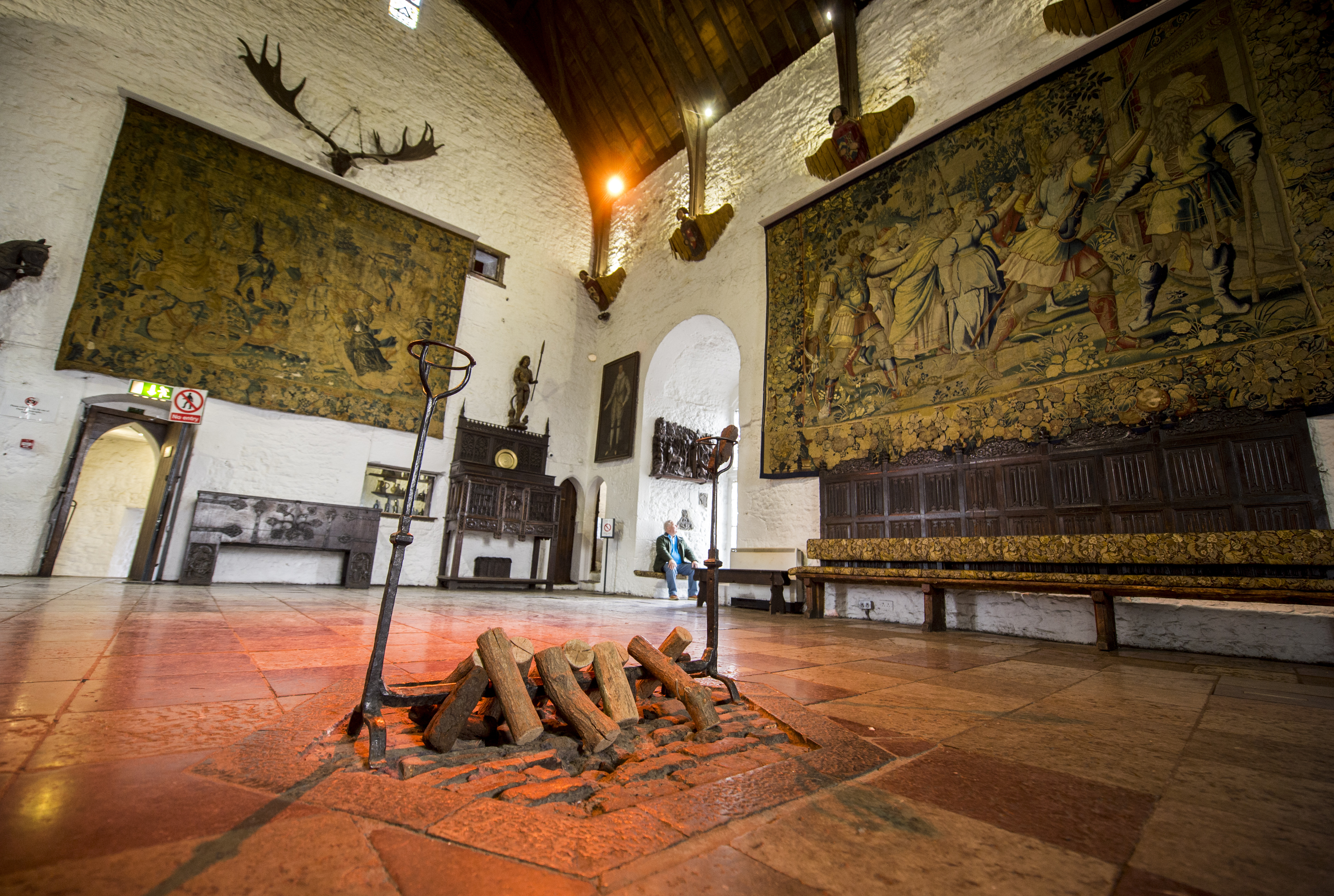 RECIPES:
Honey Mead Bread
"Makes a nice dense bread with a very crunchy crust!"
Ingredients
6 SERVINGS
3 cups flour (sifted!)
3 tsp. baking powder (unless using self-rising flour)
1 tsp. salt (unless using self-rising flour)
1⁄4 cup honey
12 oz. mead
1⁄2 cup melted butter (1⁄4 cup if you want a less crunchy crust)
Preheat oven to 375 degrees.
Mix dry ingredients, and then add Honey Mead.
Pour into a greased (preferably with butter) loaf pan.
Pour melted butter over the dough.
Bake for 1 hour, remove from the pan and allow to cool.
Recipe: gimmesomeover.com