New York City's iconic Irish music pub has returned
A staple on 2nd Ave for over 35 years Paddy Reilly's Music Bar is known for lively music and great craic, 7 nights a week. Thanks to new owners, Desi Murray, who has managed the pub for the past two years, and Josh Irwin, a longtime customer, that famous reputation will continue. On June 8th the doors of Paddy Reilly's reopened with much musical merriment, pints and chat, after a two-month closure for renovations.
The famed pub was opened by Steve Duggan and his partner, the famous ballad singer, Paddy Reilly, in June 1986, and for a time it held the reputation as "The only all- Guinness bar in the world." It quickly became a favorite spot for the Irish American community in the New York area and drew in such celebrities as Gregory Peck, and more recently, Jimmy Fallon, who hosted one of his late night shows from there. The Celtic rock band Black 47 played here regularly in the 90s, as did some of the greatest Irish American musicians including Joanie Madden and Eileen Ivers.
For many years, the American Irish punk band The Prodigals has called Paddy's home and are on stage most Saturday nights, and Niall O'Leary the distinguished musician (piano accordion, keyboards, spoons), and former All-Ireland champion dancer, has hosted the Thursday night live Irish music session. Meanwhile, the Sunday Blue Grass jam session (5 pm – 9) is not to be missed as it features top notch musicians and a sound that will keep you coming back for more.  In fact, any night you walk into Paddy's chances are you will find a warm welcome and good music.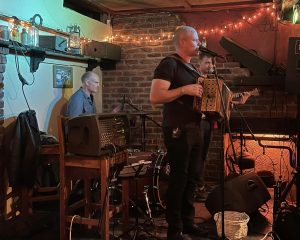 In a phone call from Florida, Steve Duggan, himself from Cavan, had only good things to say about Donegal man, Desi Murray stepping into his shoes, saying, "Desi is a lovely fellow and great bartender, and I wish him well." 
In a post on social media Paddy Reilly's announced the reopening saying: "Whether you're a long-time supporter or someone new to Paddy's, we extend a warm invitation to all to join us in raising a drink, tapping your feet, and creating memories that will last a lifetime!"
As the fog from the Canadian wildfires lifts this weekend take a stroll to 519 2nd Avenue at 29th Street and enjoy great music and a nice pint. Just watch out for the extremely potent "Trip to Ireland" cocktail.
Welcome back Paddy Reilly's and sláinte!