When summer comes, Ireland's in her glory. Lazy sunsets linger for hours in a softly glowing night sky. Every nook and cranny of the land turns lush and green. Roses ramble wildly up cottage walls and over stone stiles. Hedgerows turn country lanes into fragrant flowering tunnels. Succulent fruits emerge in gardens and fields everywhere. And Irish cooks turn their prodigious talents to producing a host of fabulous desserts. 
Rhubarb, which flourishes in the island's cool damp climate, is the first to appear. Botanically a vegetable, the thick celery-like stalks of this buckwheat family member can grow up to two feet long. They're the only edible portion of the plant because the leaves contain high amounts of oxalic acid and can be toxic, but when cooked with a fair amount of sugar, the tender stems make excellent jams, sauces, and desserts. 
Irish breakfasts take on a new dimension when they feature toast slathered with rhubarb jam or bowls of rhubarb stewed with fresh ginger and topped with a scoop of thick creamy yogurt. But when served as a dessert, rhubarb steals the show. Its tart flavor is the perfect complement to milk products, as rhubarb ice cream or rhubarb crumble served with warm vanilla custard will easily prove. And rhubarb pies are so popular that in some places rhubarb is referred to as "the pie plant." 
Just as rhubarb season ends, soft fruits start becoming available. Wexford's famous strawberries are the first to appear. While driving through the country a few years ago, I chanced upon a roadside strawberry vendor. Compared to the huge fruit I was used to seeing at home in California, the little berries seemed puny, but I dutifully purchased a pint. One bite told the tale. The basket of small, incredibly sweet, and fragrant berries disappeared in less than a mile, so I sped back to the stand and bought half a flat! 
County Wexford, Ireland's premier soft fruit growing district, is known as "the sunny southeast" because it receives more sunshine and less rainfall than any other part of the country. The county is renowned for its strawberries, and although production weighs in at more than 2,000 tons per year, most of the crop is consumed locally. During the annual Strawberry Festival in Enniscorthy (the first week in July), fairgoers will consume 15 tons of berries drenched in more than 1,500 gallons of sweet cream.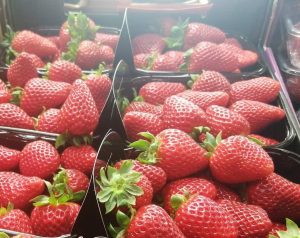 While Wexford's strawberries are delicious eaten out of hand or strewn fresh on morning bowls of muesli, many are transformed into luscious jams, preserves, and jellies. A favorite summer dessert, Strawberry Fool, dates from Norman times. The term "fool" comes from the French fouler, meaning "to crush," and the dessert is traditionally prepared from pureed berries mixed with whipped cream, vanilla custard, or a combination of the two. Fools can also be made with rhubarb, gooseberries, raspberries, plums or black currants whose tart flavors supply an excellent contrast to the sweet cream. 
As summer rolls on, wild raspberry patches and crab apple stands can be found tucked away in shady woodlands. While raspberries are prized for making ruby red preserves and the tart flavor they impart to fresh fruit desserts, crab apples are used mainly for making jelly, wine, and a thick jam which is an excellent accompaniment to roast pork, duck, or autumn goose. 
By late August, countless hedgerows along country roads begin producing literally tons of deep purple blackberries, and anyone with a mind to go picking will be rewarded with buckets full of plump fruit. Blackberry mousse is an elegant dessert, and blackberry sauce can be sweet or savory to complement ice cream and custards, or roast fowl and game. Combined with apples, blackberries make one of Ireland's most popular desserts, a rich pastry tart. In years past, Irish cooks baked in the all-purpose cast iron black pots that sat atop smoldering turf fires and only diligent watching and turning kept their pies from becoming singed by the fierce heat of the glowing coals.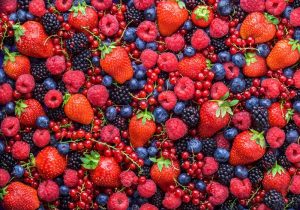 At the height of summer when Ireland's strawberries, raspberries, blackberries, and blueberries are all in season at once, these brilliantly hued fruits are frequently combined to make Summer Pudding, one of the world's most strikingly beautiful and delicious desserts. 
Although Americans associate the term pudding with milk-based custards, Irish puddings often have a bread or crumb base and are baked, boiled, or steamed — sometimes for hours. The most familiar are Christmas Plum Pudding which is served flaming with a rich brandy sauce and Bread Pudding which is often accompanied by a whisky sauce. 
Summer Pudding is another story altogether. Made by layering bread slices with a mixture of lightly poached strawberries, raspberries, blackberries, and blueberries, it is not cooked at all but simply left to sit until the berry juices have completely saturated the bread slices and colored them a brilliant shade of shocking pink. As the finale to a warm weather meal, Summer Pudding makes even a part-time cook seem like a full-time culinary genius with hardly any effort at all! You have my word on it. Slainte! 
Strawberry Fool
3 egg yolks
2 tablespoons sugar
1 1/2 cups whole milk
1/2 teaspoon vanilla extract
1 pint strawberries, hulled & coarsely chopped
1/2 cup whipping cream
Custard: In a medium stainless steel bowl, whisk together the eggs and sugar then set aside. In a small heavy saucepan, combine the milk and vanilla and scald the milk until a skin forms on the surface. Remove the milk from the heat, skim off the scalded skin, and gradually whisk the milk into the egg mixture. Suspend the bowl over a pot of simmering water and cook the custard, stirring constantly with a wooden spoon, for about 5 minutes, until it begins to thicken. Do not let the custard boil. As soon as the custard is pudding thick, remove it from the heat and place the bowl in a large bowl of ice to immediately stop the cooking process. Cover the pudding bowl with plastic wrap to keep the surface from getting hard.
Refrigerate until completely cool.
Assembly: Set aside 3 large strawberries. Put the remainder in a small bowl and mash with a fork. Place the strawberry puree in a sieve and let drain for 15 minutes. While the puree is draining, pour the cream into a separate bowl and whip until stiff peaks form.  Measure 11/2 cups of custard into a large bowl and stir in the strawberry puree. FoId in the whipped cream. Put the Fool in serving glasses and chill for at least one hour before serving. Decorate with strawberry halves. Makes 4-6 servings.
Rhubarb and Fig Jam
Savory Blackberry Sauce
6 lb red rhubarb
1 1/2 cups sugar
8 oz dried figs, previously cut into small pieces and soaked in 2 1/2 cups tepid water overnight.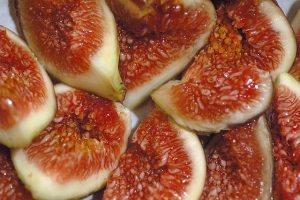 Wash and dry the rhubarb if necessary. Cut into l/2 inch pieces. Put into a preserving pan and stir until the juice begins to flow. Warm the sugar and add it to the figs. Continue to stir the liquid until it comes to a boil. Boil for 30 minutes or until it looks even in texture all the way through. The jam mixture tends to stick to the pot, so stir frequently. Turn into sterilized glass jars and cover and seal at once. (Darina Allen's Irish Country Cooking.)
1 1/2 pound blackberries (fresh or frozen)
8 tablespoons white wine vinegar
8 tablespoons Cabernet
Sauvignon wine
1 1/2 cups chicken broth
Salt & pepper
In a medium bowl, crush the berries, then stir in the wine vinegar and wine. Cover and stand overnight at room temperature. Next day, strain through a fine sieve to remove seeds and skins. Transfer the juice mixture to a saucepan, add the chicken broth and seasoning, Bring to a boil, and cook until slightly thickened. Serve hot with roast fowl or game. Makes approximately 3 cups. (In An Irish Kitchen-Clare Connery)
Summer Pudding
1 pint strawberries, hulled and quartered
1 pint raspberries
1 pint blueberries
1 pint blackberries
1/4 cup sugar
1 loaf of sliced French bread, crusts removed
Extra mixed berries for garnishing
Butter the inside of a large mixing bowl and line it with a sheet of plastic wrap. Line with bread slices as follows: Place one round of bread on the bottom of the bowl and line the sides with bread slices taper-trimmed to fit vertically, tight against each other, Set aside.
In a large saucepan, combine the fruits with the sugar. Warm over low heat until the berries soften and release their juices. Pour berries and juice into the bread-lined bowl. Cover the surface completely with additional bread slices. Place a small plate on top of the pudding and set a weight on it (a medium jar filled with water and capped works nicely.) Put the pudding in the refrigerator and let it sit for 24 hours, siphon- ing off and saving juices as they rise to the surface. Just before serving, siphon off any last bit of juice then place a large plate on top of the bowl and invert the pudding onto the plate. Carefully remove the plastic wrap making sure not to dislodge any of the bread slices. Garnish the plate with extra mixed berries. Present the pudding whole and cut it into pie-shaped wedges to serve. Place each pudding wedge on a dessert plate and surround it with reserved pudding juice. Makes 8 servings.
Note: Summer Pudding is lovely served with a custard sauce. Follow the custard directions given in the Fool recipe but remove from heat as soon as the custard begins to thicken and coats the back of the spoon. The custard can be made 24 hours ahead and kept covered and refrigerated. Strain before serving.