The Metropolitan Museum of Art has recently opened a remarkable exhibition titled "Manet/Degas," which will be on display until January 2024. Among the portraits of the exhibition is Édouard Manet's portrait of Irish writer George Moore.
The "Manet/Degas" exhibition brilliantly showcases the groundbreaking work that significantly influenced the trajectory of modernist painting in France. It is fascinating to note that one of Manet and Degas' mutual acquaintances was County Mayo-born George Moore (1852–1933).
As a young man in his twenties, Moore aspired to be a painter, however, destiny had different plans for him, leading him down the path of becoming a renowned writer. In his 1893 book Modern Painting, Moore shared his thoughts on Manet, stating: "To understand Manet's genius, the nineteenth century would have required ten years more than usual, for in Manet, there is nothing but good painting, and there is nothing that the nineteenth century dislikes as much as good painting… His painting of still life never has been exceeded, and never will be."
George Moore was a multi-talented individual known as an Irish novelist, short-story writer, poet, art critic, memoirist, and dramatist. Hailing from a Roman Catholic landed family at Moore Hall on Lough Carra, County Mayo, he pursued art studies in Paris during the 1870s. He forged lasting friendships with prominent French artists and writers of his era there.
The French realists, particularly Émile Zola, heavily influenced Moore's literary style, making him one of the earliest English-language authors to incorporate their teachings. His works left a lasting impact, notably influencing even James Joyce. Although Moore's writings sometimes diverged from the mainstream of Irish and British literature, he is often regarded as the first significant modern Irish novelist.
Notably, George Moore crossed paths with W. B. Yeats in London, introduced by their mutual friend and County Mayo neighbor, Edward Martyn. Their encounter laid the foundation for the Celtic Renaissance, with Yeats declaring Dublin as its capital. Their exchange, as recounted in Moore's memoir Hail and Farewell, reflects the initial skepticism Moore held towards Ireland, a sentiment that would evolve as he witnessed the birth of a new literary era alongside Yeats, Synge, Lady Gregory, and their literary circle in Ireland.
One intriguing side story worth exploring is the extraordinary journey of Moore's father during the Great Irish Famine in 1846. Educated as a Catholic in England and later at Cambridge University, Moore Sr. was primarily interested in horses. In a fateful turn of events, his horse, Coranna, won England's Chester Cup in 1846, earning him £17,000. This windfall enabled him to provide relief to his tenants during the famine and settle his gambling debts. Remarkably, none of his tenants were evicted from their homes for non-payment of rent, and there were no deaths on the Moore estate during that dire period.
The poet Patrick Kavanagh had this to say about Moore:  
"We owe several debts to George Moore for far more than Yeats, he brought the mood of European letters to Dublin. He had less venom in him than Yeats, and he was, despite all his humors, a Catholic in all his points of view."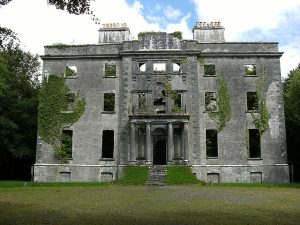 The ruins of Moore Hall, the estate of George Moore's family in County Mayo. George Moore rests in peace on Castle Island, overlooking Lough Carra, in full view of the imposing landscape and ruin that he once called home. 
In 2018, the Mayo County Council of Ireland acquired the 80-acre site with the intent of transforming it into a tourist destination. 
This initiative, undertaken in partnership with Coillte and the National Parks and Wildlife Service, is currently underway, with the first phase focusing on restoring the Walled Garden and creating new visitor facilities, including walkways, seating areas, play spaces, and signage.
The story of George Moore, his connection to the art world, and his significant role in shaping Irish literature and culture is a fascinating tale. This exhibition and its associated history are a captivating addition to Ireland's cultural narrative. ♦