Winding their way around Northern Ireland, a Canadian couple found unspoiled landscapes, historic ruins, beaches, and trails.
The Ulster Way, conceived in 1946 by civil servant Wilfrid Capper as a 626-mile circuit connecting a string of youth hostels, has something of a mythical allure.
"It's a fantasy," one guide noted, largely because a third of it is on connecting roads, with about 400 miles on 26 "quality" path sections, many long established.
If so, it was our fantasy and became, "Our Way," over a 30-day tramp last April and May.
We walked – about 200 miles – paddled, biked, rode on horseback, swam, and blokarted (kind of a dune buggy with sails) in a land of astonishing rich and varied landscapes.
We began in County Down with a 10-mile hike in the Mourne Mountains. It was a test for jet-lagged legs in a near biblical setting of rocky barrens sandwiched between brilliant blue sky and the ocean.
Our guide, Jed Anderson, a semi-retired firefighter and mountain rescue volunteer, helped us thread our way up to and over several mountain streams as Newcastle, a popular seaside destination on the Irish Sea, faded into the distance below.
The next day, refreshed after a good night's sleep, we continued along The Mourne Way with guide, Victoria Canavan, leading us on an e-bike ride to Tollymore Forest Park. We biked through thick woods along the Shimna River  to a Game of Thrones site, the tiny quarry used for the gruesome Wildling Pit scene in season one.
Anderson and Canavan work for Life Adventure, a leading provider of outdoor experiences that offer team-building experiences for mostly corporate clients. Co-founder John Keating completed our trifecta of Mourne adventures the next day when he took us paddling by standup paddleboard and kayak through the portals of an ancient bridge while vehicles passed overhead on a connecting link. This finger of waterway off Dundrum Inner Bay offered the glorious backdrop of the Mournes lit up by the afternoon sun.
Then it was on to buses, with local folk providing the entertainment and a connection to country life as we made our way up to St. Patrick's Country and a bucolic stop at an Airbnb; an artist's cottage overlooking a lake near the village of Killyleagh, south of Belfast. 
Ruth, the artist who had passed, had spent the final 15 years of her life filling the cottage with art in many modes and creating a warm pastel cocoon for visitors. It was a restful hub for four days of five-mile walks, notable for our anxious St. Patrick's Way segment – staring down traffic on narrow roads, and a misty walk along Strangford Lough, where we could see the mouth of Slaney River. This is where St. Patrick is thought to have landed when he began his mission in Ireland.
To get to Enniskillen and the Fermanagh Lakelands and beyond, we rented a car, relieved that we wouldn't be on foot as our journey took an aquatic turn amongst an itinerary of steep climbs, deep caves, and bluebell pastures. 
A flotilla of swans provided an elegant greeting for our stay aside the River Erne in Enniskillen, Ireland's only island town. And a breathless trek up Cuilcagh Mountain to an elevation 2,183 feet above sea level, opened vistas of glacial carved lakes, deep blanket bog, and Enniskillen, set in the narrows between Upper and Lower Lough Erne, in the distant lowlands.
Cuilcagh's lower slopes hid the Marble Arch Caves, a mystical river-carved world of dripping stalactites and growing stalagmites, a spelunker's subterranean dream.
A preamble on more level ground the following day found us wandering the National Trust grounds of the 18th-century mansion, Florence Court, replete with a verdant Kitchen Garden and one of Ireland's most famous trees – the mother plant of every Irish yew tree around the world.
To see the sites from Fermanagh's waterways, we jumped into an Erne Boat hire (think motorized bathtub) and put-putted our way gloriously to Devinish Island, a 6th-century Monastic Site, picnic in tow.
The vessel, perhaps less fitting than a traditional Currach for the meeting place of ancient powerful chieftains and religious leaders, was great fun and offered us a taste of the open water we craved.
Buoyed by our afternoon on the lough, the next day we turned our sea legs towards Blue Green Yonder, an adventure center on Castle Island.
Treated to a paddle board tour by director Trevor Foster, we circled the island town, under stone bridges, along castle walls and past ardent long pole fishers lining the river banks. Freshly baked apple crumble, coffee and tea from the center's cafe warmed us on our return. 
The Fermanagh Lakeland's mantra is "to the waters and the wild" and we dared not pass up Trevor's offer to paddle to the most magical wild place in the area – Bluebell Island.
Spring in Ireland is alive with the bleating of newborn lambs, birdsong, and greens, but stepping onto this island cloaked in the hues of bluebells sprinkled with constellations of wild garlic amidst gnarled trunks and apple blossoms was sublime – a fine place to linger before our paddle home.
Back on the road and to the north lay Omagh in County Tyrone, the gateway to the promise of some wild walking in the barrens of the Sperrins, a massive mountain area that stretches almost to Derry.
Instead, we were captivated by the Ulster-American Folk Park, an open-air museum that tells the stories of the migrants who set sail for America. 
The current exhibit "Bad Bridget" lays out the harrowing experience of Irish women in the new world – sexism, poverty and exploitation.
The park, developed around the birthplace of Thomas Mellon, the founder of the Mellon banking dynasty, has a prominently displayed statement from its governing body near its entrance that in addition to highlighting "the bold migrants" who set sail for America, it is working to reflect Ulster immigrants' exploitation of enslaved Africans and indigenous peoples.
It was a stark turnabout from this sober history when we landed next on the expansive strand at Benone Beach on the western wing of Antrim's Causeway Coast, doubling our pleasure with horseback riding and blokarting.
First, we walked Kendra and Daisy, two stout and calm Irish Cobs from Crindle Stables, up the broad beach and briefly into the surf.
A small circular building, Mussenden Temple, perched on the cliffs above us. It was built in 1785 by Frederick Augustus Hervey, the Church of Ireland Bishop of Derry, in memory of his niece Fridenswide Mussenden.
Switching from horsepower to wind power, Pat Letters of Blokart World strapped us into the sling seats of his lightweight rigs and sent us off to caper on the beach using the vectors of the Atlantic, often to hilarious effect. 
Letters, a three-time British blokarting champ, had shown us the ropes in how to use the sail to tack against the wind. Pam, an experienced sailor, was soon careening through the low surf, earning a face full of sand. John was eating some beach as he crashed a few times.
Later in our travels, we circled back to this area to climb Binevenagh Mountain, one of the short-featured Ulster Way walks.
Short, yes, but steep – a three-mile up-and-down route that required some breathers on the way up.
We were led by Heather Nicholl of Ella Mor Adventures, who grew up on a farm at the foot of the mountain and knew every crag and crevice.
She led us through a forested area and onto a twisting track that gave way to high pastures, sheep and a tricky rock outcrop that opened up to reveal a quilted, pastoral scene and the waters of Lough Foyle.
Heather also organized a quick SUP paddle on the River Roe flanked by stately trees as we glided with the tide towards the lough.
High marks for this experience, well-earned by the effort and backed by Heather's command of local history and lore.
As our circuit continued along the Causeway Coast, we'd be hitting the heights again, this time with Eimear Flanagan of Away A Wee Walk for a five-mile cliff walk from the ruins of Dunseverick Castle to the Giants Causeway.
This heady serpentine path was a drumbeat of dramatic vistas, each succeeding view one-upping the previous lookout. It was also quiet, aside from the wind and Eimear's tales of adventures on the ocean and the pirates' caves that lay beneath us.
Dropping down to the causeway then, and the milling crowds checking their footprints against the Giants' hexagonal stepping stones, was a bit of a shock.
So was our next step, moving from pedestrian mode to a Redforce Stormforce 1050 with twin 300 horsepower outboard motors sending us flying out of Ballycastle harbour across the surging North Channel to Rathlin Island and along the coast, paralleling the Ulster Way.
Abhainn Cruises' Tim Griffin is a master raconteur and with son, Ben at the helm offered some rollicking tales of piracy and clan wars back through time. We also got to see puffins, the cute, cartoonish seabird and hauled up beside a local fisherman to handle a sea urchin he found in his nets. 
We completed the Ulster circuit by reaching for the heights again in three walks plus one swim and a final, light stroll around Belfast Castle.
Fair Head, rising to the east over Ballycastle, was a rocks-and-pasture experience shared with folks on horseback and mountaineers conquering the steep, sheer cliffs where rock doves flitted and plunged towards Murlough Bay.
From here you can see Rathlin Island and Scotland, principally the Isle of Kintyre.
The gentle, meandering drive south took us to the village of 
Waterfoot, where the Glenariff River spills down the Queen of the Glens, Glenariff, from the forest park of the same name.
Waterfoot felt just right — a brilliant and broad curving beach, two pubs and a fish and chip shop and engaging folk who gave us a crash course via several videos on the local passion, hurling. It's a game you'd have to be either crazy or Irish to play.
We doubled back here for three days in a B&B by the beach and explored the glorious green area that is Glenariff.
The two-mile Glenariff River Walk is a climb from the village to the park that straddles a broad U-shaped valley. There are waterfalls off connecting trails along the way with rocky precipices leading to wild moorland. Also, there's a short beach walk out of the village.
Then for something entirely different, Pam captured the spirit of local cold-water swimmers with a 48F˚swim off the beach at Ballygalley, just down the Antrim coast. That followed a pampered night at Ballygally Castle Hotel, a tasteful conversion of the 17th-century fortification.
The final coastal piece was a unique cliff walk at The Gobbins on Islandmagee. Sturdy walkways and bridges connecting headlands take visitors along the basalt cliffs about ten feet above crashing waves, rock pools alive with mollusks, sponges and red seaweed as well as sightings of puffins and cormorants.
At Belfast Castle the next day we changed from hiking boots to sandals and turning the boots over, saw badly worn heels and scarred leather. If only those boots could talk. ♦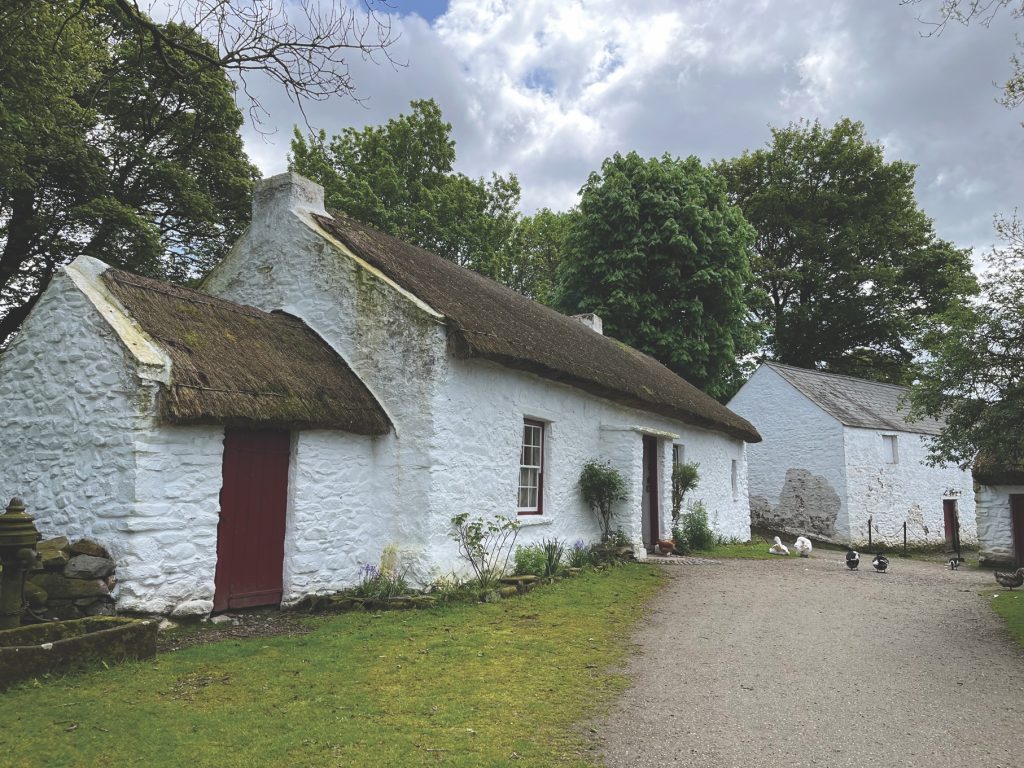 All photos by Pam Martin and John Kernaghan.