Twins, Dave and Steve Flynn have created a community of well-being.
The galloping gardener leapt over vegetable rows to offer fresh herbs for tasting.
"Guess what that is," asked Steve Flynn, one half of The Happy Pear, the Irish twins who have developed a huge following with their plant-based recipes and other health programming.
"Mustard," Flynn told the stumped visitor to one of two farms the Flynns operate in Greystones, southeast of Dublin City.
He then provided an arugula sample and urged visitors to pull up a carrot and taste it straight from the ground.
"Ah, don't worry about the dirt," he gushed. "It's great for the gut biome."
The visitor obliged, biting a gritty chunk of carrot off.
It was gut health that brought the brothers to a vegan regimen almost two decades ago. It also brought hundreds of thousands of followers to a lifestyle change that brought better blood test results and pared off pounds.
And it took guts for guys with business degrees to open a modest shop and sell fruit and vegetables from it, the start to an enterprise that has sold thousands of cookbooks and has an online following of about 1.5 million, many buying their programs.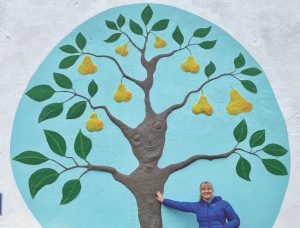 "We wanted to create a community of well-being," says Dave, the other half of The Happy Pear. "What makes a good life," he said, became the question the pair explored independently of each other as they roamed the world in their early 20s.
"We had played a lot of sports, did some modeling, mostly to meet girls, and went to the pubs."
But something was missing. As they circled the world, they shared their findings long-distance and gravitated back to Ireland to put those findings to work.
"We changed completely," said Dave. "We realized that food was at the core of so many aspects of life, not just nourishment, but in terms of the planet, the environment, your personal health and life cycle."
At 24, they had given up alcohol, dug literally into healthy eating, and opened the small fruit and vegetable shop.
He laughs now that "we nearly called it Flynner's Fruit and Veg for Social Change."
Now, almost 20 years later, Dave was still working the land, manhandling a tiller to prepare for spring planting.
Working with him were a handful of folks who join the twins on weekends, often bringing partners and family to the Saturday sunrise swims in the Irish Sea and morning farm work.
Many work in the Dublin tech sector and find a blissful break in getting their hands dirty.
"It's so different from our regular work, so good to get close to the land," said Tolga Atalay, a Turkish national and Dublin techie.
Atalay and others would join the twins later for lunch at the shop and cafe under bright Happy Pear marquees on Greystones' Main Street.
On a strip featuring several eateries enjoying modest business this day, the plant-based restaurant was filling quickly.
What was notable by its absence was any reference to vegan or plant-based. The health piece is a given, but it is the tastes that grab people initially and keep them coming back.
We bought in quickly in the early months of COVID-19 due to steak sizzle, in our case The Happy Pear recipe for cauliflower steaks that jumped with flavor atop a bake of sweet potato, leeks, and mushrooms in a coconut curry sauce.
Another Flynn favorite is their take on the Brazilian national dish, Feijoada, which features black beans and sweet potato in a sweetish citrus and spicy stew.
Folks with a sweet tooth are taken care of, too, in the recipe books and online demonstrations.
The bantering bros are another kind of treat in their kitchen videos and live shows, entertaining with rapid-fire commentary, some that could use subtitles.
The pair, who generally dress in almost identical styles – denim shorts, checked shirts, and stout footwear with classic wool jumpers for chilly days – keep adding to their product and service line.
As well as the five cookbooks, more than 70 products, and the cafe and shop, they recently launched a food service for a thousand Greystones residents and what they describe as a "revolutionary" app.
It includes access to 11 Happy Pear health courses, hundreds of recipes, and tips and lessons from doctors, dieticians, and performance psychologists.
Their manifesto centers on empowering people to take command of their lives and other lives, a power that spreads into the community because "the world needs you, your community needs you, your body needs you."
The Flynn's plan to broaden that power extends to an investment plan for followers that was recently fully subscribed.
Their pitch to investors pointed to increased interest in plant-based food in the United Kingdom and Europe, noting their company's track record in online sales and in forging partnerships with retailers in Ireland.
The goal of 2.5 million Euros ($2.73 million U.S. dollars) was quickly reached.
"We've been approached by several investors and venture capital funds in the past," they said in a joint statement, "but at our core, we are a community-based business."
That's why they offered a minimum of 500-Euro investments in a piece of their business.
Mostly they've planted their feet confidently, but there have been a few missteps along the way.
In a podcast last spring statements by a guest, American doctor Zach Bush, linked antibiotics to the rise in depression.
That prompted a backlash by some in the Irish medical community.
The Happy Pear apologized, telling The Irish Examiner this would not happen again.
They acknowledged Bush's comments caused offense "with some statements not given the appropriate qualification or context."
A year earlier in a video, the twins referred to ways to reduce breast cancer through diet.
Their reference to the benefits of mushrooms in reducing cancer risk came during a discussion with a doctor on women's health.
They apologized for causing offense and not properly qualifying the statements.
But mostly it's been onward and upward for The Happy Pear.
Dave is asked if he finds a parallel in the twins' work with the labors of the monks in the book How the Irish Saved Civilization.
In Thomas Cahill's best-seller, the historian explains how those Irish monks preserved and recorded for posterity the culture of Europe after the fall of the Roman Empire.
The patient transcribing of the work of Greek and Latin writers was replanted in Europe as the seeds of a revived Western civilization.
Dave confessed he wasn't aware of this history but it's not a stretch to say reviving old dietary habits with unique Irish twists in a time of corporate dumbing down of Western diets is important work.
And one day those plant-based recipes may be recorded in Gaelic, or Irish as the twins call it.
"Steve and I are meeting weekly with an 80-year-old man just to talk Irish. It's a beautiful language, closely connected to nature and full of stories and pearls of wisdom."
Much like the culture of natural food, the twins are cultivating.
Recipes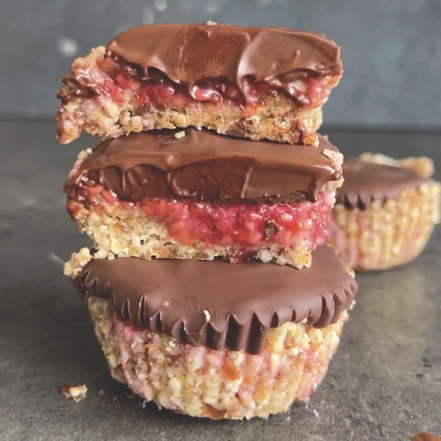 Chocolate Raspberry No-Bake Cupcakes
Chocolate 
Raspberry no-bake cups 
6 tbsp oats
80g cashews
100g chopped dates
2 tbsp coconut oil
150g raspberries
2tbsp chia seeds
1tbsp maple syrup
150g chocolate
In a food processor or blender add the cashew nuts, dates, oats, and coconut oil and blend till it starts to come together, this should take approx 2-3 mins.
Line a cupcake tin with 6 cupcake liners and divide this cashew date mix between the 6 cases. Flatten the filling out so it is like a pastry base ensuring it's not too thin or too thick so that it will hold its shape and not leak any filling. You want this to come up the sides and be like a small cup.
In a bowl add the raspberries, chia seeds, and maple syrup and roughly mash with a fork. Fill each of the 6 cases so that the raspberry filling just comes up to the sides of the cashew cup. This will ensure they are easy to cap with melted chocolate so it will hold them together! Melt the chocolate and pour over each of the 6 cups so that they are evenly covered.
Leave the chocolate to set, if in a rush put them in the fridge or freezer. Once the chocolate is hard – enjoy!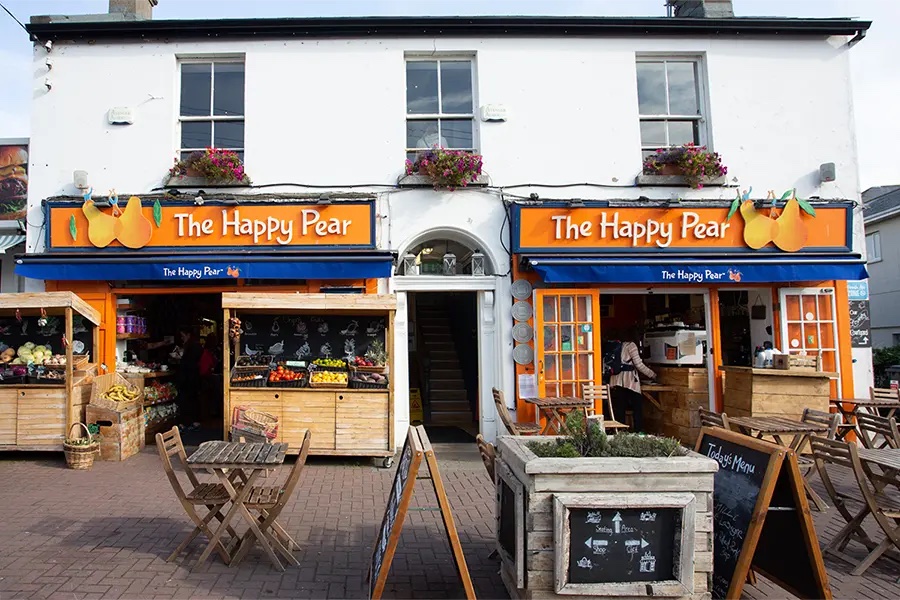 Visit The Happy Pear for more recipes, shop online, and learn about the classes they offer. 
Cauliflower Curry Bake
1 head of cauliflower
1 leek
500g pumpkin/Sweet potato/butternut squash
100g mushrooms of choice – we used oyster mushrooms
6 store-bought vegan sausages – ensure they're defrosted if from frozen.
Small bunch of fresh herbs of choice to serve
50g  baby spinach
Tamari oil
coarse sea salt
SAUCE
2 cloves of garlic
1 small thumb-sized piece of ginger
1 onion
½ chilli
juice of ½ lime
1 tbsp maple syrup or liquid sweetener of choice
1x 400g tin of coconut milk
400ml veg stock
1½ tbsp medium curry powder
1 flat tbsp aromatic spices – cinnamon/
cardamom/clove/star anise powder
½ tbsp salt
2tbsp tamari
Preheat the oven to 200C.
First step: make the sauce. Peel and roughly chop the garlic, ginger, and onion, and add to a blender along with the rest of the sauce ingredients, and blend until smooth.
Finely tear/chop the mushrooms. Peel and finely chop the pumpkin/sweet potato/butternut squash. Chop the sausages into bite-sized pieces and slice the leek into nice bite-sized rounds (ensuring to give it a good wash as often sediment hides inside the green of the leek). Add all these veg into a large deep oven casserole dish along with the sauce and mix.
Chop the cauliflower into 4 equal sized 'steaks' chopping it from the top of it to the bottom. Place the cauliflower steaks on a separate baking tray along with any smaller pieces of cauliflower that fell off and also the cauliflower leaves (chop the wider ones into thin strips so they cook through) and spray/brush with 2 tbsp of oil, drizzle over some tamari and sprinkle some coarse sea salt.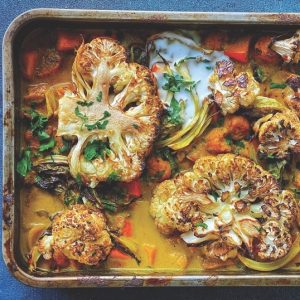 Put both trays in the oven and bake for 30-40 minutes or until the pumpkin is soft and cooked through.
Roughly chop the fresh herb of choice.
Remove from the oven and garnish with the roasted cauliflower and chopped fresh herbs.
Enjoy! ♦