Winterval 2023 is officially open! 600,000 visitors are expected to enjoy festive fun in Waterford this Christmas season.
On Friday, November 17th Santa arrived from the North Pole to Ireland's oldest City in order to switch on the Christmas lights and mark the beginning of Ireland's biggest Christmas Festival – Winterval.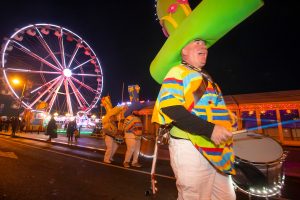 Santa Claus will roll into Waterford City inside a gigantic festive bauble partaking in a Christmas Parade which will culminate at the Winterval Main Stage at the top of John Robert's Square for the switching on the City's lights with the Mayor of Waterford Cllr. Joe Conway and nine-year-old competition winner Aoibhinn Browne.
From that point onwards Waterford will transform into a Christmas winter wonderland of magical festive entertainment with the opening of the City Fairground and Winterval on Ice, the first Christmas Circus show, the first Narnia Christmas Show will commence at Jenkin's Lane Big Top, the first Winterval Illuminates light show will begin at Arundel Square from 7 pm, and the Glenveagh Winterval Food & Craft Market will open across the City centre. The entertainment will continue on into the wee hours across Waterford's busy bars and restaurants right around the city. 
The full programme of events is on offer until December 23rd. Highlights include the vintage Ferris wheel, a vintage carousel, the Port of Waterford Eye, the Winterval Mini Express train, Glow Gardens, a virtual ride in Santa's sleigh a Deise Medieval Viking Village Showcase at Spring Garden Alley, a miniature model Circus showcase will be exhibited, Santa Claus will be ensconced with his elves at the Gingerbread House on Michael Street and there is even a gigantic talking postbox at The Apple Market.
In addition, there is an abundant programme of Music and Theatre. Ben Hennessy will present Shadow Puppetry Show at the main stage, Kitty Kaboodle will be offering storytelling for children at the Book, the Irish Doctor's Choir present Samson, Home Alone will be screened with a live score by the National Symphony Orchestra, The Armed Man is presented at St John's Church & the Lions Club Christmas Concert will take place at the Cathedral, the House of Waterford Crystal presents its Annual Winter Music Series and a 'Help Save Santa's Magic' show for children will be on offer at Garter Lane Theatre. 
A primary attraction will be the annual Winterval Glenveagh Christmas Market and this year over 100 food, craft and drinks producers and creators are set to feature across the festival.
The Winterval Glenveagh Market will be set out in a series of attractive wooden cabins through the spine of Ireland's oldest city into the cultural quarter; spanning the Viking city from George's Street to Hanover Street and onto O'Connell Street and Gladstone Street, and all in the midst of the Winterval family fun attractions. Soak up the sparkly Christmas atmosphere and yuletide spirit, browse the many Christmas craft and food stalls, and support local, regional, and national producers, makers, and creators this festive season.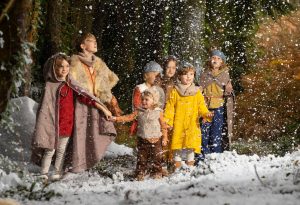 The Winterval Live Stage will offer live performances during the festival. Visitors can kick back to the live musicians, bands, choirs, and performance ensembles on The Winterval Main Stage on O'Connell Street, in the heart of the Winterval Glenveagh Food & Craft Market.  There is also a series of one-off events from a Blue Light Showcase to a Tractor Prade a Jingle Bell Cycle, Busk Aid, and SuirCon comic conference, each on offer once during weekends throughout the festival. 
The festival co-directors John Grubb and Trevor Darmody expect almost half a million festival-goers to enjoy the 2023 festival in the City and deliver an economic impact of over 14 million euros. "Winterval is not only the biggest Christmas festival in Ireland but it is also one of the country's largest festivals annually and today we are very excited to open over 40 different events at Winterval 2023. 
"There truly is an astonishing programme of Chrismassy festive fun available and just over half of the events are available to families free of charge."
Waterford's heritage is also to the fore throughout the festival as Deise Medieval will recreate a tented village manned by experienced re-enactors. All the participants dress, live and work in an authentic recreation of Viking life, visitors can see the daily life and crafts practised by our ancestors including; spinning, weaving, leather working, metalwork and black smiting, coin striking, and woodwork. 
Their period tents are full of homely furniture and household goods, authentic cooking is done over the open fire, and all the re-enactors are friendly and very experienced in demonstrating their crafts and answering questions. Visitors will be able to try some crafts for themselves and can certainly learn to play Hnefatafl a popular Viking board game. Demonstrations will include, coin striking, spinning and weaving, arrow making, leather work, and spice trades.
Winterval is supported by Waterford City and County Council and local, national, and international businesses; including Bausch + Lomb, Glenveagh Homes, Expressway, City Square Shopping Centre, and the Port of Waterford as named sponsors of the Port of Waterford Eye. 
The full Winterval Festival programme is available to view and book online at www.winterval.ie. ♦