Healthcare and Life Sciences 50 - 2022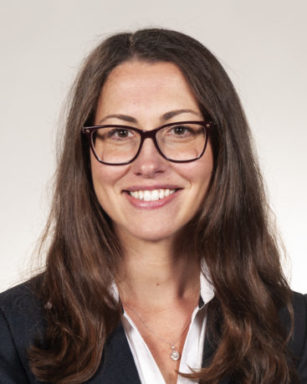 Bernadette Riley
Dr. Bernadette Riley is the Director of the New York Institute of Technology's Ehlers-Danlos Syndrome/Hypermobility Treatment Center and an Associate Professor of Family Medicine at NYITCOM.
Dr. Riley has a special interest in treating the hypermobile patient. In her current role, she directs a multidisciplinary center and is involved in various
research projects, presentations, teaching, publications, and grants at the Center. She wrote the curriculum and started the EDS 4th-year elective class at NYITCOM. She has lectured locally and nationally on the topic of Hypermobility.
She graduated from Fordham University in 2001 and New York College of Osteopathic Medicine in 2005. Dr. Riley's postgraduate training started as an ENT/Facial Plastic surgery intern at the former Union Hospital, NJ, from 2005 to 2006, and she completed two years of residency at the Union Hospital/Newark Beth Israel/St. Barnabas Medical Center (2006-2008) before switching specialties. She finished her Family Medicine and Osteopathic Manipulative Treatment residency at Long Beach Medical Center (2010), where she served as Chief Resident (2009-2010) and was awarded Family Medicine Resident of the Year (2010). Dr. Riley is board certified in Family Medicine and Osteopathic Manipulative Medicine. She is currently enrolled in an MS program in Clinical Nutrition for application in her hypermobility treatment.
Prior to joining NYITCOM in 2017, Dr. Riley served as Program Director of the Osteopathic Traditional Rotating Internship at South Nassau Communities Hospital, core faculty of their Family Medicine Residency, and Coordinator of Simulation Medicine. Before that, she served as Medical Director of the Long Beach Group Practice.
She is a member of their COMAT Family Medicine subcommittee and COVID-19 Assessing COVID-19-Related Topics (ACT) Task Force. She also published an article that chronicles her experience as a physician during the COVID-19 pandemic, "Disaster Management During the COVID-19 Pandemic: A Closer Look at Managing Ehlers-Danlos Syndrome and Hypermobile Patients."
Dr. Riley is interested in health policy and has been active in advocacy for many years. She teaches advocacy to medical students and writes and offers the 4th year Congressional Health Policy Elective (MTPU850). She is faculty for the two-year Congressional Health Policy Fellowship (OW). She was elected President of the New York State Osteopathic Medical Society (NYSOMS) in April 2022. She is a committee member for the Medical Society of the State of New York (MSSNY) Women Physicians and Physician Wellness and Resiliency Committees. Riley is involved in National Committees, including ACOFP Annual Convention Work Group, has been Chair of their National Convention (2020), and has served on National Task Forces, including Climate Change and healthcare disparities.
Dr. Riley is the proud daughter of Thomas Riley, a historical fiction author who has written for Irish America. His father was from County Carlow. ♦