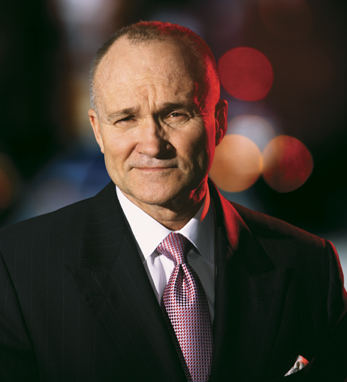 Commissioner Ray Kelly
A former-marine, a beat cop and the only person ever to serve two, non-consecutive terms as New York City Police Commissioner, Raymond P. Kelly has dedicated his life to serving his country and his city.
Born in New York City, Commissioner Kelly is the youngest of the five children of James Francis Kelly and Elizabeth O'Brien, both first-generation Irish Americans. His father was a milkman and his mother worked as a coat check girl at Macy's.
After graduating from Archbishop Malloy High School he went on to Manhattan College, graduating with honors and joining the New York City Police Department in 1963. Shortly thereafter he accepted a commission to the United States Marine Corps Officer Program. He served on active military duty for three years, including a combat tour in Vietnam. He returned to the Police Department in 1966 and entered the New York City Police Academy, graduating with the highest combined average for academics, physical achievement and marksmanship.
As the first member of his family to join the police department, Commissioner Kelly had no one to open doors for him.  He relied on his own abilities and took advantage of department scholarship programs to advance his career. While working as a uniformed officer and rising through the ranks, he earned a law degree from St. John's University, a master of laws from New York University School of Law, and a master of public administration from Harvard University's Kennedy School of Government.
In 1992, Mayor David Dinkins named Kelly Police Commissioner.  One of the first tasks he undertook was the expansion of minority recruitment in the NYPD. He also reduced felony crimes by 50,000 during his first year in office.
In January 1994, following the change in mayoral administrations, Kelly retired from the NYPD. He was appointed by President Clinton to serve as Director of the International Police Monitors in Haiti, and went on to serve as Under Secretary for Enforcement at the U.S. Treasury Department, and Commissioner of the U.S. Customs Service. In 2000, he joined Bear Stearns and Co., Inc. as Senior Managing Director of Global Corporate Securities.
Kelly was motivated by the events of 9/11 to return to public service. He received that opportunity when Mayor Bloomberg swore him in as Police Commissioner in January 2002.
It was clear from the start that his second tenure, which began in January 2002, would be very different from his first. The NYPD found itself on the frontlines of the global fight against terrorism after the 9/11 attacks. In response, Commissioner Kelly created the first counterterrorism bureau of any municipal police department in the country. He also established a new global intelligence program and stationed New York City detectives in eleven foreign cities. Despite having 6000 fewer officers and dedicating extensive resources to preventing another terrorist attack, the NYPD has driven crime down by 34% from 2001 levels.
Commissioner Kelly has been supported at every stage of his extraordinary career by his devoted wife, Veronica, who he met on Long Island one summer when he was a young lifeguard. Together they raised two sons, James and Greg.
Ten years after returning to the role of commissioner, Kelly is still doing what he set out to do back in 1963: serving and protecting New York.