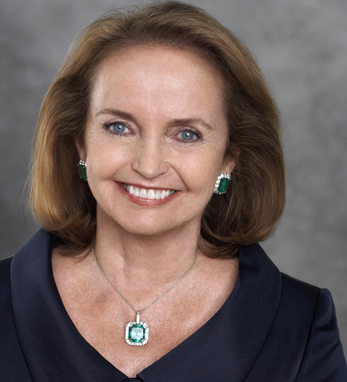 Loretta Brennan Glucksman
Loretta Brennan Glucksman has worked tirelessly to promote Irish culture and to establish strong ties between America and the island of Ireland.
Loretta was raised in an Irish neighborhood in Allentown, Pennsylvania, the granddaughter of four Irish immigrants. Her maternal grandfather was a miner from Leitrim, who was involved with the first unionizing efforts there. Her father worked on the railroad during World War II before joining the Civil Service, first as a mail carrier and then as an office worker.
Loretta was an early high achiever. She earned a scholarship to Chestnut Hill College, where her aunt Sue was the mother superior. She went on to marry her high school sweetheart Jack Cooney and teach at Trenton State College (now The College of New Jersey). The position offered her a chance to teach while enrolling her three children in the school's early childhood program.
Loretta's career changed in the early 1970s, when she moved to television, introducing a book program at the then new Trenton-based public television station and after that a public affairs program, The Thursday Report, which she worked on for over a decade before she moved she moved into public relations.
It was in 1984 when Loretta, now divorced from Jack,  met Lewis Glucksman, then head of the investment bank Lehman Brothers. Lew had first visited Ireland when he was in the Navy during World War II and returned as often as possible, out of a love for Irish writers. In 1987, he took Loretta to Ireland for her first visit, which left her "overwhelmed and mesmerized." Eventually the Glucksmans bought a home in Ireland near Cobh. Sadly, Lew passed away there in 2006.
Between 1987 and 2006, the Glucksmans made many unforgettable contributions to Ireland and to the Irish-American community. In 1993, Glucksman Ireland House opened at New York University. Today, Loretta is the co-chair on Ireland House's advisory board.
She is also Chairman of The American Ireland Fund. She has played a key role in philanthropic efforts to spread peace throughout the island of Ireland, including funding two integrated schools for Catholic and Protestant children in the North, because, as Brennan Glucksman has stated, "it's so crucial to break down barriers by educating children together." In total, the Funds have raised over $250 million for Ireland and Irish causes.
In addition to her work with the Fund and Glucksman Ireland House, Loretta serves on the boards of The National Gallery of Ireland, Trinity College Dublin, University College Cork and the Royal Irish Academy.
In these pivotal and difficult times for Ireland, Loretta Brennan Glucksman perseveres as a strong advocate for the country – increasing awareness and interest in Irish history and culture throughout the U.S., and rallying much-needed support. She is a steadfast champion of all things Irish and Irish American.