Healthcare and Life Sciences 50 - 2022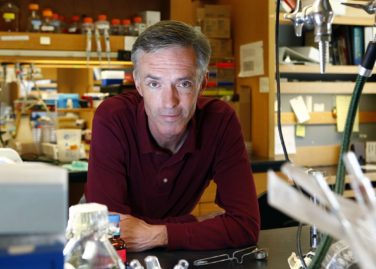 James T. Collins
Dr. Collins is the Termeer Professor of Medical Engineering & Science and Professor of Biological Engineering at MIT, as well as a Member of the Harvard-MIT Health Sciences & Technology Faculty. He is also a Core Founding Faculty member of the Wyss Institute for Biologically Inspired Engineering at Harvard University, and an Institute Member of the Broad Institute of MIT and Harvard.
Collins received his BA in Physics from the College of the Holy Cross and his Doctorate in Medical Engineering from the University of Oxford, where he was a Rhodes Scholar. One of the founders of the field of synthetic biology, Collins and his research group were motivated during the pandemic to do what they could to help. "We completely refocused our lab on covid-related work, leading to the development of a number of covid diagnostics, some of which were widely used."
He is currently focused on using synthetic biology to create next-generation diagnostics and therapeutics, and has developed paper-based diagnostics for Ebola and Zika, as well as CRISPR-based diagnostics for COVID-19 including a facemask diagnostic. Collins has created synthetic probiotics to detect and treat cholera, as well as prevent gut dysbiosis during antibiotic treatment. Collins is also leading the Antibiotics-AI Project at MIT, which is focused on harnessing the power of artificial intelligence (AI) to address the antibiotic resistance crisis.
Collins has received numerous awards and honors for his work in synthetic biology, including the Dickson Prize in Medicine, the Sanofi-Institut Pasteur Award, a MacArthur "Genius" Award, and an NIH Director's Pioneer Award, among many others. He is an elected member of all three national academies – the National Academy of Sciences, the National Academy of Engineering, and the National Academy of Medicine – as well as the American Academy of Arts & Sciences and the National Academy of Inventors.
He is married to Mary McNaughton Collins, M.D., who is a primary care physician at Massachusetts General Hospital and an Associate Professor at Harvard Medical School, and they have two children, Katie, who is studying for a Ph.D. in Artificial Intelligence at the University of Cambridge as a Marshall Scholar, and Danny, who is a junior at Duke University majoring in Biology and Marine Science & Conservation.
Collins' grandfather, Maurice Collins, was born and raised in Abbeyfeale, Co. Limerick, and his paternal grandmother, Helen Kiely, was born and raised in Kiskeam, County Cork. ♦