Stars Of The South - 2010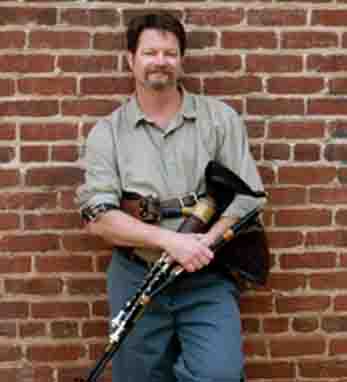 John Maschinot
John Maschinot, a master musician who has been playing the uilleann pipes, Irish wooden flute and tin whistle for a quarter of a century, grew up in a small Kentucky town on the Ohio River with a musical father and an artistic mother whose ancestors came from Galway.
As a young man he traveled to the highlands of North Georgia where he was influenced by mountain music. Later, he encountered the great Irish uilleann piper Joe Shannon and became smitten with Irish music. He saw the kinship between Appalachian and Irish music and, over time, developed a unique style and repertoire that reflects this relationship.
John formed the "Buddy O'Reilly Band," a seminal ensemble featuring some of the finest traditional musicians in the Southeast. The "Buddies" produced three albums. He is currently involved with  a group called A Do, a classic Irish piping and fiddling duo.
In addition, to playing music, John hosted and produced the critically acclaimed "Up in the Air" world music program on WRFG FM Atlanta. A second program, "The Celtic Show," which he began in 1985, is still in production.
With the assistance of Dr. James Flannery of Emory University, and the W.B. Yeats Foundation, John created and produced the first Atlanta Celtic Christmas show in 1992 and serves as the musical director and creative consultant of the show, which is now in its 18th year of production. A new world music radio program is also in the works.