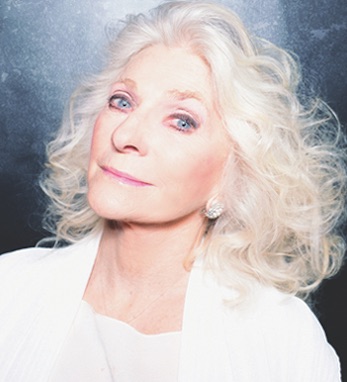 Judy Collins
Judy Collins produced her first album in 1961 at the age of 22 and quickly ascended to become one of the most well-known and influential singers of the generation. Since, she has released over 40 records (six of which have gone gold), won a Grammy, written seven books, and stayed committed to her idea that music is a valuable and necessary form of activism.
Collins was born in Seattle in 1939 and moved with her family, first to Los Angeles, and finally to Denver a decade later. There, her father ran a radio program for a local station and maintained high standards for his five children to learn about literature, world affairs, and music. Collins studied classical piano until the age of 14 when, after hearing the Irish ballad "The Gypsy Rover" on the radio, convinced her father to buy her a guitar. At 19, Collins married her first husband Pete Taylor and began performing in Denver bars to support them and their new son Clark while Pete was in college.
After graduating, Pete moved the family east so he could teach at the University of Connecticut. Judy's songs became popular on the college radio station and eventually, she was drawn to the budding folk scene in New York City's Greenwich Village where she gained wider acclaim playing in the neighborhood's clubs and bars. Soon, Collins signed with Elektra Records, known for signing many early-60s protest singers, and released A Maid of Constant Sorrow in 1961, which included three Clancy Brothers standards, "A Bunch of Thyme," "Bold Fenian Men" and "The Rising of the Moon."
While her career was taking off, Collins interacted with all the names of the day. It was in fact working with the Clancy Brothers and Tommy Makem that got her the first record contract, singing Joni Mitchell's "Both Sides Now" that won Collins her first Grammy in 1968, and Leonard Cohen who convinced her to begin writing her own music.
Though she began her musical career in the Greenwich folk scene, by the end of the decade her musical range had expanded to include genres like pop, rock and roll, show tunes, and standards. Since, she has not been defined by any single style other than, perhaps, eclecticism. She has performed with the Boston Pops Orchestra and on the Muppet Show, she made the 18th century hymn "Amazing Grace" popular again when she released her version of the song in 1970. Collins version of Stephen Sondheim's "Send in the Clowns" was hugely popular, and she appeared on the New York stage in the 1969 revival of Henrik Ibsen's verse play Peer Gynt. In 2019, Collins scored her first #1 album on an American Billboard Chart at the age of 80 years old and in 2020 Collins re-released "Amazing Grace" with The Global Virtual Choir in support of the World Health Organization.
Throughout her career, Collins has also been a committed social activist and still believes in the power of music to effect social change. She was friendly with early Yippie leaders and was present at the founding of the Youth International party in Chicago in 1968 and testified on behalf of the Chicago Seven in 1969. She was a vocal supporter of civil rights and women's right in the 60s and 70s, and traveled to the South to register black voters. Now, Collins is a representative for UNICEF campaigning against the use of landmines.
In 2000, Collins created her own label, Wildflower Records, to record her own music and support the work of other artists. For 40 years, she has lived in the same Upper West Side apartment with her husband, designer and artist Louis Nelson, whom she met in 1978.
____________________
Click here to read Collins March / April 2020 Hall of Fame profile.