Healthcare and Life Sciences 50 - 2022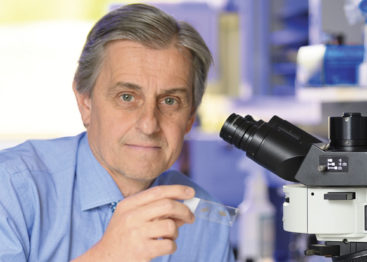 Kevin J. Tracey
Kevin J. Tracey is the President and CEO of The Feinstein Institutes for Medical Research; Professor of Neurosurgery and Molecular Medicine at the Zucker School of Medicine at Hofstra-Northwell; and Executive Vice President, Research, at Northwell Health, in New York.
He is a leader in the treatment of inflammation and bioelectronic medicine. His contributions include the discovery and molecular mapping of neural circuits controlling immunity and identifying the therapeutic action of monoclonal anti-TNF antibodies.
Tracey received his B.S. (Chemistry, summa cum laude, Phi Beta Kappa) from Boston College in 1979 and his M.D. from Boston University in 1983. He trained in neurosurgery from 1983 to 1992 at the New York Hospital-Cornell University Medical Center before moving to The Feinstein Institutes. An inventor of 77 U.S. patents, and author of more than 400 scientific publications, he co-founded the Global Sepsis Alliance, a non-profit organization supporting the efforts of one million sepsis caregivers in more than 70 countries.
As an entrepreneur, Tracey is co-founder of several biotechnology companies, including SetPoint Medical, the industry leader in bioelectronic medicine for developing vagus nerve stimulation technology to treat rheumatoid arthritis. His numerous honors and awards include Doctorates honoris causa from the Karolinska Institute, Stockholm, Sweden; from Hofstra University, New York, and the University of Fribourg, Switzerland. He received the Distinguished Alumni Award from Boston University.
He delivered the Harvey Society lecture in New York, as well as lectureships from Harvard, Yale, Rockefeller University, the NIH, and elsewhere. And he served as Keynote Speaker at Irish America's Healthcare/ Life Sciences dinner in 2019. He was elected into the American Society of Clinical Investigation (2001), the American Association of Physicians (2009), the Long Island Technology Hall of Fame (2012), Alpha Omega Alpha (2014), the American Association for the Advancement of Science (2014), and the American Institute for Medical and Biological Engineering (2020).
Tracey is a TedMed speaker and author of Fatal Sequence (Dana Press). He delivers lectures nationally and internationally on inflammation, sepsis, the neuroscience of immunity, and bioelectronic medicine.
Tracey's great-grandparents immigrated from Co. Westmeath in the early 1900s. His wife, Patricia McArdle, is 2nd-generation with ancestors from Donegal. They have four grown daughters, Maureen, Mary Bridget, Katherine, and Margaret.♦