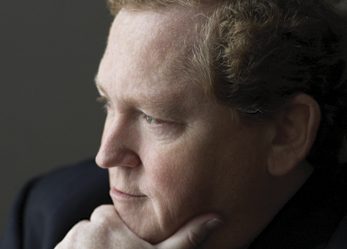 Thomas Moran
Chairman, president and CEO of Mutual of America, Tom Moran grew up in Staten Island, one of three children of an Irish-Italian-American mother and an Irish-American father, with roots in Counties Fermanagh and Tipperary.
Moran has always been a hard worker. At 14, he began his first job as a janitor at his high school. While attending Manhattan College, he drove a cab during the night shift. Through these diverse work experiences, he learned valuable lessons and developed the beliefs that continue to influence his life and work today.
After earning his degree in mathematics, Moran began working at Mutual of America in 1975. His first responsibility there was to "paperclip anything that needed to be signed" whenever a pension had been sold. He has been President and CEO since 1994, and chairman of the board since 2005.
It was at Mutual that he met his wife, Joan, in 1976. They married in 1983 and both still work for the company. They share a love of family and friends and a passion for philanthropy and volunteerism.
Moran has in the past praised Mutual of America for its atmosphere of giving, with all employees either volunteering for or donating to various causes. This is something Moran consistently demonstrates himself. He is the chairman of Concern Worldwide (US), which has programs in 28 of the world's poorest countries and implements emergency responses to disasters, in addition to targeting poverty and hunger. With Concern, Moran has traveld to Haiti, Rwanda and the Sudan.
Moran serves on the boards of directors of the Greater New York Council of the Boy Scouts of America, the National Committee on American Foreign Policy, and the Irish Hunger Memorial in New York City. He has been given membership in the Alexis de Tocqueville Society of the United Way and Excalibur membership. He serves on the Irish Prime Minister's Economic Advisory Board and the boards of the Irish Chamber of Commerce in the USA and the Ireland-US Council for Commerce and Industry, Inc.
His first trip to Ireland in the '70s generated his passion for the country and its future. In his involvement with the peace process Moran worked behind the scenes, resulting in strong friendships with those on both sides of the conflict. When he was honored as Irish America's Irish American of the Year in 2008, accolades were bestowed on him from Ian Paisley, Gerry Adams, former Taoiseach Bertie Ahern, and Sir Hugh Orde, then-chief Constable of the PSNI, among many others.
Moran has been awarded numerous honors, including the Ellis Island Medal of Honor, which celebrates "remarkable Americans who exemplify outstanding qualities in both their personal and professional lives, while continuing to preserve the richness of their particular heritage." It is a fitting description of Tom Moran.