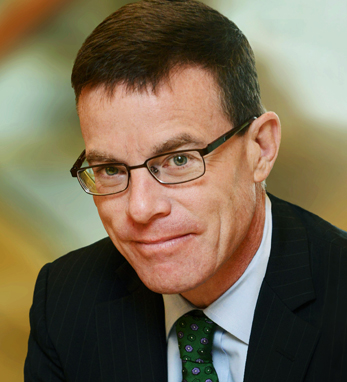 Tim Ryan
Tim Ryan is senior partner and chairman of PwC U.S. and the 2017 Wall Street 50 Awards Dinner keynote speaker. Ryan, who assumed his current role last July, has quickly become one of the most significant executives for his unparalleled opening of a dialogue at PwC and with more than 270 other CEOs around issues of race, diversity and inclusion across the business community. Over the past year, Ryan has worked a small group of peers to spearhead the CEO Action for Diversity and Inclusion, the largest CEO-led pledge to share resources across companies to advance diversity and inclusion in the workplace and to cultivate an environment of openness and empowerment in the business community.
Ryan, 52, was born in Boston and raised just over the city line in Dedham. He has spent his entire professional career at PwC, joining Price Waterhouse's Massachusetts office the year he graduated from Babson College (with a degree in accounting and communications) and staying on when it merged with Coopers & Lybrand in 1998. Prior to his current role, Tim served as vice chair and markets, strategy, and stakeholders leader, having responsibility for PwC's strategy function and stakeholder relationships including investor relations, regulatory affairs, public policy, corporate responsibility and human capital.
Ryan's father's parents emigrated from counties Galway and Cork. Though they died when Ryan was young, he remembers the Irish traditions they passed on to his parents and him and his siblings – the Sunday family dinners and the skill of making a perfect cup of tea. Ryan comes from a working class family, where his father worked for Boston Edison and moonlighted at the Boston Herald, and his mother worked as a supermarket cashier at Roche Bros., where Ryan himself also worked from the ages of 14 to 24. (He still took shifts there during his first two years at PwC.)
"My parents were only high school educated, but they were the best educators you could have asked for because they taught us the lessons you needed to succeed in life," he says. "My mother, for example, always called us out when we made a mistake."
"They did this unique thing when they were raising my siblings and me. They would regularly remind us to not to blame other people if we made a mistake, not to be so defensive, and to get over ourselves and stay humble. And that's really a remarkable skill that I got from my parents. In managing PwC's 50,000 people or when I'm working with other Fortune 1,000 CEOs, I'd never succeed if I got defensive every time somebody challenged me. This life lesson of not taking yourself too seriously goes all the way back to my Irish upbringing."
Ryan lives in Boston and is an avid marathon runner, hockey fan, and the proud father of six children. He has been published and quoted in numerous publications and is a frequent contributor to industry events. He plays an active role in the Center for Audit Quality – a non-partisan, non-profit group dedicated to enhancing investor confidence and public trust in the global capital markets.
Read more about Ryan in the October / November 2017 issue of Irish America.