Patrons of New York watering holes such as Clancy's, Rory Dolan's and Barney Mac's are seeing amazing things on the walls, and no, they haven't had one too many. They're gazing at the murals of artist Paul Joyce who recently exhibited in Houston.
Joyce currently works as assistant studio manager for renowned contemporary artist Jeff Koons, overseeing the development and execution of Koons' large-scale paintings. But his own work has been making a stir since 1992 when he completed six large outdoor murals for the National Gallery, Dublin.
In 1996 he created a large mural for the James Joyce Center. His mural in Barney Mac's also depicts Joyce, and he has one more connection to the author of "the greatest novel of the century." Joyce is his grandfather's uncle.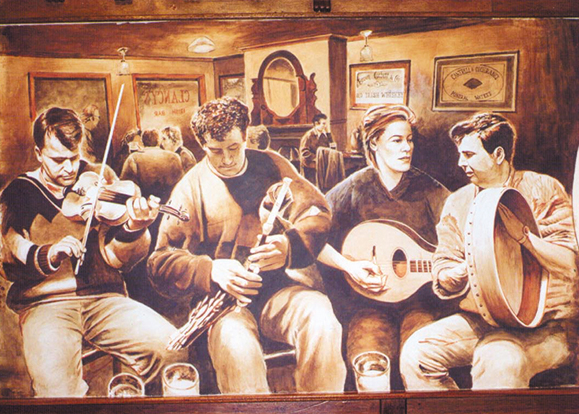 After the publication of Dubliners, the Joyce family elders denied ties to the controversial writer, so Paul only discovered his famous relation at age 12, but soon found in his writing a wealth of inspiration.
So if in New York, stop by one of the pubs and feast your eyes while you wet your whistle! ♦