When American Airlines Flight 587 crashed in Rockaway Beach, Queens, it hit a tight-knit community already reeling from numerous losses suffered in the World Trade Center tragedy.
After taking off only two minutes earlier from Kennedy Airport, located across Jamaica Bay, flight 587 broke apart and nose-dived directly into a heavily populated area of Rockaway known as Belle Harbor. Two hundred and sixty-three passengers onboard and five local residents (four of Irish descent) perished.
It's two months almost to the exact day that Rockaway lost more than 70 of its residents, many of them Irish Americans who worked on Wall Street and the FDNY, and this tight-knit community, already reeling with grief, is shaken to their core.
Great as the tragedy is, there were miracles that also occurred on this day. If you asked those who lost family members in the World Trade Center tragedy, you might hear them say they had an angel on their shoulders on that Monday, keeping them out of harms way.
Bernie Heerin, owner of the Harbor Light Restaurant and a retired fireman, lost his son Charlie in the World Trade Center tragedy. On this day, another tragedy was narrowly avoided when the engine of flight 587 landed directly across the street from his house on a gas station, just yards from his front door. The plane passed directly over and clipped the house directly across the street.
His partner in the restaurant, John Whelan, lost his brother Eugene, a fireman. Eugene had lived above the restaurant, and his parents and brother Chris were in the apartment on that fateful Monday when the plane narrowly missed the building.
Chris described hearing a rumbling above their heads, followed by a burst of wind that came through the apartment, blowing the door open. When he looked he saw an orange fireball outside their window.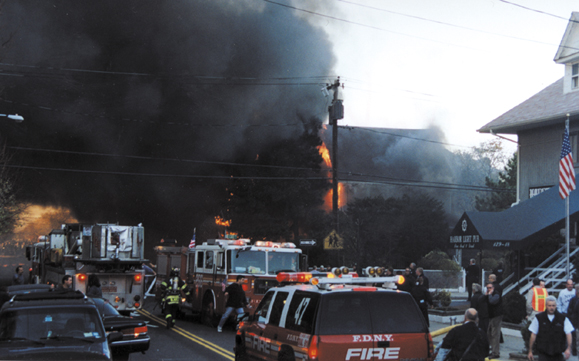 Countless Rockaway natives, including those New York City firefighters and police officers who'd lost family members and friends in the World Trade Center tragedy, rushed to the scene to offer assistance. Bernie Heerin was one of the first people to grab a hose.
Officer Sean Carlton witnessed the crash as he was leaving his apartment for work, all the while knowing his family lived in the area of the crash. He immediately got in his car and headed to the scene. Sean's family lives on Beach 126th Street, just blocks from the scene and within minutes they were all accounted for and Sean was grabbing a hose line to assist the firemen and getting all the neighbors out of their homes safely.
Sean's brother-in-law, Captain Timothy Stackpole of the FDNY, died in the World Trade Center tragedy as he was setting up a command post at the site. This heroic man had fought his way back onto the fire department after he was nearly killed in a Brooklyn blaze in 1998, which left him with serious burns over his entire body. No doubt he rests with the angels today, for he certainly earned his wings.
There were many other near-misses as well: Howard Beach native Brian Connolly, president of Avon, recalled how his brother, a pilot for American Airlines, pilots flight 587 regularly and would bid for this flight as it was his favorite. It was only the day before the crash he flew this flight for the last time.
One month later, there is an unusual quietness among this usually bustling neighborhood, albeit the sound of the bulldozers clearing the rubble of the remnants of homes and fuselage. As I venture over to the scene of the crash I am reminded of the families who have lost loved ones in this horrific tragedy and I stop for a moment on this hallowed ground to say a prayer — a prayer for the souls of those who perished.
Rockaway has its own "ground zero" now.
There is a makeshift memorial filled with photos, prayers, flowers — reminders of what used to be. The smell of jet fuel still permeates the air, and the charred remains of the homes that used to stand there can be a reminder of the resiliency and character of this sleepy town community, who find strength in their belief that their lost loved ones are looking out for them. As Chris Whelan said about his brother Eugene: "He saw that plane heading towards us and gave it a little kick." ♦