Bringing salmon skins into the fashion world and proving the skeptics wrong.
℘℘℘
Among the many gifts he has received from appearances around the world, Mikhail Gorbachev left Dublin in January with a particularly unusual memento. In a standard diplomatic exchange of gifts, Irish President Mary McAleese presented the former Soviet premier with a leather wallet made from Irish salmon skin.
The wallet is the brainchild of Corkman John Fitzgerald, who has pursued this venture for close on eight years. The idea first came to him fishing off the Kerry coast. Sometimes he'd bring the family pet aboard, a mongrel Labrador named, well, Gorbachev, but if fact is more remarkable than fiction, the entrepreneur insists his tale of two Gorbachevs is simply coincidence.
"I was pretty surprised alright when we got this request from the president's office," he says. "It was another step for us, recognition of the quality of our product. John Hume has one of our wallets as well, and when I heard about Gorbachev I just thought, there's one world leader going home without Waterford crystal."
In fact the wallet is just one of a new array of goods from Fitzgerald's Dublin-based Irish Salmon Skin Leather Company. The product range now coming onstream includes women's purses and handbags, credit card holders, belts, hip flask covers, watch straps and other accessories. More recent additions include bustiers, mini-skirts and even bikinis.
"We were actually commissioned by a London magazine to design the bikini," he explains. "It's hard to judge whether there will be a demand for them, but people got a kick out of the promotion. Most people think it's snakeskin, but then I tell them we don't have snakes in Ireland.
"The other thing is, nothing is killed for this. It's eco-friendly. It's recycling. I never owned a leather jacket, for example, and my ethos would be driven by the fact that the skin is beautiful and this is a way to preserve it."
But if salmon is known for its resilience, it's been quite a journey for Fitzgerald himself. Others might have admired the beauty of salmon skins before, but skins are ritually discarded after being fileted by chefs. The same thought occurred to him when he moved ashore to manage a restaurant in his native Caherdaniel.
Had the Corkman known how much effort would be involved turning his vision into reality, he might never have gone for it. Primed, however, by enthusiasm and blissful ignorance, he jumped into the deep end and slowly learned how to swim.
The complex process of treating salmon skin for commercial use involved multiple trial-and-error techniques. With a little encouragement from prospective retailers, he stuck at it, developing his idea to the next stage before taking it to the British School of Leather Technology. After a few false starts he arrived at the college with his raw material, 4,500 fish skins stored in a battered old van he'd driven by ferry across the Irish Sea. It was all or nothing.
Unknown to him — and most people — there is a history of fish skins being used for secondary purposes. "I never knew anything about it until I started working on the idea," he recalls. "It turns out that in northern Russia they've been doing this for thousands of years because they have to. Salmon is their buffalo. They use it for food, vitamins, oils and fabrics." The procedure was complicated but his aim was simple — to turn the skins into leather. After almost two years' research in Northampton he devised a 12-stage tanning process which makes the raw material usable for fashion goods.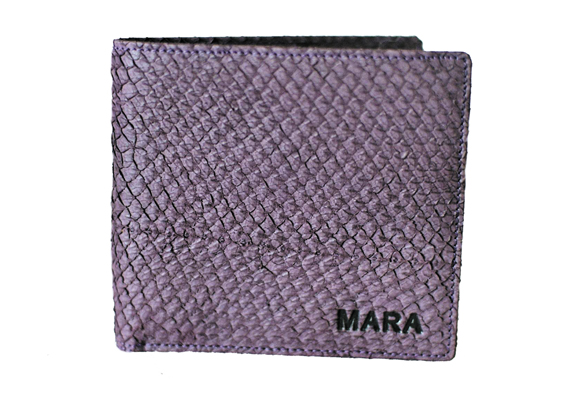 He is grateful for the assistance he received at Northampton, but interest in his work spread to the most unlikely quarters. The chief curator of London's Victoria and Albert Museum contacted the Irishman in connection with restoration work on an eighteenth century Siberian ceremonial gown. Fitzgerald was able to provide enough replica leather to complete the restoration.
Unlike cowhide, salmon skin is distinctive by its attractive honeycomb pattern. The surprising thing is that salmon skin will last longer. Fitzgerald puts this down to the fact that salmon live in both salt water and fresh water, traveling from freezing to warm conditions with a durability that requires real strength and flexibility.
"Fish skin is more versatile than cow leather," he explains. "It can be made as strong as crocodile hide but is as soft as tissue paper. People are surprised how long it will last — in fact compared to leather from cow or deer, salmon leather would be two to three times stronger. It's the strongest type of leather you can get and the only one in the world with 20,000 miles on the clock before it ends up in your pocket."
Salmon holds a particular significance in Irish mythology. Not only is it associated with knowledge, but the momentously arduous journey from Arctic seas to spawning beds upriver is a struggle that fascinates artists and non-artists alike.
Their journey is fraught with obstacles, natural and man-made. Comparisons with John Fitzgerald's enterprise are convenient but irresistible. Asked what gives him most satisfaction about the project, he says he's glad to produce original, high-quality merchandise. "And proving the skeptics wrong," he adds. "Showing that it can be done." ♦