A conference in Washington to strengthen economic ties.
Approximately 450 heavy hitters in business, academia, and politics from both sides of the Atlantic descended on Washington D.C. in early September for the U.S.-Ireland Business Summit. Adopting the theme "Redefining Relationships," the conference aimed to strengthen economic ties between the U.S. and Ireland in the hopes of generating new economic opportunities in both countries.
The brainchild of Susan Ann Davis, head of a D.C.-based communications and public affairs firm and president of Irish American Republicans, this summit was the third such event held in Washington. Davis saw this summit as the chance to develop business relationships as a logical extension of the Good Friday Agreement and as an opportunity for the Bush administration to expand upon the work of the Clinton administration. "President George Bush has put forward a new vision for peace that emphasizes private sector leadership and innovation to build economic vitality and cooperation," Davis maintained.
"The U.S.-Ireland Business Summit is a bold step toward making the President's vision a reality."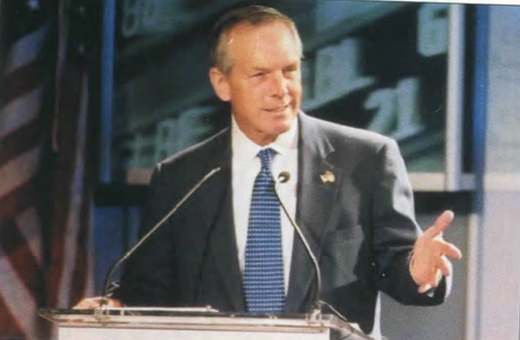 At the two previous gatherings, held while Clinton was in office and billed as conferences for Trade and Development, business took a back seat to politics as politicians from Northern Ireland, the Republic and the United States used the event to foster the then-budding peace accord that resulted in the Good Friday Agreement. This post-GFA gathering was unique in that business remained the focus throughout. While the proceedings had the blessing of all governments concerned, during the actual proceedings politicians were the clear minority.
Along with keynote addresses and panel discussions by leaders in finance, ICT, biotechnology and research, the summit also featured a Congressional Reception chaired by Senator Edward Kennedy and Congressman James Walsh, and a black tie gala at the National Building Museum featuring entertainment from James Galway and members of Riverdance. The gathering concluded with a luncheon at the State Department hosted by Ambassador Richard Haass, Director of Policy Planning on Northern Ireland. Participants included financial wiz Peter Lynch; Richard Egan, the founder of EMC Corporation and now the U.S. Ambassador to Ireland; Don Evans, Secretary of the U.S. Department of Commerce; U.S. Secretary of Health and Human Services Tommy Thompson; Dr. George Moore, CEO of TARGUS Information Corporation; Michael D. Capellas, President of Hewlett-Packard Company; Frank Carlucci, Chairman of The Carlyle Group, and Michael Ruettgers, Executive Chairman of EMC Corporation.
In her keynote address to the gathering, An Tanaiste Mary Harney, Minister for Enterprise Trade &Employment, explained why this gathering was pivotal to the evolution of the Irish economy.
"In the past thirty years, Ireland has moved from being an agriculture-based economy to an economy driven in large part by our success in attracting high technology investment from overseas. In that period, we became very good at making products invented and developed by others. That approach has helped us become a modern, confident economy which in the past decade has been the envy of much of the rest of the world. But it is a strategy that will not sustain us into the future," she continued. "We must now move our economy on to a new plane founded on a strong research ethic. We need to concentrate our resources on innovating and developing the ideas that will be at the heart of the products and services of the future."
Toward this end, she announced that Science Foundation Ireland had approved awards totaling 32 million euros to fund current research in Ireland in the fields of biotechnology and Information Communications Technology and attract scientists from around the world to conduct their research in Ireland.
For his part Sir Reg Empey, Minister for Enterprise Trade and Investment in Northern Ireland, emphasized the need to nurture more of an entrepreneurial spirit in Northern Ireland while at the same time portraying Northern Ireland as an attractive destination for American companies seeking to branch out overseas, with a well-educated, highly skilled workforce and new initiatives to encourage business growth and entrepreneurship. American companies such as DuPont, Seagate, Caterpillar and Raytheon have already expanded to Northern Ireland, he pointed out, as have other industry leaders from around the world, like Bombardier from Canada, and Fujitsu from Japan.
Such a summit — where politics took a backseat to commerce — would have been unthinkable prior to the Good Friday Agreement, when any discussion of Northern Ireland inexorably wound its way back to the conflict. But the peace, albeit at times fragile, that the country has enjoyed in recent years has fostered an economic growth that will hopefully, in turn, further stabilize the country. To drive home this point during his keynote address, Empey quoted John Hancock: "The more people who own little businesses of their own, the safer our country will be, and the better off its cities and towns; for the people who have a stake in their country and their community are its best citizens." ♦