On Thursday, August 14th, a massive power blackout paralyzed much of the Northeast. But that didn't keep hundreds of well-wishers from gathering at the Mohegan Sun Hotel and Casino in Connecticut, the following night to pay their respects to "Irish" Micky Ward.
American culture is geared toward superstars and blockbusters. Ward is an anomaly: a gritty club fighter from Lowell, Massachusetts, who captured boxing's heart. His most glorious moment came at the Mohegan Sun on May 18, 2002, when he decisioned Arturo Gatti in a brawl that is now part of boxing lore. Gatti won the second and third wars between them. In June of this year, Micky retired from the sweet science, satisfied and financially secure.
At Ward's retirement party, the tributes flowed like fine wine. Jim Lampley and Larry Merchant of HBO, promoter Lou DiBella, and others spoke of a fighter who gave his all and is a joy to know. The emotional high-point of the evening came when Arturo Gatti gave Micky a diamond championship ring and showed a matching ring that he'd bought for himself.
The following night, Micky, Arturo, and their fiancées sat side-by-side at ringside for HBO's "Boxing After Dark" fights.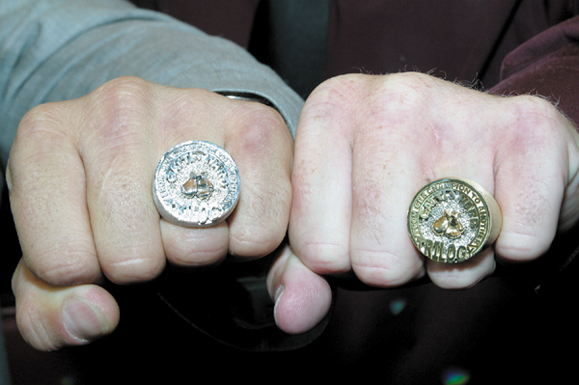 When it was Ward's turn to speak at the dinner, he gave thanks for the honors that have come his way, including his inclusion in this magazine's "Irish 100."
"I've been up; I've been down; I've been around," Ward told the assembled guests. "But everything worked out alright."
It sure has. Recently, Ward met with Mark Wahlberg, who's interested in playing the lead in a feature film based on Micky's life. ♦