The Buena Vista is Best!
Drinking legend has it that in 1942, when Foynes was the foremost transit point between Europe and America, a flight to New York was returned to Ireland due to bad weather. The airport bartender, anticipating grouchy passengers, decided to add a little sweetener to their coffee, a hefty slug of whisky was sneaked into their drinks and Irish Coffee made its debut.
The County Limerick town is proud of its contribution to cocktail history and celebrates with an annual festival and hunt for the world's best Irish Coffee maker.
This year 60 mixologists from around the world tried their hand. Five finalists, three from various Irish counties, one representing England and one from the U.S., made the final round. The stakes were higher than the €1200 prize. The 2002 winner, Declan Corbett, invented a ready-mix cold Irish Coffee called "Corbett's on Ice," which he patented and is selling in countries from Russia to Venezuela.
This year Robbie Holland from Galway presented a kind of picnic hamper for cold winter nights: a wooden crate cradling all the ingredients in portable form and perfect for those times when you can't get to the pub. The Limerick champion William McManus offered a potent cocktail involving butterscotch liquor and sherry alongside the whisky, and the Ulster champion Mykolas Karananauskas mixed an iced version for balmy summer occasions.
But it was the U.S. champion who would prevail. Frank Siletti took the stage to the sound of "The Star Spangled Banner" and created a visually stunning concoction. A bartender at the Buena Vista in San Francisco for 11 years, Frank knows how to mix a mean drink, and no wonder. The Buena Vista was the first place in America to serve Irish Coffee and according to Frank "serves more Irish Coffee and Irish whisky than any place in the world -37 million Irish Coffees since 1952."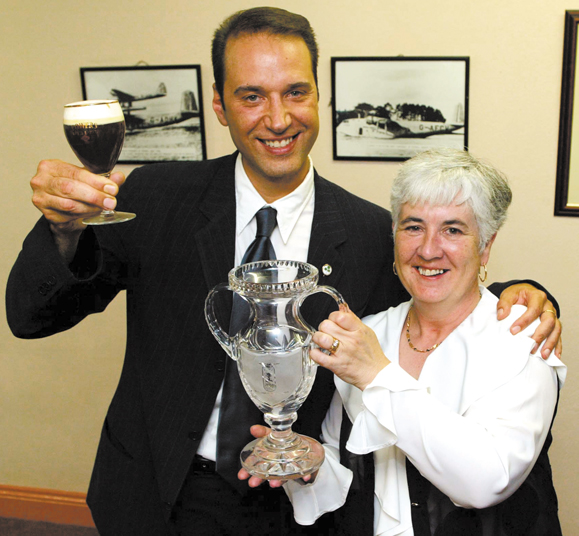 With this kind of record going for it, Siletti, who was on his second visit to the championships, clearly had a good shot at the title. His winning entry was a kind of alcoholic sculpture. Inspired by the view from his bar, he whipped up a mini Golden Gate Bridge, using six perfectly mixed Irish Coffees for the bridge's pillars and red, white and blue sparklers to imitate the city lights.
Generous in victory, Siletti shared the secrets of his success: two white sugar cubes and the Buena Vista's own whisky, specially brewed in Cooley, Ireland for the perfect kick.
One of Siletti's fellow finalists, the Leinster champion Yannick Couffiegnain fell victim to every Irish Coffee maker's nightmare. The cream, meant to gild the top of the cocktail, disappeared to the bottom of the glass. To avoid the dreaded "cream sink" Siletti recommends whipping the cream so that it's "pourable but thick."
Asked how he feels about returning to the U.S. as the World Irish Coffee Champion, Siletti said, "My fellow bartenders are going to kid me a lot, but the customers are going to love it." ♦