Tom Brady is more than an athlete, he is an American icon. Through the support of his loving family and his own will and determination, Brady won an unprecedented three Super Bowls before the age of 30. More importantly, he's done it with a touch of class.
℘℘℘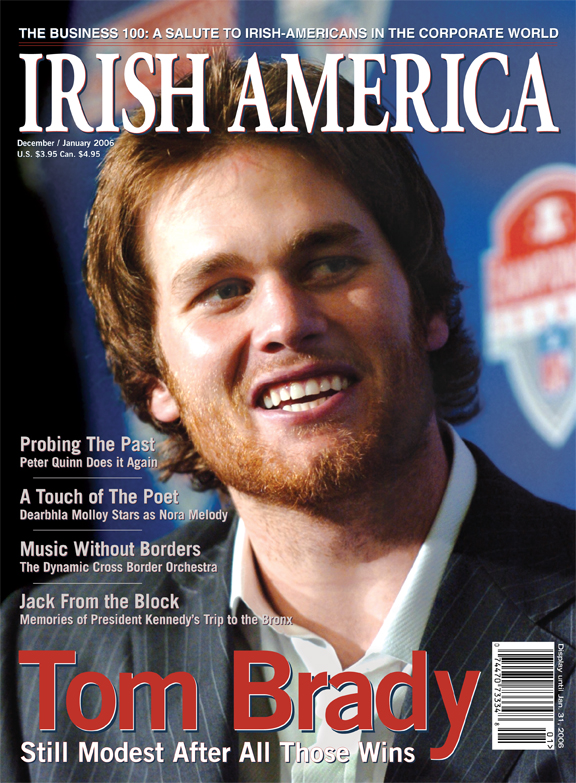 It is a nondescript fall morning in Foxboro, Massachusetts, aside from the wispy fog that has yet to be burned away. From inside Gillette Stadium, the home of the New England Patriots, this haze serves as a veil, barely hiding the 60,000 red and blue vacant seats. The emptiness of this modern coliseum is intimidating. Each seat represents a football fan, one whose dreams are painted with the home team's colors. Those that live life from Sunday to Sunday, within the hash marks of America's beautiful fall.
There are always hopes that your team will acquire "the next one" to come in and change the face and pace of your program. For the New England Patriots, this acquisition came in the form of a slightly hyped quarterback out of the University of Michigan, in the obscure sixth round of the 2000 NFL Draft.
Enter Tom Brady, a 6-foot-4 pocketpasser with a shotgun for an arm and a smile that goes for days. He was just a blip on the NFL's radar, but when preparation collided with opportunity a year later, Brady became a hero.
Brady entered the 2001-'02 season as the backup to seasoned veteran Drew Bledsoe. In the second week of the season, the Patriots were playing the New York Jets, when the history of the franchise changed with one hit. Jets linebacker Mo Lewis broke through the Patriots' offensive line and demolished Bledsoe. The hit left him reeling and it was later discovered that he had sheared a blood vessel in his chest.
What happened next is forever etched in the sacred lore of New England athletics.
Brady, at 22, came in and won over the hearts of the doubting fans. Those that had written off the season were enamored by this kid's miraculous start and went on to watch as he led their team from 0-2 to the playoffs. With his sure-handed guidance in control of the team's performance, he took New England's football team to the Super Bowl and won it for the first time in franchise history.
Over the next three years, he would win two more and become the face of the Patriots' dynasty. In an area that had not seen a professional championship in years, Brady was forcing New Englanders to believe.
Brady's story began 3,100 miles away from the towering blue gates of Gillette Stadium, in the city of San Mateo, California, a suburb near San Francisco. Tom, affectionately known then and now as "Tommy," was the youngest of four children and the only son of Tom and Galynn Brady.
Tom's three sisters, Maureen, Nancy, and Julie were stellar athletes and each was ultra-competitive in her respective sport. Maureen was an all-American softball player, Nancy was at the top of her class in basketball, and Julie was one of the best soccer players in the area. Needless to say, the Bradys were a competitive family, one that strove for victory and suffered with every loss, no matter the sport or the participant.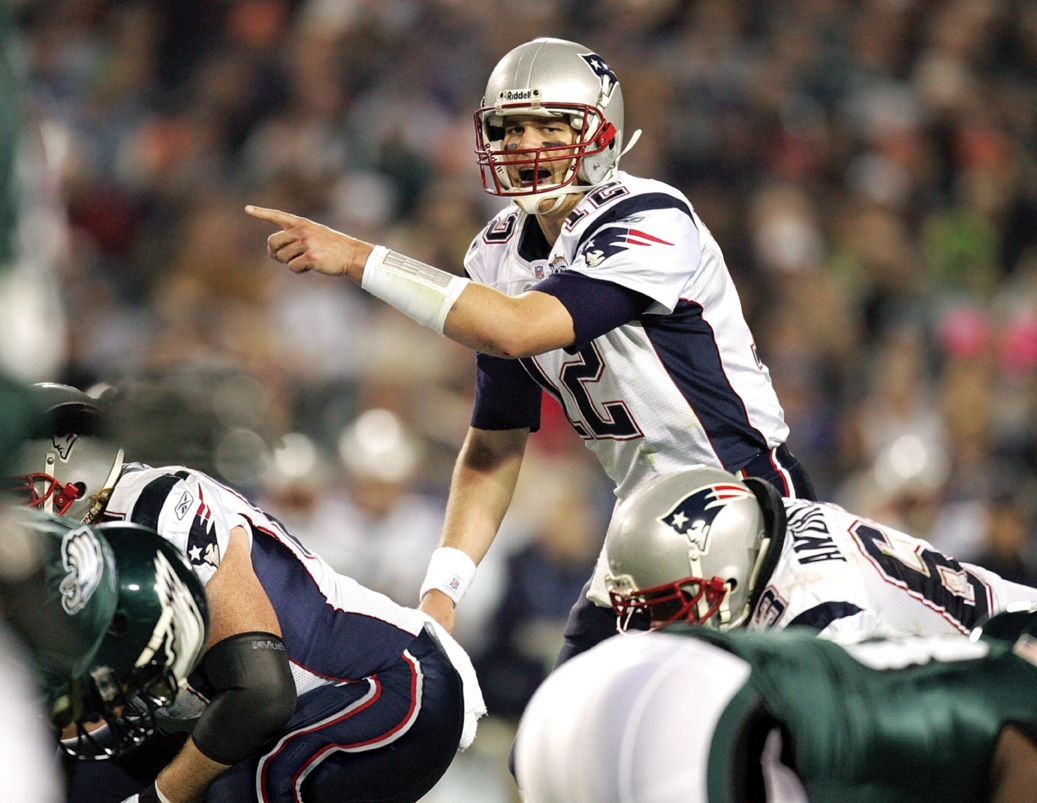 "It's fun to get the maximum ability out of your being, that's where the fun comes from. The fun comes from getting every available ounce of ability out of your body," says Brady's father, Tom Sr., who coached his kids throughout their pre-teen years and cultivated their winning attitude. Galynn was the team mom and made sure her children were taken care of on and off the field. Every day saw another set of athletic responsibilities: who had to be at what field and what time was kickoff?
"We tried to get them into a lot of things like guitar, piano, gymnastics, or whatever, yet they always gravitated towards sports," Brady's father says. "We love sports, both my wife and I. It almost became a family affair, my wife became the team mother and I'd coach."
The competition didn't stop with organized sports. Within their neighborhood the Brady kids were constantly around a slew of children of all ages, and played pickup games with their friends.
During these pre-high school years, football wasn't even on Brady's radar. His parents wouldn't let him play and Tom spent most of his time cultivating his baseball game.
"We didn't really support [football] because we had been told that it wasn't a good idea because kids' bones are developing and you don't always get good coaching," Brady Sr. says. "We figured he would do what he wanted when he got to high school."
Tommy shined on the baseball field and proved to be a solid, power-hitting catcher. Choosing his position was facilitated by pedigree. When Brady Sr. was younger he was a solid catcher who was scouted by the Pittsburgh Pirates
Father and son would spend several days a week at the batting cages; Tommy would work on defense while his father would hit him pop-flies and groundballs. It was a bonding experience, one that combined hard work with the tight-knit relationship a father has with his son.
The family would always do things together and lived in a state of loving competition. The Bradys would go to football games every fall, always the San Francisco 49ers. They only had a few tickets so not everyone could go to each game. Tom made sure he was at most of them, though, as there was something about football that made him happy.
Tom enrolled in Junipero Serra Catholic High School, an all-boys school six blocks away from his home. As soon as he could he began playing football, but quickly learned just how much work he would have to put in to even get on the field.
Brady was the backup quarterback for his junior varsity team and watched as his squad went 0-8, never scoring a touchdown. It was evident that it wasn't gong to be easy so Tom practiced incessantly, training during the off-season and attending football camps in the summer.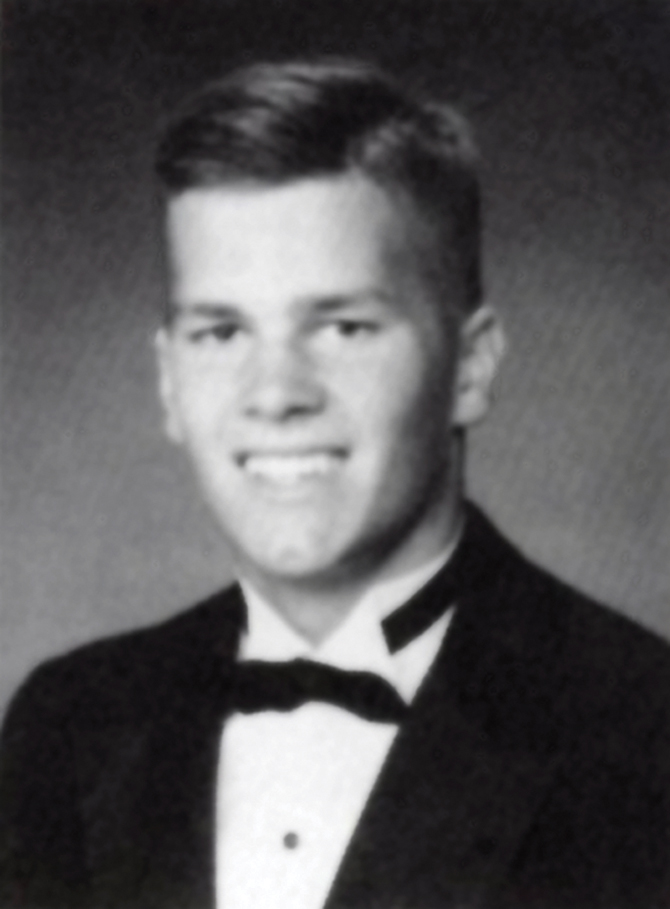 "He wasn't even worthy to get on the field for an 0-8 team," Tom Sr. says with a laugh. "He really worked hard after that, he really wanted to be the starting quarterback his sophomore year, and after working hard he got the position."
Even as a starter, playing in the football-saturated state of California did not mean instant glory. Serra was a moderate team playing some of the best teams in the country. Brady never even "sniffed" the league title, as his father says, and endured three sub-par seasons. But he loved the camaraderie of football and the team-oriented play that wasn't as prevalent on the baseball diamond. If Brady was going to win, he wanted it to be with his team; if they lost, he took it to heart.
This sentiment still rings true today.
"We've had a pretty good approach for a while. We don't intend on changing it anytime soon. We have a lot of confidence as a team. We have a lot of confidence as players and coaches that we're doing the right thing. We don't always play the way we wish we would." Brady says about his teammates on the Patriots, "I think we have a great group of guys that love to work hard. We're looking for solutions. That's what we're all about"
Off the field, Tom was continually working hard to hone his game. He would participate in the training regimen the team set, but took it upon himself to get better when no one was watching.
"In addition to our program, which he participated in completely, he spent additional time and energy just trying to make himself a better athlete and he still does that to this day," Tom's high school coach Tom McKenzie says. "He had a jump-rope regimen that he wrote on a piece of binder paper and we started using it his senior year."
Junipero Serra football continues to use this same routine.
In addition to his performance on the field, Brady was a stellar student, accumulating a 3.5 average during his time at Serra. Even though he was near the top of his class and was a highly touted athlete, Tommy was always just "one of the guys," according to his guidance counselor Russ Bertetta.
When the time came to choose a college, Brady was recruited by some of the best teams on the West Coast. Teams like USC, UCLA, and California were knocking at Brady's door and it was almost certain that he was going to stay close to home. Then from the other side of the country, the University of Michigan joined the mix and Brady had a serious decision to make.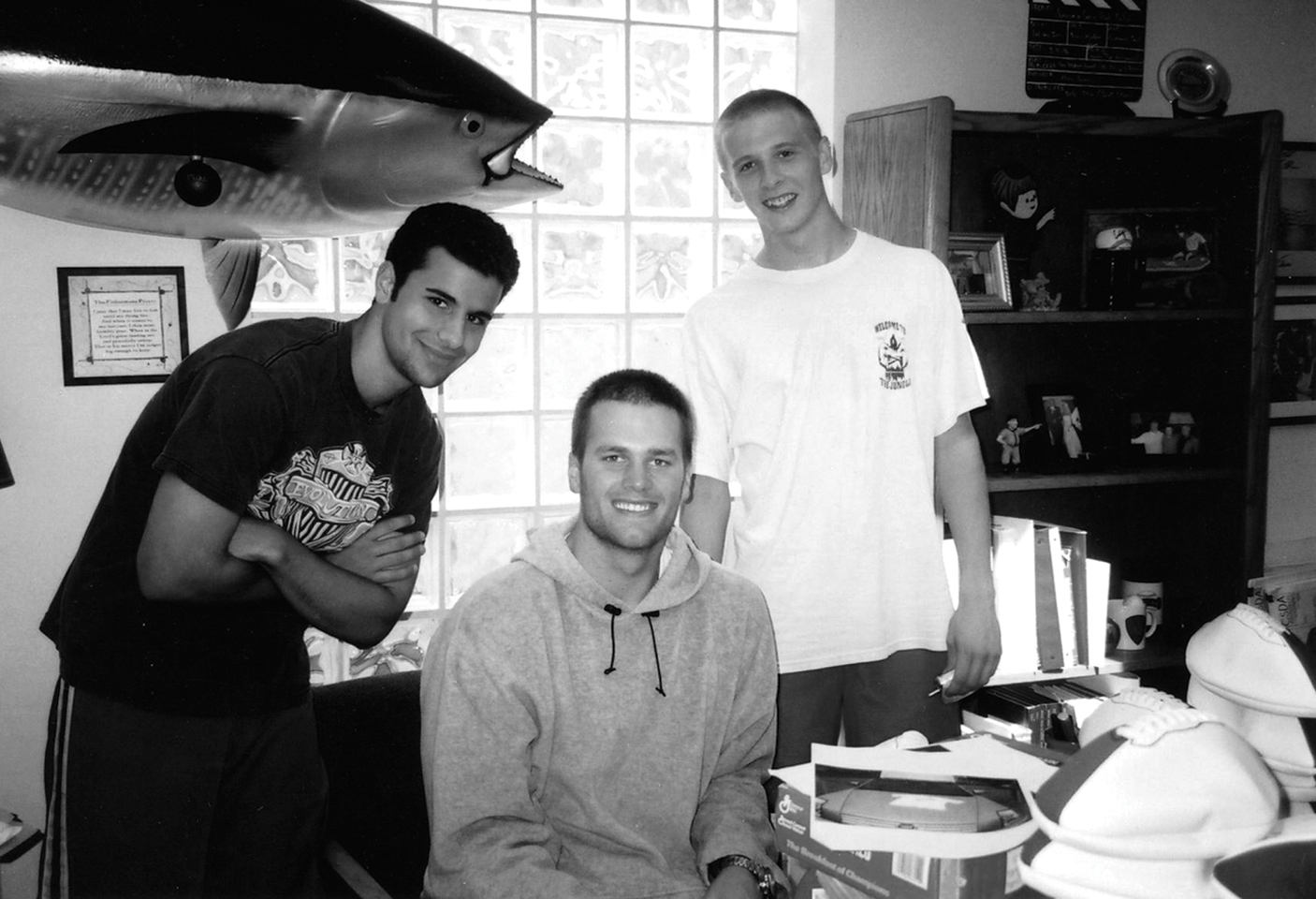 Tommy was asked to travel all the way to Ann Arbor on a recruiting trip, and when he came back he had little doubt about his future. The Michigan Hall of Fame, the illustrious football history, and the 100,000-seat stadium known as "The Big House" made him want to finally leave home.
Brady would have been guaranteed playing time at Cal; at Michigan, however, there was a list of six quarterbacks vying for the team's most coveted position. Brady wanted the challenge and threw himself into a situation where he might learn what it was like to no longer be the best.
"He had to make his own decision, it wasn't a decision we could make for him," Tom Sr. says. "It wasn't an easy decision, nor was his experience at Michigan easy, but he always measured up to it."
When anyone goes away to college, they learn a good deal about themselves. It is an experience which evokes your deepest fears, all while you begin to understand who you are and what you are capable of doing. Brady was in the same position at Michigan, except now he was trying to do it without his family six blocks away. He was without his rock, and it was time to grow up.
During those college years, Tom's family would show up well before kickoff to watch him warm up, the only time he would get on the field. His sisters would all wear his jersey and cheer for their little brother.
"You're just excited that he's on the team," Julie says. "We were the only three girls wearing his jersey. It was really neat because nobody knew who he was. Today you go anywhere and you see everybody in all different races and cultures wearing his jersey."
Tom Sr. remembers Tommy's first play as a college quarterback against UCLA in 1996. He jokes that the first pass was a touchdown. It was, except it went to the wrong team, as a UCLA linebacker intercepted the ball and ran it back for a touchdown. The Bradys sat and listened to the boos, hurting as they watched their Tommy fail in front of 100,000 angry Wolverine fans.
"You know what it's like to have 100,000 people go quiet and say,' Brady, you suck!' We just died," Tom Sr. says.
Even after his first start, a loss to Notre Dame in 1998, Brady was ready to own up to the defeat. "I felt comfortable today. It is just a shame that we played our hearts out there today and we still lost," Brady said. "A loss like this just tears our hearts out."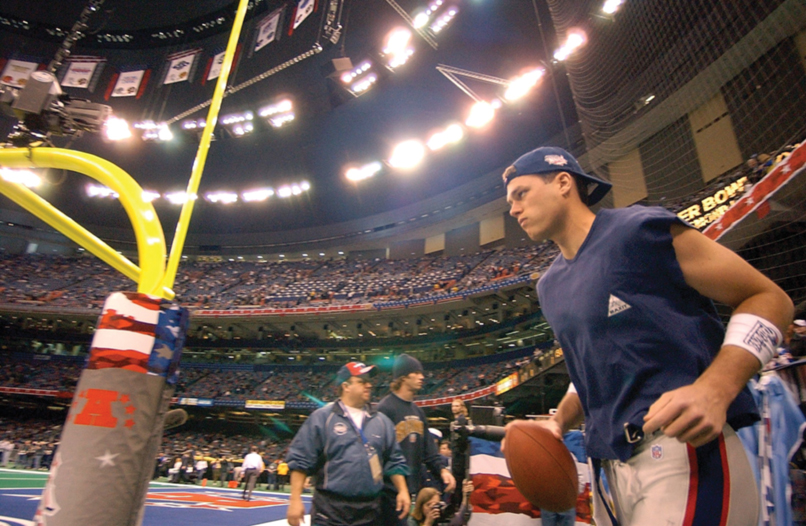 During Tom's final two years at Michigan, he excelled and proved to be one of the best quarterbacks in the nation. He began to mature and used his unparalleled work ethic to win over coaches and fans alike as he led Michigan to an Orange Bowl victory over Auburn his senior year.
After his final game for Michigan, several scouts told the Bradys that Tom was an easy third-round pick in the upcoming draft. He was a big time playmaker playing on the biggest stage in college football and would certainly catch the eye of several NFL scouts.
Unfortunately for Tommy, the scouting report couldn't have been more wrong.
On Saturday, the first day of the draft, Tom went out to play golf with his father to cut some of the tension. The rest of the family stayed home, watching every pick, praying that he would be chosen.
The next day, as Tom sat with his family and watched, each pick was a crushing blow to his ego.
"Every time they called a different name, it was like someone slit your wrists," Tom Sr. says. "It's a killer, because I saw what my son went through."
By the end of the fifth round, Tom went upstairs to watch the draft by himself. When it got to the sixth round he got up, went downstairs with a baseball bat and told his family, "I need to go for a walk." His father says, "I was worried about all the cars in the neighborhood."
A few minutes, and no vehicular damages later, Brady walked into the living room just in time to see that he was picked by the New England Patriots as the last pick of the sixth round.
"We were just happy he got drafted," Julie says.
Now, five years removed from that painful day, Brady (26) is an all-star and a legend. He has proved time and time again that he is more than a flash in the pan. He is a leader and a good one at that. He has taken his team to three Super Bowls, winning each one. In a time where contracts and money rule success, Brady and the Patriots have bought into the age-old recipe for winning: teamwork and patience.
At the beginning of this season, Brady was once again faced with a series of issues that made his job more difficult. He lost Charlie Weis, the former Patriots offensive coordinator, to Notre Dame. The Patriots have gone through a laundry list of trades, injuries and acquisitions that has changed the continuity of the program.
After a demoralizing loss at the hands of the San Diego Chargers, football critics began to count the Patriots out and chalked up 2005/'06 as a rebuilding year in Foxboro. However, when faced with this question, Brady responds with confidence.
"We won three of the last four Super Bowls and I think we realize what we're all about. We realize the character and toughness of this team," Brady says. "If people want to write us off, that's fine — go for it — but I don't think that's the wisest thing to do. I think we have too many guys with too much character."
This is the mentality that has broken down physical barriers in the past. It's the personality of someone who, above all, refuses to lose. There is something about Brady that makes him easy to overlook from afar. Maybe it's because he's quiet and doesn't insist upon respect. Perhaps that's the reason why he's earned it.
"When asked about his Irish heritage at a press conference, Tom is a bit taken by surprise. He is used to questions about the next game, his life, and his health. He thinks about it for a second and looks at the crowd of reporters who are equally perplexed about the question.
"I have to be cued up for this one." Brady says to the tune of laughter in the room, "Well, my father is all Irish and I'm half Irish. I've seen the family tree. I actually had to do a family tree when I was younger. I don't know, I wish I had a better answer."
Tom's father laughs when he hears his son's reaction and explains that his great-grandfather and great-grandmother were both immigrants from Ireland during the Potato Famine. His great-grandfather was from County Cavan and his great-grandmother from County Cork.
Everything about the Bradys indicates a family that stresses hard work and dedication to excellence. Even as Tom makes his way through the history books and slowly solidifies his position as a Hall of Famer, he remains modest, always putting his family and the team first.
In a day and age where excellence is attained and flaunted, Brady remains an icon. Earlier in the season, Atlanta Falcons quarterback Michael Vick claimed that he, Vick, was the best quarterback in the NFL. When Brady is questioned about this statement he simply smiles and retains a sense of class that is seldom witnessed in professional athletics.
"There are a lot of great players. I don't rank them. There's a lot of ways to get it done. My strengths are different from Michael Vick's," Brady says with a grin. "The idea of comparing those [strengths] is hard for me because I realize how difficult it is for me to get it done."
The press conference is adjourned and Brady goes back to the locker room where he can be around his second family, his teammates. It's time to put on the pads, lace up the cleats and carry the hopes of New Englanders on his back. All the while he looks back to his supportive family and presses on.
Just outside the front gates of Gillette Stadium there is a square stone tablet with a bronze map of New England protruding from the middle. It is a metallic representation of Brady's kingdom, the original states of America where tradition dies hard and heroes live forever. ♦
_______________
Bob McGovern is a recent graduate from the University of Massachusetts at Amherst, where he received his degree in journalism. While at UMass, Bob was a sports writer and the sports editor for The Massachusetts Daily Collegian, New England's largest college daily newspaper. He covered eight different teams and helped publish The Score, a yearly sports magazine put out by the Collegian.