Recently-published books of Irish-American interest.
NON-FICTION
Poets and the Peacock Dinner
By Lucy McDiarmid
Virginia Woolf wrote, "one cannot think well, love well, sleep well, if one has not dined well," a message that permeates Lucy
McDiarmid's sumptuous new book Poets and the Peacock Dinner. McDiarmid, a professor of English at Montclair State University in New Jersey, masterfully illuminates the little-known dinner that took place on January 18, 1914, an event that brought together in various degrees the lives of Ezra Pound, W.B. Yeats, and Lady Gregory.
The book grapples with the complexities of art, politics, and the "male homosocial friendships" that permeate literary history. The event itself was planned in many ways as a tribute to a forgotten Victorian poet,
Wilfred Blunt, whose anti-imperialist rhetoric, fight for Irish Home Rule (he was jailed in Galway prison in 1888), and literary grandeur (he was the grandson-in-law of Lord Byron) made him a prominent connection to the past and a symbol of literary subversion that inspired the next generation of Modernist writers.
While the dinner only lasted five hours and produced one now-
famous photograph, McDiarmid unwinds its literary legacy, going into detail on how the occasion came to be, the symbolism of the peacock, and the clever marketing campaign spearheaded by Pound and Yeats. McDiarmid writes, "It would be eaten for an audience. It was a ritual staged by professional poets to provoke and edify other poets and all members of the 'world of letters.'"
While the occasion was overwhelmingly male, McDiarmid highlights the contributions of Lady Gregory, the literary linchpin that brought these men together through her relationship to them: her affair with Blunt, her partnership with Yeats, and acquaintance with Pound through Yeats. She, more than any of the other poets, was responsible for the event and its later success – an ironic twist considering she never attended.
McDiarmid's book brings into focus a world on the brink of change and an event that managed to connect the pre- and post-Victorian world by traditionally paying homage to the literary past while making way for the poets of tomorrow.
– Matthew Skwiat
(Oxford / 240p / €20)
Sexual Politics in Modern Ireland
Eds. Jennifer Redmond, Sonja Tiernan, Sandra McAvoy, and Mary McAuliffe
The editors' introduction to Sexual Politics in Modern Ireland describes the book as a continuation of  previous work on the role of women in modern Irish society while entering new ground, examining concepts of gender and sexuality, including how the two had been elided previously. The collection, according to the editors, "draws attention to the liminal, marginalized and interstitial narratives" that have been historically ignored. Many of the themes are familiar: emigration, the female body as the physical evidence of sin, the virgin mother as the personification of Ireland, women as being simultaneously dangerous and vulnerable. The contributors examine these familiar topics through the lens of previously marginalized parties, such as female convicts engaged in same-sex relationships, female alcoholics, and intersex citizens.
The opening chapter, by Bláthnaid Nolan, offers a look at the lesbian subculture of 19th century Tasmanian penal colonies and suggests that many of the women entered into same-sex relationships as a form of protest against the patriarchal, parochial system that had imprisoned them. Some of the chapters illustrate how the Irish government attempted to legislate sexuality.
Maeve O'Riordan's chapter takes a touchingly personal look at the courtship of Mabel Smyly and Dermod O'Brien, a heterosexual, upper-middle-class Anglo-Irish couple in 1901–1902. While neither of their narratives could be considered marginal (unless one considers that all female narratives were marginalized at the time), as they both fit into their prescribed gender roles, their letters to one another – not explicit by today's standards – gently pushed the boundaries of the established sexual practices of the day.
Although Irish women's history has seen an upswing in academic attention, many subgroups have remained egregiously underwritten. Sexual Politics in Modern Ireland begins to rectify that situation by offering an engaging look at some of the women whose stories had been left untold.
– Julia Brodsky
(Irish Academic Press / 208p / €24.99)
Born with Teeth
By Kate Mulgrew
As her readable and revealing new memoir Born with Teeth makes clear, stage and screen actress Kate Mulgrew came of age just in time to ride a powerful wave of interest in Irish American culture. Reared in Iowa, where "vast numbers of children…populated those Irish-German households," Mulgrew cultivated a passion for the arts at a young age. Poetry was her first love, but Mulgrew's bold mother, whose boarding school classmates included lifelong friend Jean Kennedy Smith, declared: "You can either be a mediocre poet or a great actress."
The latter option was too difficult to resist. The first projects which introduced Kate Mulgrew to a wide audience were deeply Irish. First there was the groundbreaking TV soap opera Ryan's Hope, which explored a sprawling Irish-American clan and sought to achieve a level of authenticity few previous daytime dramas had. Then, a few years after leaving Ryan's Hope, Mulgrew starred opposite a young Pierce Brosnan in the epic mini-series The Manions of America. The 6-hour special closely examined the lives of Famine-era immigrants from Ireland, and the struggles they faced, and the lives they built in America.
Ireland itself plays a central role in Born with Teeth. Mulgrew goes there to work but also to unwind, spend time with family, and (unwittingly) find love.
Mulgrew does not shy away from dark moments in her life, from a brutal crime to a difficult decision when she found herself young and pregnant. Even the seemingly glamorous acting life has moments of great despair. ("This business will kill you. Strip you of your soul, steal your humanity," an utterly depressed Richard Burton rants to a young Mulgrew.) A divorce sent Mulgrew into a particularly bleak emotional (as well as financial) spiral. And new love later came calling just as Mulgrew was about to audition for the role of Captain Kathryn Janeway on Star Trek: Voyager. The role would introduce Mulgrew to a new generation of fans – but she nearly blew the opportunity off entirely.
If there is a single clear theme in Born with Teeth (Mulgrew literally was, by the way) it is the actress's artful perseverance. For all of the obstacles and changes, Mulgrew has reinvented herself once again, as "Red" Reznikov on the Emmy Award-winning Netflix drama Orange Is the New Black. And as the emotional conclusion of Born With Teeth proves, when it comes to Hollywood, and even life, Richard Burton was all wrong.
– Tom Deignan
(Little, Brown & Co. / 320p / $28)
FICTION
The Green Road
By Anne Enright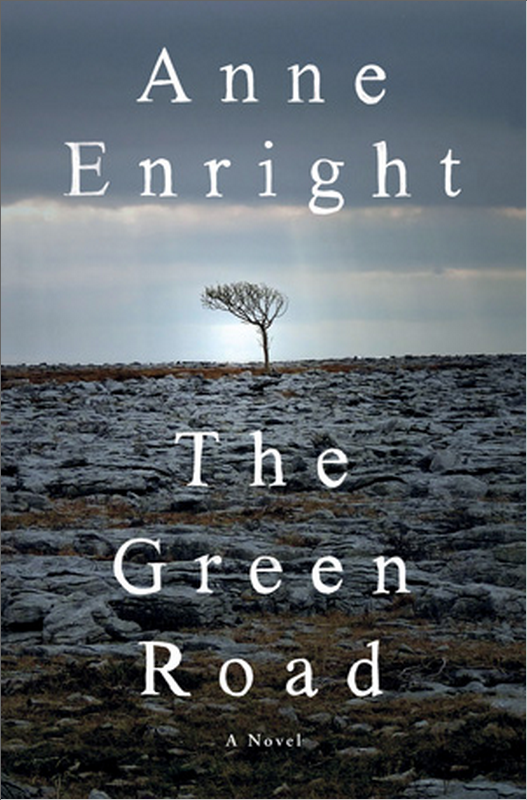 Anne Enright was recently appointed Ireland's first fiction laureate. Anyone who has read her 2007 Man Booker Prize-winning novel The Gathering or The Forgotten Waltz, her 2012 encapsulation of the excess and fall out of the Celtic Tiger, knows full well what a perfect choice that was. Enright looks unblinkingly at contemporary Irish life. Her singular observations are at turns wry, beautiful and utterly devastating. The Green Road, her latest work, centers on the Madigans – the ultimate Irish family. They're each such a type – a bit of every Irish person you've ever been, met, known, and resented but still loved.
There's Rosaleen, the matriarch, eternally disappointed but still commanding as only an Irish mammy can be. There's Dan, the eldest, who shatters Rosaleen with his decision to join the priesthood and the distance created when it doesn't pan out. Constance is the ultimate devoted daughter, wife, and mother, slightly embarrassed by, but still delighted with, her developer husband's financial success. Emmett is the crusading aid worker who can handle anyone's problems but his own. Hanna is the baby, whose young perspective introduces the novel and hardens later into one of booze-soaked pain and personal disappointment.
The Madigans each get their own chapter, their space to tell their stories, in the intervening years between the novel's beginning in 1979 (the year Pope John Paul II visited Ireland), and its climax, in 2005, when they all return home to County Clare, together under one roof for the first time in decades. Rosaleen has decided it's time to sell the family home and, via Christmas cards, summoned her children to gather around her.
Wonderfully familiar drama ensues as their adult selves come face to face with inescapable family order. The shifting perspectives and fragmented structure of The Green Road depart from The Gathering and The Forgotten Waltz, both intimate studies of one character's mind. It's exciting and rewarding to see Enright expanding her scope – no one is safe and we're all better off for it.
– Sheila Langan
(W.W. Norton / 304p / $26.95)
SUMMER READING
History
The Pope and Mussolini: The Secret History of Pius XI and the Rise of Fascism in Europe | David Kertzer
This year's Pulitzer Prize winner for best biography, the book is a frank and revealing look at the behavior of the Vatican during World War II. (Oxford)
Memoir
The Negotiator  | George Mitchell
Senator Mitchell, one of the architects of the Good Friday Agreement, reflects on those negotiations and gives a candid and personal account of his trials in the moments leading up to its acceptance. (Simon & Schuster)
Poetry
A Terrible Beauty: Poetry of 1916 | Ed. Mairead Ashe FitzGerald
A collection of poems written during and around the Easter Rising, including favorites from Pádraic Pearse, Yeats, and Sean O'Casey, with less familiar names rounding out the selection. (O'Brien)
Fiction
The Melody Lingers On | Mary Higgins Clarke
Another work of measured suspense from one of Irish America's premier thriller writers. The assistant to an interior designer becomes more and more woven into the disappearance of a disgraced financier, Arachne-like, until she has no choice but to cut the cloth. (Simon & Schuster)
The Blessings | Elise Juska
New in paperback this summer, Juska's examination of an Irish Catholic family reeling from loss offers new perspectives on the time-honored tradition of big family novels. (Grand Central)
Miss Emily | Nuala Ní Choncuir (Nuala O'Connor)
Reimagining the life of Emily Dickinson through the voice of her Irish maid, the book is a stellar debut from one of Ireland's emerging voices. (Penguin)
My Mother's Secret | Sheila O'Flanagan
From the best-selling and award-winning romance writer comes a story set on holiday in Rome where a family must come to terms with a secret that cant be kept any longer. A riveting and thought-provoking read. (Headline Review) ♦