Actor Barry Ward, 32, plays the lead role in Jimmy's Hall, directed by Ken Loach with a screenplay by Paul Laverty, the movie is based on the life of Leitrim man James "Jimmy" Gralton, who returned from the U.S. in the early 1930s and set up the local hall as a place for young people to dance, learn music, and take part in political discussions. He soon comes under fire from the local priests and is eventually deported back to the U.S.
Ward, who has received rave reviews for his portrayal of Gralton, was born in Dublin. He began his career at age 14 in Roddy Doyle`s highly acclaimed BBC drama, Family. By the age of 16 he had completed a BBC six-part series Plotlands. An award-winning Irish language short called Lipservice followed and soon after came his first feature, Sunburn, shot in the U.S. featuring Cillian Murphy.
He has had a wide-ranging career across theater, film and television. He played the young lead opposite Peter Mullan in The Claim and appeared in the Turner Classic Movie Short Film Award nominee Watchmen, alongside Cillian Murphy. He played Patrick Jones in the highly acclaimed Channel 4 series City of Vice, and then opposite James McEvoy in the much feted BBC Film MacBeth. Other recent film credits include Shooting for Socrates and Blood Cells Bypass. His theater credits include highly acclaimed productions of The Lieutenant of Inishmore at the Royal Shakespeare Company, Translations, The Plough and the Stars, Lay Me Down Softly, Whistle In The Dark, and Down the Line at the Abbey Theatre.
Ward lives in East London. He and his girlfriend, Laura, recently became first-time parents to a son, Tom.
Jimmy's Hall premiered at the Tribeca Film Festival in New York on April 22nd with a pre-screening reception at the residence of the Irish Consul General in Manhattan.
℘℘℘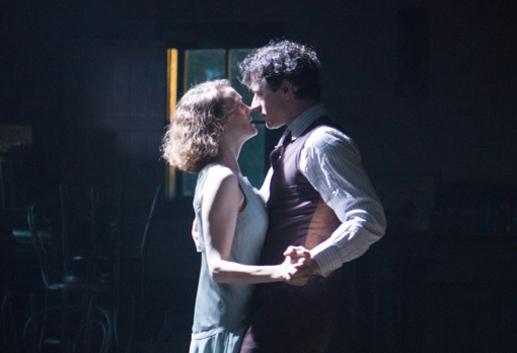 Jimmy's Hall is about a real person – did you feel a sense of responsibility in playing the role?
A sense of responsibility comes with every role; being a long-time fan of Paul Laverty and Ken Loach, then finally getting to work with them, brought its own responsibility; my character [Jimmy Gralton] was a very responsible individual so that was something I was aware of throughout.
How did you build up the character?
It always starts with reading for me. For this, I read books set in 1920s Manhattan to get a sense of where Jimmy's coming from in the film's opening scenes; I reads books about Irish history and politics to get a feel for what was going on at the time when he left, and what he was returning to. I carried a copy of the Communist Manifesto with me everywhere, and finding parallels between Gralton and James Connolly, I read his writings and a biography.
Physically preparing for the role involved myself and Simone Kirby [who plays Oonagh, Jimmy's love interest] dancing for a month around London, and then I moved to Leitrim for a month before shooting began, to work on farms. Ken insisted I get callused hands. It was really useful spending time immersing myself in that part of the world, trying to eat as Jimmy might've ate, and "shpake" as he spoke.
Did it surprise you that the church had such a hold on the people?
No. Growing up in '80s and '90s Ireland, and as a product of Christian Brothers' schooling, I was all too aware of the church's hold. When the horrors inflicted in their name came to public attention it was obvious that such crimes going unpunished could only be perpetrated by an extremely powerful lobby.
Describe the last dance between Jimmy an Oonagh.
That's probably the scene people talk about most. In a way it's the climax of Jimmy's story with Oonagh. It's romantic, suspenseful, beautifully lit and shot. As neither myself nor Simone knew what was to come. Ken doesn't give actors the script until the evening before the scene to be shot. We were oblivious to its place and function in the overall film. However, there was a buzz about it when we were doing it. I remember specifically Paul Laverty being very excited saying so many factors came together all at once, technically, with actors and crew at the top of their game. In post production it was a scene subject to much debate and experimentation with long discussion about the inclusion or omission of a musical score.
Did you already know how to dance?
I never danced, and still can't, really. Myself and Simone had about one month of rehearsals before shooting began, to get some moves down. It was a lot of fun, it was also hard work and ego crushing. I'm definitely not a natural but as a result of trying I now have a newfound respect and admiration for those who do. I highly recommend it to everybody.
Do you have a hidden talent?
No. I display them all shamelessly, no matter how ill-honed. I can say the alphabet backwards, and I can do the Cossack dance. But not at the same time.
What was your first job?
I seem to remember packing sacks with spuds in a local fruit'n'veg shop. A mate got me the gig and I got a fiver. I can't recall if it was one week's work, or a day.
What is your earliest memory?
Looking through the bars of a cot at my baby sister. She was around fourteen months which would make me around three years old.
Do you have a personal hero?
There are many people living and dead whom I greatly admire – some I have the pleasure to know. Here's a football team's worth: Albert Camus, Che Guevara, John Lennon, Ken Loach, Cillian Murphy, Samuel Beckett, George Orwell, Roberto Baggio, Noam Chomsky, Bob Dylan, Diego Maradona.
Your proudest moment?
The Cannes screening and response to Jimmy's Hall was special. Any number of goals scored playing football. Holding my boy. I am not sure any of these moments constitute pride. They may well be other things, or combinations of many.
What is on your bedside table?
It is ever changing but right now it's Tarantula by Bob Dylan.
Who is your favorite author/songwriter/director/playwright?
Again, ever changing but always up there are Joyce, Tom Waits, Antonioni, and Caryl Churchill.
Best advice ever received?
Work harder. Me to my younger self. Never heeded.
Do you remember the first piece of drama you saw?
No. Must've been TV and most likely American. A-Team and McGyver caught my imagination. I was a fan of Star Wars, but the toys more than the films. I loved Indiana Jones, The Goonies, and Stand By Me. Raising Arizona changed everything.
Do you have a favorite quote?
"The sun shone, having no alternative, on the nothing new." Beckett, Murphy. "War is Peace. Ignorance is Strength. Freedom is Slavery." Orwell, 1984. "Making the beast with two backs." Shakespeare, on sex.
Best opening line in a book or a piece of music?
See above for Beckett from Murphy. Also Camus, The Outsider – "Mother died today… or was it yesterday." Musically, the sounds of an airplane beginning the Beatles' White Album. Obviously owing to what is to come, not the airplane sound in itself.
Favorite country you have visited?
India. I also love France and Italy. Spain I could live in, too.
Favorite place in Ireland?
Dublin. I love cities. The bigger the better. Though I grew very fond of Leitrim whilst there. It is very beautiful and unspoiled. And my family originates there.
Favorite quality in friends?
Ability to make me laugh. Possessors of a spare fiver.
Favorite sound?
Son's laugh.
Your greatest extravagance?
Book purchasing. Can't get enough.
Your most prized possession?
Perhaps my projector.
Describe your perfect day.
There is no such thing, but starting it and finishing it with my partner Laura and our son Tom comes pretty damn near. Throw in some good food with friends and a sunny sky filled with sunnier sounds and I might just retract that first statement.
If you had to identify with a historical figure, who would it be? 
Someone unimportant, anonymous. I like how Fernando Pessoa went about things. He died unpublished in his lifetime, leaving a hoard of manuscripts written under hundreds of pseudonyms (heteronyms, he called them). Or maybe Young Werther…
What would you be doing if you weren't an actor?
A teacher probably. Maybe football would've panned out differently for me. It's not something I've given much thought to.
What question do you wish someone would ask you?
Who are the top five directors you want to work with? Okay, ten.
What movie will you watch again and again?
The Big Lebowski. It is so good – so quotable. Spinal Tap because it is Spinal Tap.
What's next for you?
I've a few films due for release so most likely I'll be attending festivals and doing press for each of them. Shooting for Socrates premieres in Belfast, Pursuit will show in Galway, Blood Cells in Edinburgh, and three others to be announced, most likely next year. ♦