This week, a tragedy of national proportion befell Ireland and Irish America.
In the first morning hour of Tuesday, June 16th, a fourth floor balcony collapsed in Berkeley, California, killing six Irish citizens, and critically injuring seven more who were standing on it at the time. Five of the dead were on short-term J-1 student work visas for the summer. The sixth was another's cousin. None was older than 22.
In the wake of the collapse, the outpouring of international grief has been profound, and the swift distribution of selfless aid has been heartening. This is a tragedy that leaves no one in the community unaltered, but as Ireland and Irish America grieves, they have also banded together to put the unimaginable needs and emotions of those immediately affected first and express national solidarity with the victims. It is a small measure to write a paragraph, but the sum of the untallyable ink offered to and for those closest to the victims is an indication of a tightly-woven culture whose warp and weft only strengthen when a tear appears. At Irish America, our strongest sympathies, condolences, and sorrows are with the families and friends of those impacted by this terrible loss of young life.
The motto for this magazine is "Mortas Cine," pride in our heritage. It is with heavy hearts that we acknowledge this week that we must now add "Bhró na nÓg," mourn the young.
The five Irish students who were killed are Olivia Burke (21); Eimear Walsh (21); Eoghan Culligan (21); Niccolai Schuster (21); and Lorcan Miller (21), all from Ireland. The sixth fatality was dual Irish-American citizen Ashley Donohue (22), from Rohnert Park, California and Olivia Burke's cousin. A joint memorial service for the two cousins is planned in San Francisco before Olivia Burke's remains are repatriated.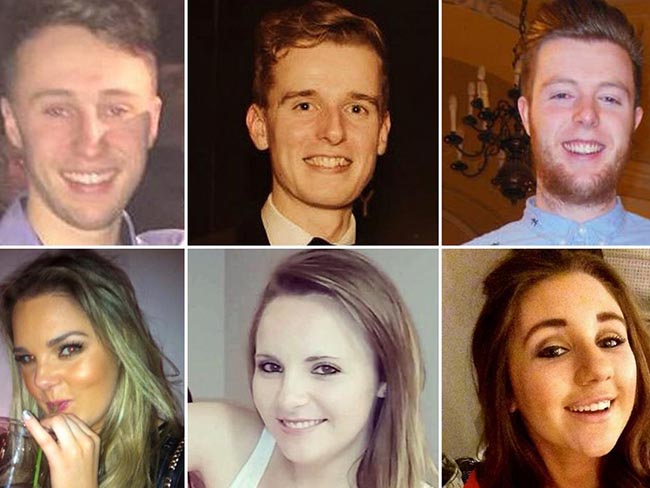 The injured seven, ages 20 to 22, are Clodagh Cogley, Aoife Beary, Niall Murray, Hannah Waters, Seán Fahey, Jack Halpin, and Conor Flynn, all Dublin-area students except Fahey, who is a student at the National University of Ireland in Galway. As of this writing, Hannah Waters and Aoife Beary are still in critical condition, while the other five remain stable. Aer Lingus and the Irish government have both assisted in arranging flights to San Francisco for families of the students.
A Country in Mourning
The aftermath of this grave calamity has been public and overwhelming, spanning two continents and with condolences issued from high-level politicians and public figures to every-day Irish and Irish Americans alike.
"There isn't a family in Ireland whose children haven't come over on that program," Philip Grant, Consul General of Ireland to the Western United States, who is based in San Francisco, told reporters gathered in Berkeley.
"We're a very close, tight-knit group. Ireland is a small country, and when you have the numbers that we had here today, very few of us have been left untouched by this tragedy," he said, adding that the country is also "overwhelmed by the outpouring of support that we have received from all the communities here."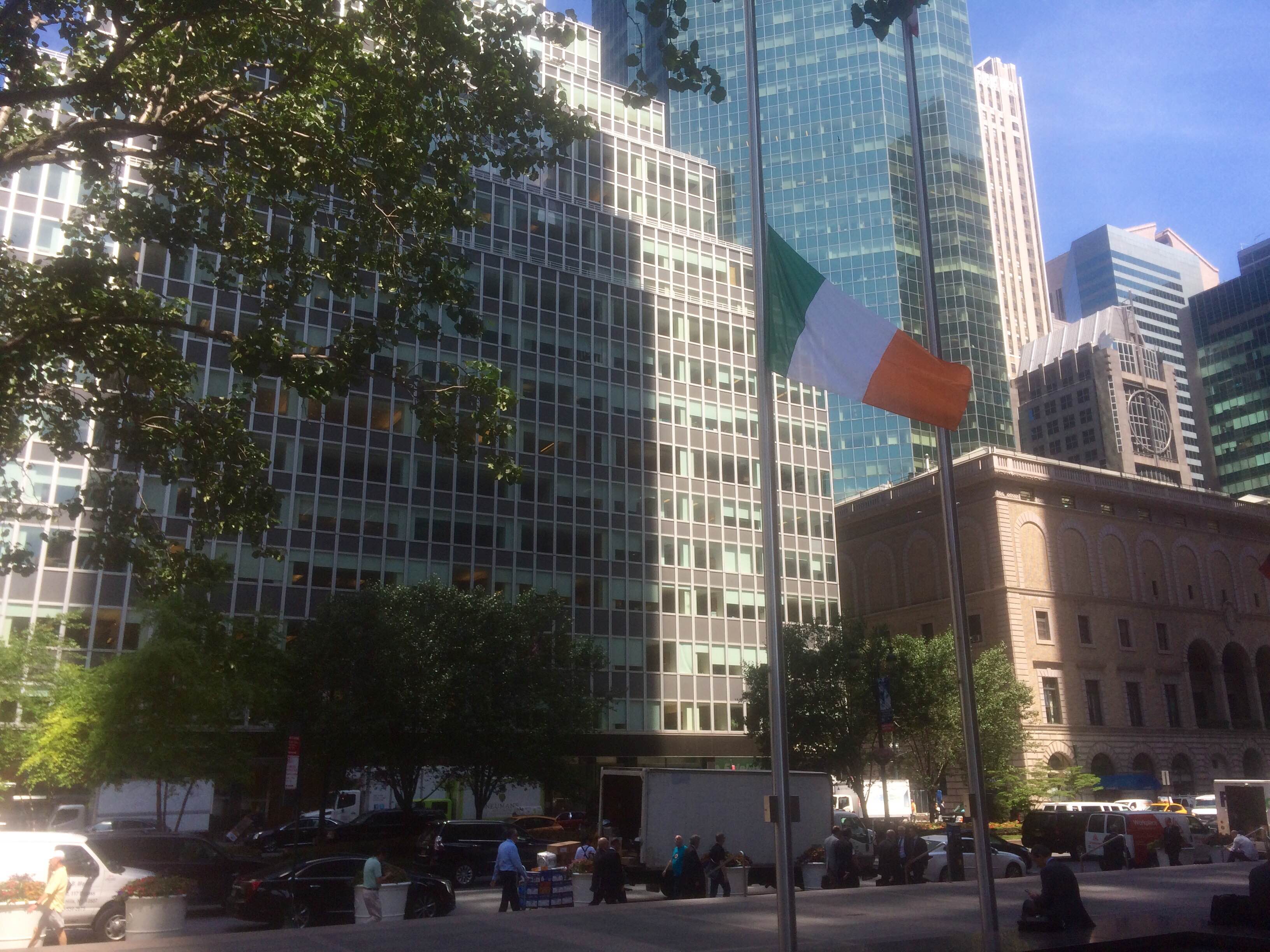 Signing a book of condolences at Mansion House in Dublin, President Michael D. Higgins spoke on the extent of the impact of the tragedy in Ireland and the U.S.
"I think the fact that so many young people were lost in a single terrible event has deeply affected people," he said. "Many I noted in their comments were almost unable to speak at the enormity of the tragedy, that it is of young people seeking adventure, the spring of a new life, what a terrible impact it must be on their families."
In a statement released on Wednesday, Anne Anderson, Ireland's Ambassador to the United States, said, "It is heart-breaking to think of these bright young lives cut short. All our thoughts are with the bereft families, and with those seriously injured and their loved ones," and emphasized that the San Francisco Consulate and consular services in Dublin "are providing every possible assistance."
Minister for Foreign Affairs Charlie Flanagan also confirmed the aid of the Department of Foreign Affairs in a statement, saying, "My thoughts are also with the many young students, who escaped injury but will be deeply shocked at the events. I would like to pay tribute to those who assisted at the scene and who have been working with the local authorities. These will be difficult days for everyone who has experienced this traumatic event, but the students are not on their own and led by our Consulate in San Francisco all assistance possible will be extended to them."
The Emergency Consular Response Team, which activated its services on Tuesday and is still offering assistance, can be reached at +353 (0)1 418 0200 for anyone with concerns about friends or family in the region.
The day after the collapse, Irish flags on government buildings throughout Ireland were at half-mast, as were the flag at the U.S. Embassy in Dublin and the Irish flag at the Irish Consuls General in New York and San Francisco.
Book of Condolence for Irish in Berkeley remains open at the Consulate tomorrow (Friday), 10am-12pm & 2pm-4pm pic.twitter.com/TbOY1juqzp

— CG Ireland Atlanta (@IrelandAtlanta) June 18, 2015
In addition to the book of condolences at Mansion House, an online one has been set up through University College Dublin, where many of the students were studying – you can sign it here – as has the Dublin Institute of Technology, where Eoghan Culligan had just completed his third year, which you can sign here.
Books of condolences have also been opened at St. Patrick's Cathedral in Dublin, County Hall in Dun Laoghaire, The Atrium in Cork City Hall, Galway City Hall, and the Cavan County Council has also opened one, in addition to several others in Ireland. There is also one at the University of California at Berkeley, as well as in the Consul General in San Francisco. In New York, there are books of condolence set up at each of the area's Irish centers: Aisling Irish in Yonkers, the two Emerald Isle Immigration Center offices in the Bronx and in Queens and in the New York Irish Center, also in Queens.
On the Ground in Berkeley
The Irish Consulate and the Irish Immigration Pastoral Center in San Francisco have established a crisis and support center in Berkeley at the Public Safety building, just a short walk from the Liberty Gardens apartment complex where the collapse occurred. (The University of California, just a couple blocks away from the Kittredge Street student housing building, has also offered up its counseling services to anyone who seeks to use them.)
Speaking with Irish America, Fr. Brendan McBride who runs the Pastoral Center, and is now on duty at the crisis center in Berkeley, said the support from the Bay area community has been "fantastic." "Even those who are not directly connected, they're connected in their pain and their grief," he said. "People are picking up parents and families from the airports, taking them to hospital; people are staying in hospitals with them. You know it's such an ongoing process.
Hundreds of young Irish gather for candlelit vigil for #Berkeley victims. @rtenews pic.twitter.com/Oy1NHICI1a — Caitriona Perry (@CaitrionaPerry) June 18, 2015
"More and more parents of other J-1 students are also arriving. A lot of parents have come out to be with their children who are not injured but they're here to give comfort and support. I think a familiar face from home is lovely for the kids who are here. Tonight, there will be a special private mass at St. Columbus Church in Oakland for the parents of the students who were killed, and later a public vigil."
Hundreds of students also attended a candlelit vigil the night after the tragedy, just a block from the apartment complex, and a special mass was held at Cathedral of Christ the Light in Oakland, led by Bishop of Oakland, California Michael Barber. A park bench in Martin Luther King Jr. Civic Center Park has become a makeshift shrine to the six students who were killed, and mourners continue to leave objects of affection and grief to the ever-growing memorial.
Mourners still adding to memorial at scene of Tuesday's #Berkeley tragedy; many candles left from last night's vigil pic.twitter.com/vJo9H0bTIc — Simon Carswell (@SiCarswell) June 18, 2015
On campus at Berkeley, the students and faculty are rallying to offer solace, support and counseling and has offered the University Health Services to those struggling to cope and asks that anyone wishing to help contact the Office of the Dean of Students.
"This is a devastating loss, and UC Berkeley wishes to extend our condolences to the families of those victims lost in this terrible accident," said Joseph Greenwell, the campus dean of students. "We also wish to extend our thoughts and wishes for recovery to those who were injured and receiving medical attention. Our hearts go out to all the victims' families, friends and loved ones."
What Is Happening Elsewhere
In New York, a service of remembrance for the six who lost their lives will also be held at St. Patrick's Cathedral in New York on Thursday, June 25th at 6:30pm, according to the office of the Irish Consulate General in New York.
In a letter to all current J-1 students posted to Facebook, U.S. Ambassador to Ireland Kevin O'Malley expressed the "unwavering" support from the U.S. to Ireland right now.
"This is a devastating experience for everyone involved," he wrote.
"Even as we all grieve this terrible loss, we here at the U.S. Embassy would encourage you to remain strong, and draw upon the deep well of strength that the Irish are known for around the world.
"There will be times in your life where you're challenged, when tragedy strikes and you're left to pick up the pieces. In these moments, it becomes even more important to join together with friends and find strength in supporting one another."
Support for the Victims and their Families
Nearly $270,000 has been raised to support the students and families affected. After an emergency board meeting for the American Ireland Fund on Wednesday, the organization said it would donate $100,000 to support the bereaved.
"The task of meeting the needs of the families and friends of the bereaved and injured is urgent. In this regard, The American Ireland Fund announced this morning that it will make a donation of $100,000 to support those who are providing care and assistance on the ground, in particular the San Francisco Irish Pastoral Centre," the statement read in part.
"Let us begin by remembering the victims of this appalling tragedy – a pall has been cast over the nation. It has affected the Irish in an extraordinary way," Kieran McLoughlin, CEO of the worldwide funds, said in a report on IrishCentral.com.
The other money comes from the Irish J1 Berkeley Tragedy Fund, a public campaign to raise money through the fundraising website gofundme.com, organized by the Irish Immigration Pastoral Center in San Francisco in partnership with the Chicago Pastoral Center – you can donate here. In the three days since the fund was established, just short of $170,000 has been raised.
Aer Lingus is sponsoring travel for the bereaved families to travel to San Francisco to visit the injured and to repatriate the six students who were killed. The Irish J1 Berkeley Tragedy Fund also notes that families affected need seats on the Aer Lingus flight from San Francisco to Dublin this Sunday, June 21st and asks, "If you have a seat – or know someone flying – please consider giving that spot to a family member in need."
Call (415) 816-0887 if you or someone you know can help.
The two organizations that run the J-1 program in partnership with the U.S. State Department, CIEE and InterExchange, are covering medical and emergency costs through their insurance policy. ♦
_______________
Nota Bene: For comprehensive and updating coverage of this tragedy, the following outlets have the best reporting to-date:
– RTÉ
The Emergency Consular Response Team for the Irish Department of Foreign Affairs can be reached at +353 (0)1 418 0200 for anyone with concerns about friends or family in the region, or for anyone seeking counseling, wishing to help, or any other reasons related to this terrible event.