John Quinn, the New York lawyer, originally from Ohio, had a taste for Picassos, Wyndham Lewises, Rousseaus, Augustus John, and Matisses. He also owned all of Conrad's manuscripts and the first draft of Eliot's The Waste Land. But he never forgot his Irish roots and in his support of Yeats, Joyce, and Synge, he was indeed remarkable. Richard and Janis Londraville report on the leading voice in America at the turn of the century for the Irish literary revival.
℘℘℘
On reading the correspondence of central early twentieth-century literary figures such as W B. Yeats, Lady Gregory Ezra Pound, T. S. Eliot, and James Joyce, one finds the name of John Quinn appearing as a kind of oblique leitmotif and his function seems to be as some agent or patron–or perhaps both.
This shadowiness is at least in part his own creation, for Quinn directed that his voluminous correspondence be kept sealed until fifty years after his death. When he did die in 1924, there was no one in the world of art or literature or politics who did not know of Quinn and his importance. Thirty years after his death there were few who remembered. Yet the man's accomplishments were so extensive that sometimes it appears that there must have been at least ten John Quinns.
One aspect of this remarkable man was his generosity to the Irish, and particularly to Irish artists. At the turn of the century, he became the voice in America for the fledgling Irish literary revival. When the Irish in America were not themselves very sure what was to be made of such men as W.B. Yeats, Synge, and Joyce, Quinn served as apologist and interpreter. He arranged Yeats' first North American tour in 1903-04, giving the poet much-needed exposure and supplying him with even more needed cash. He also was protector and advisor to J. B. Yeats, the poet's father, giving him money for paintings and advancing him more under the pretext of the forthcoming publication of J. B.'s letters. Quinn cared for the old man until his death in 1922 and paid for the headstone on his grave, which is in the family plot of Jeanne Foster in Chestertown, New York. The whole Yeats family had good reason to be grateful to Quinn, for he also supported Jack Yeats' career and was a patron of the Cuala Industries.
Quinn was the defense lawyer for Lady Gregory and her actors when her touring company of Synge's Playboy ran into the same sort of censorship in Philadelphia that it had in Dublin. It was for this and a thousand other favors to the Irish literary movement that she dubbed Quinn "The wonder of the Western world," and indeed the industrious Quinn perhaps deserved it far more than did Christy Mahon.
An Irish writer and painter who was among the first Quinn favored were George Russell (A.E.). Quinn bought a number of Russell's paintings and promoted him by exhibiting his purchases at several shows, including the Irish Industrial Exhibit at Madison Square Garden in September 1905, and the great Armory Show of 1913.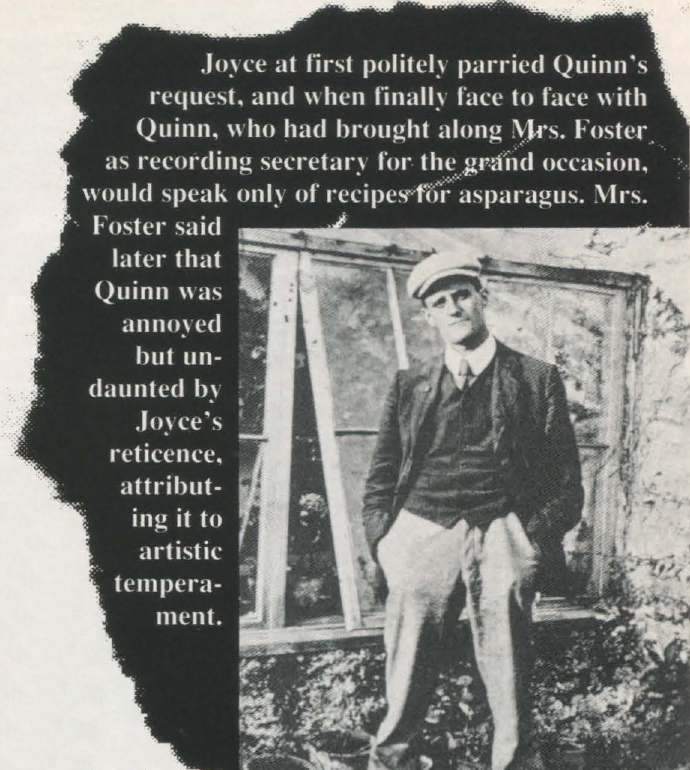 When John Millington Synge began his correspondence with Quinn in 1904, he was of course attracted to Quinn's interest in him and support of his work; but he also recognized a kindred soul. Quinn's love of Irish art and Irish causes became central to establishing a warm friendship and a genuine critical exchange between the two.
In Synge's first existing letter (September 5, 1904), he thanks Quinn for securing copyrights for Shadow of the Glen, Well of the Saints, and Playboy of the Western World. "Extremely grateful" for Quinn's earlier advice, Synge writes about his new play, The Tinker's Wedding, and asks Quinn's advice about preparing it for publication. In this and further correspondence, he often asks Quinn to advise him and to settle contracts for him.
The two talk frankly about Parnell, Hugh Lane's art movement, The Gaelic League under Douglas Hyde (whom Quinn had supported financially and morally), agricultural development in Ireland as promoted by another of Quinn's friends, Horace Plunkett, about Sinn Fein and Irish politics in general. Quinn often was impatient with the progress of Home Rule and attributed its failure at least partially to the Irish themselves. He writes to Synge on December 11, 1907 that "I sometimes think that Irish patriots and Irish newspapers really don't know what the truth is and wouldn't see it if they saw her coming down the street in a white robe with a sign on her back with the words on it 'I am the truth."'
Nowhere are the Synge-Quinn discussions more animated than when the topic is Synge's work. Quinn sent clippings of American reviews of Synge's work and advised him to write notes of thanks to editors who gave their support; and in 1904, when one of those editors suggested that Synge's plays lacked "a certain quality" present in his earlier work, it was Quinn whom Synge used as a sounding board. "Mr. Gregg is quite right that the early work like Riders to the Sea has a certain quality that more mature work is without. When he blames the 'coarsening, however, I don't think he sees that the romantic note and a Rabelaisian note are working to a climax through a great part of the play and that the Rabelaisian note, this gross note if you will, must have its climax no matter who may be shocked" (September 5, 1904).
In the same letter, Synge satisfies his friend's curiosity about methodology. Quinn, as usual, wanted to know the way in which Synge composed, and Synge graciously obliges. He tells Quinn that he works alone, and is always on the typewriter. "I make a rough draft first and then I work over it with a pen until it is nearly unreadable. Then I make a clean draft again, adding whatever I want, and so on." Not a very profound revelation, perhaps, but a central point of information that Quinn asked of most of his writer friends. All tended to reply good-naturedly enough, with the exception of James Joyce. Joyce at first politely parried Quinn's request, and when finally face to face with Quinn, who had brought along Mrs. Foster as recording secretary for the grand occasion, would speak only of recipes for asparagus. Mrs. Foster said later that Quinn was annoyed but undaunted by Joyce's reticence, attributing it to artistic temperament.
In 1908 Synge writes to Quinn that he is going to try writing a three-act play about the Deirdre legend "to change my hand. I am not sure yet whether I shall be able to make a satisfactory play out of it. These saga people when one comes to deal with them seem very remote–one does not know what they thought or what they ate or where they slept, so one is apt to fall into rhetoric. In any case, I find it interesting experimenting" (January 4). By this time, Quinn had asked for the Playboy manuscript, and Synge agreed: "I do not think it worth much, but I am glad that you should have it, if it interests you. Please do not value it too highly " In June of the same year, Synge promises Quinn Deirdre. "I will be very glad that you should have the ms. of Deirdre whenever it is finished to my satisfaction. I suppose after the summer I shall work on it again." He writes to Quinn from an armchair in a hospital, "the state I have reached now," regretfully declines Quinn's offer to visit New York, and thank him for the money he had sent.
Quinn was more careful of Synge's feelings than he was with some other artists he aided. Synge's own sweet disposition had something to do with this attitude, of course, and Quinn saw himself as Synge's protector in many ways. He was responsible for printing Deirdre privately in the United States after Synge' death to "save The copyright for Synge's family "he wrote to May Morris in 1911. Quinn also wrote to Frank Hugh O' Donnell, knowing that the latter despised Synge's work, that "Ireland lost a brilliant man when Synge died. He gave her what she needed-the truth as he saw it. He was not a liar, nor was he a flatterer, and so the Irish turned on him.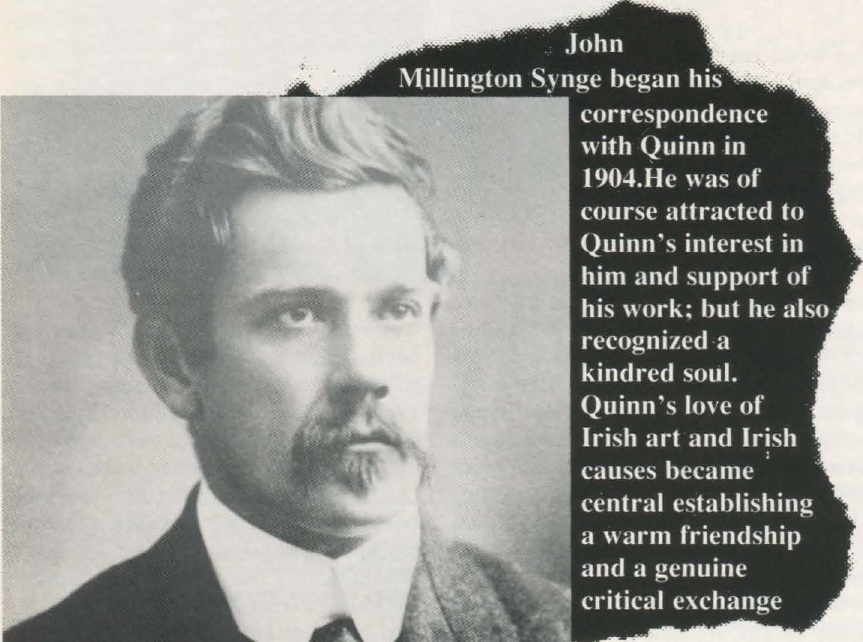 It would be disgusting if it weren't so pitiful and funny if it weren't so disgusting" ( April 25, 1909).
Frank Hugh MacDonald O'Donnell, Member of Parliament, critic, poet, and satirist, began writing to Quinn in 1907 O'Donnell knew that Quinn had given money to the Abbey theatre group, as well as to Douglas Hyde and others, and he perhaps thought that if Quinn had been generous to a "Protestant Bohemian Atheist" (February 10, 1912) like Yeats, he might also support some of O'Donnell's causes. O'Donnell had long been frustrated by corrupt policies which led to abuses in Irish education, government, and religion, and he was angry at the inability of the Irish people to marshal a united front to put an end to such policies. In the last lines of his poem, "The Message of the Masters," O'Donnell laments, "With the joy of mighty hoping, with the rage of vengeance due/How long, ye men of Erin, must high Kings wait for you?" In O'Donnell, Quinn found an Irishman who shared his frustrations about Ireland but disagreed often and vehemently about the solution to her problems.
The Irish Literary revival, or at least its concept, appealed to O'Donnell at first. It held the promise of repairing the reputation of his country and restoring the Irish arts to their former position of honor. The reality of that theatre, however- the theatre of Yeats and Synge and Gregory was clearly more than he could bear. He attacked Yeats' Countess Cathleen for what he considered its irreligiousness and immorality in the famous "Souls for Gold" pamphlet, which helped foment the riots against the Abbey.
John Quinn and O'Donnell battled over Yeats and Synge for nearly ten years in their correspondence. When 0 'Donnell writes that Yeats and Synge were "Baudelairian Bohemians" and that their "Irish ideas consisted in putting Celtic names on modem and decadent ideas" (February 10, 1912), Quinn replies strongly· "If the Irish are to drive all ideas, all thought out of Ireland, if your 'Irish peasant with fifteen centuries of Catholic faith behind them' are to attempt to stifle thought except what is harmonious with their own provincial or parochial patriotism, then it seems to me that it doesn't make any difference whether the Irish language is revived or not. Thought-fine, high thought-art, literature, poetry painting, music, the arts generally will go elsewhere" (February 23, 1912).
In spite of such basic disagreements, Quinn distributed O'Donnell's political writings for him. "The pamphlets came. and I circulated them, but they raised the devil" (December 10, 1907). Quinn was correct in his assessment that O'Donnell's political message would have little appeal to Irish Americans, but his sense of fair play made Quinn make certain that O'Donnell got a fair hearing in this country.
The correspondence with O'Donnell is the best record we have of the man who was once Parnell's tutor, who was undoubtedly the intellectual force behind the Obstructionist movement, who was one of Ireland's most irascible yet brilliant satirists. For all his frustrations with O'Donnell and his myriad causes, Quinn was patient with him because he admired him. Frank O'Donnell, in spite of his crotchets and idiosyncrasies, was a friend who constantly challenged and tested Quinn a few others had.
When John Quinn heard reports about a new Irish genius, a writer named James Joyce, he became intrigued. He began sending Joyce money during the summer of 1916, beginning with a gift of ten pounds. Although the two had not yet met, Quinn's friend and semi-official go-between in the arts, Ezra Pound, had promoted Joyce and piqued Quinn's curiosity. Quinn wrote to Joyce on August 11, 1916, that "I'm not generally in the staking business and the number of demands that have been made upon me during the war from all quarters for loans and advances has been very great, more than I could meet. But I send you this with pleasure. Really it is because I am interested in your work." It was not an unusual letter for the first gift from Quinn. He wanted the recipient of his largess to understand that he was not Lord Bountiful, that his resources and his good nature were not unlimited. Quinn added that he would do what he could with Alfred Knopf to see Joyce's Portrait get published in America. This, too, was typical of Quinn. If he believed in an artist, he was willing to do much more than slip him money from time to time.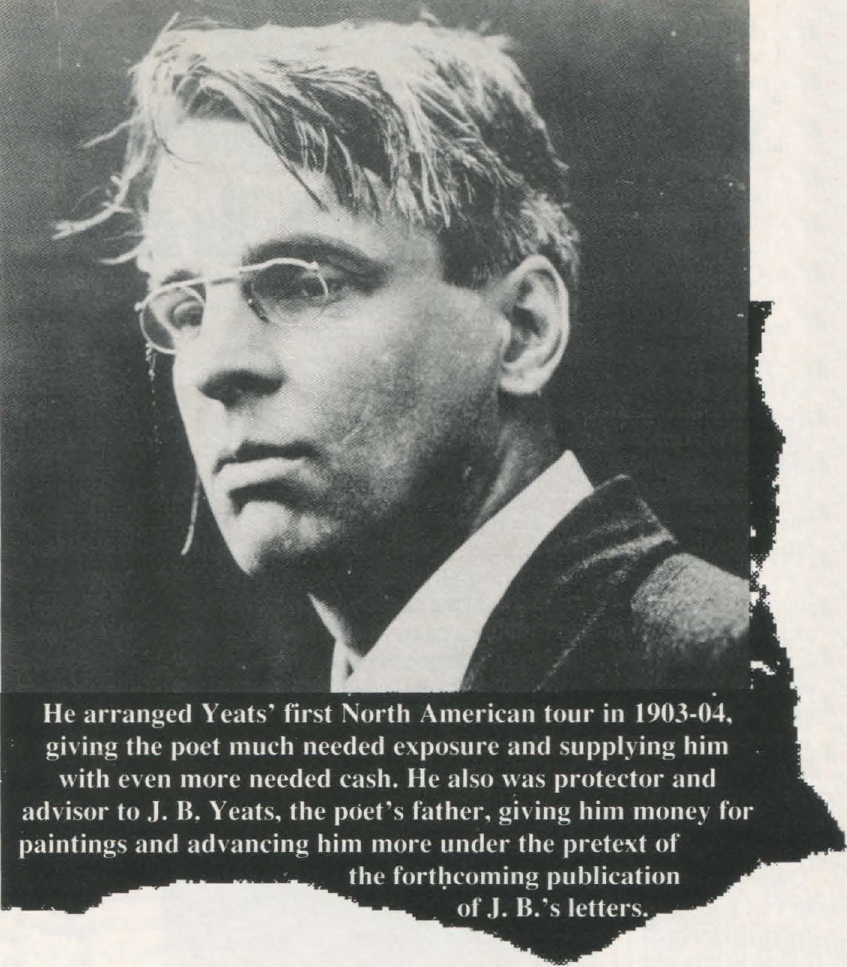 This letter sets the tone of the relationship between the two men. Quinn often complains of difficult times, of being driven, of suffering from incompetent help, of being hounded by people who wanted his money of being ill from overwork. Yet he always admires Joyce's work, and never questions its quality as he did with a number of other artist-friends, including Wyndham Lewis and Joseph Epstein.
On March 13, 1917, Quinn offers for the first time to buy for twenty pounds one of Joyce's manuscripts, the sheets from which the Egoist printed Portrait, complete with "page ms. additions with interlineations and corrections by you, used by Huebsch." On April 11, 1917 Quinn writes a long letter asking Joyce, as he had Synge years before, about his writing process. But Joyce's commitment to "silence, exile, cunning" led him to ignore that request. Quinn also inquires about more practical matters. He had heard, through Pound, about The Exiles. "What I am getting at is that I occasionally collect manuscripts. And if your play is in a manuscript or the Portrait is in a manuscript I should be glad to buy the MS, if you care to sell it. That is partly an interest in MS, but more an interest in James Joyce." He still had not met Joyce face to face but was more and more intrigued by him, especially after book publisher Huebsch told him that the Portrait "very nearly approaches genius."
Quinn always wanted value for his money· he was, after all, an astute businessman. However, he was also generous when he recognized talent and sometimes paid more than he needed for work. At one point, Joyce wrote to him about overpaying for the Portrait Ms. Quinn replied in a letter to Nora Joyce that what he paid was "perfectly fair" and to "dismiss from [Joyce's] mind the idea that there is any overpayment of any kind" (May 25, 1917). In the same letter, Quinn advises Mrs. Joyce about eye doctors for Joyce's glaucoma and offers an additional gift of £10 toward consultation fees with a specialist. Although Joyce does not always take Quinn's advice, whether about doctors or about the publication of his works, his letters express sincere gratitude for his patron's interest.
Perhaps one of the most important services Quinn provided to Joyce was not only to purchase his manuscripts but to nag him, however gently about sending him complete pages, emendations, and the latest corrections. These he perused carefully, asking Joyce specific questions about gaps, confusing areas, and reader keys. Without Quinn, the manuscripts might not have been preserved as well as they were. But the letters between Joyce and Quinn also reveal Joyce's reluctance to surrender control; unfortunately, his reticence came into direct conflict with Quinn's businesslike determination to make sure that he has the most nearly perfect manuscripts possible. On September 13, 1917, for example, he writes to Joyce about getting a corrected proof of The Exiles-not just for himself but for its publication in America. On the same day, Quinn writes to Ezra Pound that he is distressed that Joyce has decided that American printers could use Quinn's copy of the play-in despite the fact that it did not contain the latest corrections. Later, in 1920, he writes about sections of the Ulysses manuscript he had been receiving piecemeal, reviewing for Joyce its condition, giving him a description of its contents, and questioning him about some apparent missing pages. Quinn read everything carefully and was a discerning editor. He had previously proofread the page proofs for Pound's Lustra for example and later did the same for Lewis' Tarr.
Over the years, Quinn, though "harassed and driven beyond the point of endurance" (September 19, 1917), continued to send Joyce money and continued to be drawn to his work. On February 5, 1920, he sent Joyce 3,000 Lira toward the Ulysses manuscript, one of many installments which ultimately totaled $1,200.
Quinn was among the first to recognize Ulysses as a masterpiece. He told Joyce on August 15, 1920, "What a wonderful thing I think Ulysses is and will be. It will be unique. Nothing Like it has ever been done." To Wyndham Lewis, Quinn wrote on May 25, 1921, "Ulysses may not be the final thing. But it may lead to a new literary form." To Shane Leslie, Quinn wrote on June 21, 1922, "It is a great tour de force; a very great work, indeed. He [Joyce] has done new things with the English language. His genius is Irish, his frankness in dealing with facts, his courage, his interest in all forms of life, and his sense of similitude, are Irish."
And yet it was Ulysses that caused Quinn's greatest frustration with Joyce. Though Quinn did believe in the absolutely free expression of art, he was also a lawyer who believed in upholding Jaw, maintaining that bad Jaws should be changed through the legislative process. He was distressed that Joyce did not heed his advice to remove Ulysses from serialization in the Little Review, fearing that such publication would result in censorship of Ulysses in book form. Quinn was also frustrated that Joyce didn't let him have Ulysses printed privately through Huebsch rather than having a trade edition brought out. He pleaded with Joyce on 15 August 1920: "I know the temper of the authorities here. I know the public opinion here. I know the law. The book is likely to be (a) seized by the New York authorities (b) It is likely to be prosecuted under the U.S. Law (c) It would be excluded from the mails and express companies." He explained that three groups at least would object: purists because of obscenities, Catholics because of expressions of blasphemy, and the English because of disrespectful references to King Edward and the Old Queen. "I hate all these classes," he wrote, "but that does not blind me to the fact that they exist and that one or two such complaints would be certain to set the law in motion."
Quinn was right. A complaint was lodged, and the July-August and October 1920 issues of the Little Review were seized. The proprietors of the Washington Square Book Store, which had been selling the journal, were arrested. Quinn caused the complaint against the bookstore to be dropped and argued the case for publication before three judges in Special Sessions on February 14, 1921. His defense was unusual: Ulysses was incomprehensible, he said, and therefore it could not corrupt. The book was like a cubist painting: "experimental, tentative, revolutionary if you like, but certainly not depraving or corrupting." Two judges at first agreed with Quinn, but the third convinced them ultimately to vote with him. Quinn lost, and the Little Review publishers were fined $50 each and had to promise that Ulysses would no longer appear in that journal. Although he lost, Quinn's argument formed much of the ground for the decision twelve years later when Ulysses was finally cleared for publication in the United States.
Unfortunately, Quinn was not alive to enjoy the moment. On July 28, 1924, he died of cancer. Telegrams of consolation poured in from all comers of the world, for artists recognized that they had not only lost a generous patron and a great appreciator of art, but one of its staunchest and most pragmatic defenders. In his will, Quinn directed that his holdings of art (most of his manuscripts had already been sold, many to the Huntington Library in California) be dispersed at public auction. It seems uncharacteristic that he would not want his collection kept intact, and it is easy to see in hindsight how much more his estate would have benefited if at least a part of the collection was preserved for his heir; but Quinn wanted the art which had delighted him to be on the market again for people like him, collectors who could appreciate the joy of finding and possessing a masterpiece.
Quinn was a complex man who crammed at least two or three lifetimes of accomplishment into his fifty-four years. In spite of his sometimes acerbic nature and an impatient unwillingness to suffer fools kindly, he won respect, admiration, and even love from some of the most important artists of the early twentieth century. Certainly, some of this respect was given because of his patronage and because of the services he rendered, but one cannot read the Letters to him and not realize the honorable place that John Quinn held in their hearts. ♦
_______________
This article originally appeared in the May 1992 issue of Irish America.