What's in a photograph? Writer John Fay reflects on an image of a grandfather he never knew as he's being sent to World War I.
℘℘℘
My grandfather, John Fay, was born in Finavarra, County Clare in 1896. The youngest of twelve children, he grew up on a farm that juts out into Galway Bay. Family lore has it that he had an almost idyllic childhood – trapping lobsters and playing amongst the ruins of an abandoned fort. He also attended school until he completed his secondary education. That in itself seems unusual for the time, as trying to scratch out a living on a small scrap of ground could not have been easy for his parents and older siblings.
In 1916 John followed his older brothers to America. He settled in New York, but not for long. Congress declared war on Germany in April, 1917 and John enlisted in the Fighting 69th, which was later renamed the 165th Infantry Regiment. He was in France by the end of 1917.
When I look at this photograph it strikes me that my grandfather does not look like a military man. Based on what I know of him, I doubt he found it easy dealing with the rigors of army discipline. I am sure he was not unaffected by the horrors he witnessed and endured, including being gassed. My grandmother was always vague when I asked her about this period in my grandfather's life, saying he had no time for those who talked a lot, so she knew very little of what the war was really like for him.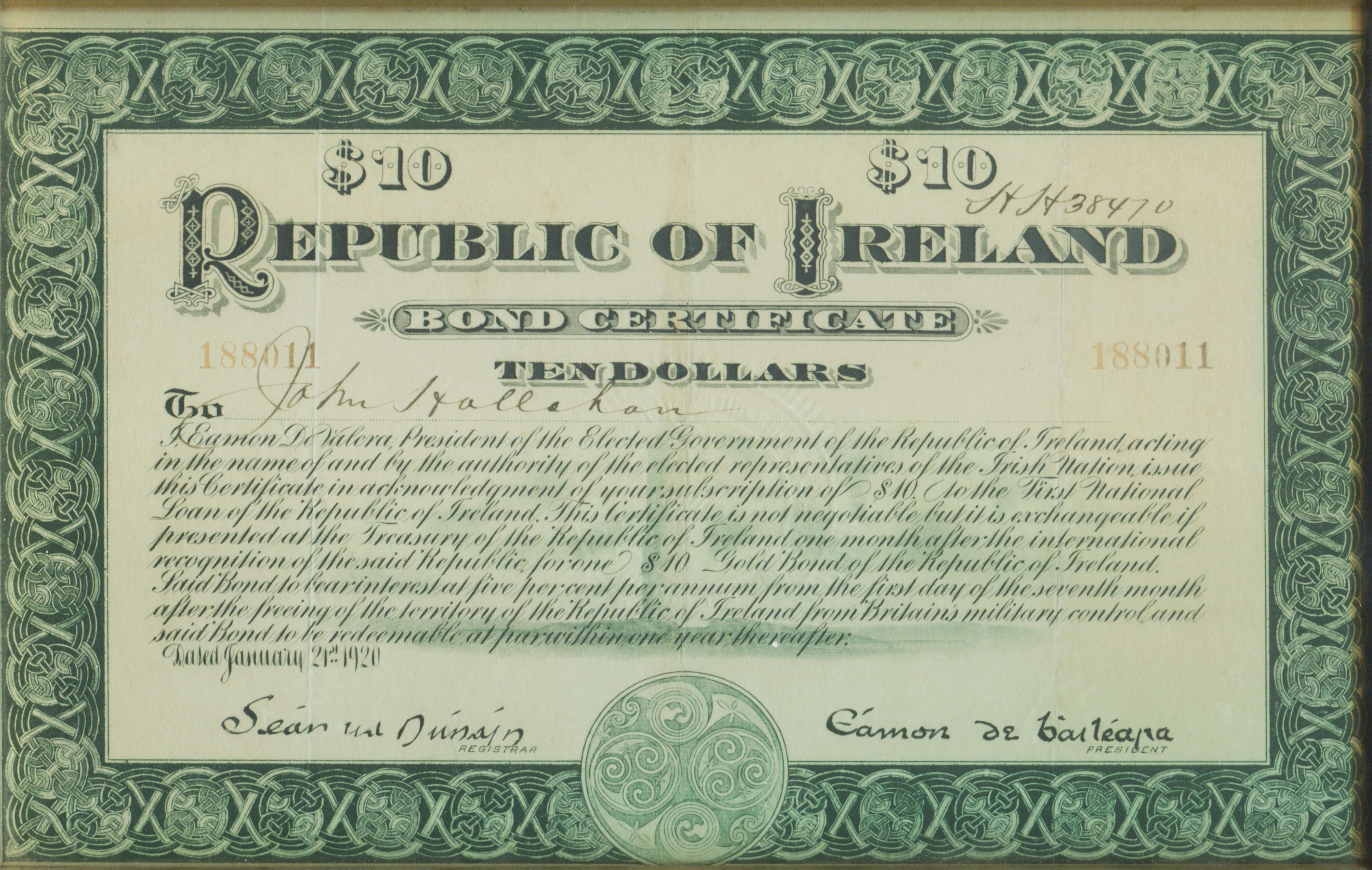 After the war, my grandfather got a job driving a bus in Manhattan for the Omnibus Corporation. It was during this period that he bought bonds in the "Irish Republic," perhaps at the insistence of his brother's wife, who helped organize events during Eamon de Valera's fund-raising tour of America during the Irish War of Independence. He never considered the money an investment – he was giving it to the cause. However, in 1937 he and my grandmother, Anna May McMahon, whom he married in 1933, were able to buy a house in Jackson Heights, Queens, thanks to the Irish government's decision to repay the bond-holders.
My grandfather died in New York in 1948 when my father was a young boy. Although I know many facts about him, what I know of his personality I learned from my grandmother. She said he was "good with figures," "loved poetry," and most of all that "he had a great sense of humor."
My grandmother always insisted that the names of those in a photograph should be written on the back. It is a shame nobody did that with this picture. We do not know who these men were. If we did, one of them may have been able to help fill in the blanks about my grandfather's war years. ♦
_______________
This article originally appeared in the June / July 2006 issue of Irish America.