Recent passings in the Irish and Irish American communities.
Brendan Byrne
1924 – 2018
Two-term New Jersey governor Brendan Byrne died of a lung infection in January at the age of 93. Byrne is remembered as one of the most popular Democratic politicians in the state, as well as for his unimpeachable reputation for honesty. Byrne's introduction of a state tax to improve funding for public education and efforts to preserve the Pinelands – an expanse of over one million acres – demonstrated his commitment to public service and protecting his home state.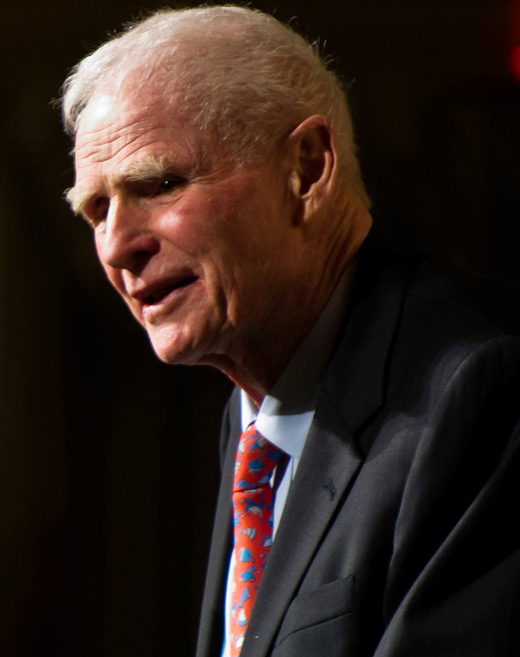 "New Jersey loved him," Byrne's successor, Thomas Kean, said at the former governor's memorial service. "New Jersey loved him for his authenticity and honesty."
Byrne was born in 1924 in West Orange, New Jersey, into a Catholic family of Irish descent as one of five children. He had a multi-faceted career, being decorated for his service in the U.S. Army Air Corps in World War II. Byrne used his G.I. bill to attend Princeton University, going on to obtain a law degree from Harvard Law School. He led a successful legal career and moved his way up in politics, eventually serving as a Superior Court judge before winning the gubernatorial election in 1973.
Byrne, who often joked about being buried in Hudson County to continue participating in state politics, is predeceased by his first wife, Jeanne, and a daughter who died in 2006. He is survived by wife Ruthie Zinn, six children – including son Tom Byrne, who currently heads New Jersey's State Investment Council – and nine grandchildren. Speaking at Byrne's memorial service, his son Tom said, "He'll remain active in politics as long as people want a role model."
– Mary Gallagher
Maurice Carroll
1931 – 2017
Respected Irish American journalist and head of the Quinnipiac Poll Maurice Carroll died of colon cancer in December. He was 86. Known as "Mickey" to friends and colleagues, Carroll worked in the field of journalism for over 40 years, reporting for a total of eight newspapers over his career on such critical events as the Civil Rights marches in the south, President John F. Kennedy's assassination in Dallas, and the subsequent murder of Lee Harvey Oswald, for which he produced a legendary eyewitness account.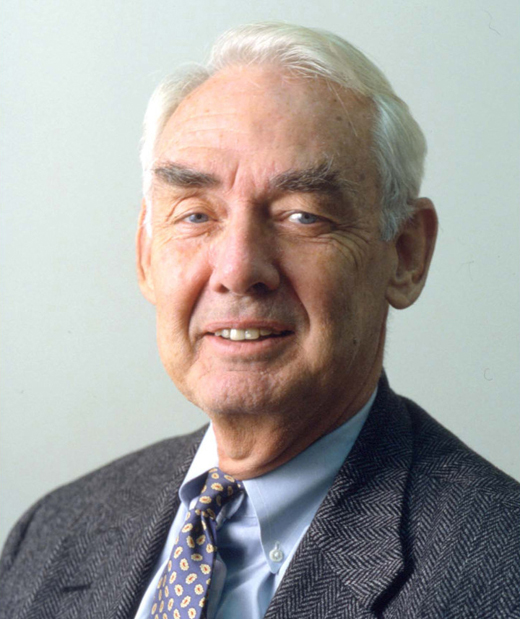 Born and raised in Rutherford, New Jersey, by Irish American parents Michael and Dorothy, Carroll graduated from the University of Notre Dame and served in the army before embarking on his career as a reporter. He would later branch out to write books on the Kennedy assassination as well as the Iran hostage crisis. Never one to back down from muckraking, he told the New York University Bullpen in 2004, "Do an honest job and, if it causes trouble – which it often will – that's too bad. One way or another, truth will win out."
Carroll took a job as a journalism professor at Quinnipiac University in 1995 and turned the university's poll into the well-regarded resource it is today. "Mickey Carroll was a reporter in the finest tradition of American journalism, a dedicated educator and a knowledgeable commentator on the American political scene," Quinnipiac University president John Lahey said.
Carroll is predeceased by his son, Patrick, and second wife, Beth Fallon. He died in the home of his first wife, Peggy Wade, with whom he maintained a close friendship. He is survived by Wade, his sister Anne, three children, and ten grandchildren.
– Mary Gallagher
James H. Clark
1932 – 2018
James H. Clark, a Philadelphia civic leader, Verizon manager, and patron of writers, died of pneumonia in January. Clark, who was born in 1932 to a humble Irish American family in Penn Wynne, Pennsylvania, learned early on in his life the importance of two things: reverence for his Irish ancestry and family comes first.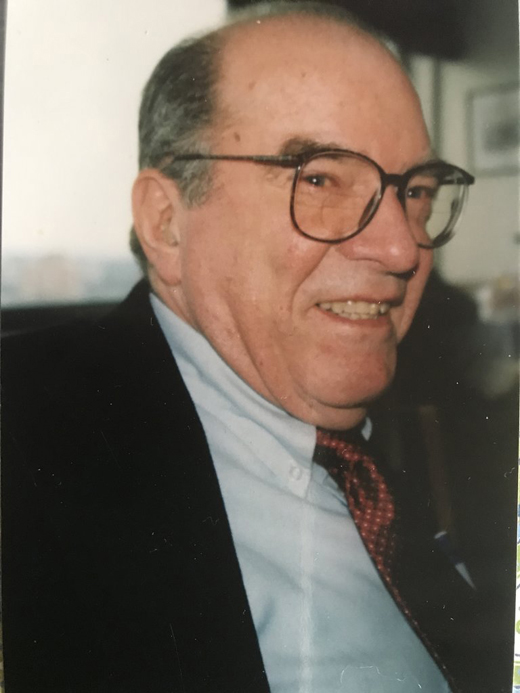 Clark joined the Navy in 1951 and would serve for four years as a radioman aboard the destroyer U.S.S. Lloyd Thomas. Two years later, after starting a job at Bell of Pennsylvania, he met and married Mildred McMonagle, with whom he had four children.
In the 1980s, after the government-mandated split of the Bell System, Clark was assigned to Verizon and from 1982 to 1988 helped organize Verizon's telephone directory. In retirement, he embarked on a family research project, discovering that he was a great-grandson of "Professor" John H. Clark, a famed 19th century Irish American bare-knuckle boxer. His great-grandfather's love of writing inspired James to begin a writing group, and he founded Writers' Cramp in 1988. Clark also served as the president of the town's civic association, coached local sports teams, and wrote about his family history.
"I think he was the quintessential gentleman," his son-in-law, Brian Walsh, told the Philadelphia Inquirer. "He was soft-spoken, but certainly not a pushover. He was just really a kind soul. You'd be hard-pressed to find a better human being."
Clark is survived by his wife, four children, 10 grandchildren, two great-grandchildren, and a brother.
– Dave Lewis
Anna Mae Hays
1920 – 2018
Anna Mae Hays, the first woman in the United States to serve as a general in the armed forces, died in January at the age of 97. After enlisting as an army nurse in World War II, Hays established herself as one of the Army Medical Corps' top leaders over her three decades of service, eventually earning the rank of brigadier general in 1970. Hays had an especially significant role in recasting the treatment of women in the U.S. military. Her efforts helped raise the standards of education for women being admitted as U.S. army nurses, as well as softening the heavy restrictions regarding their enlistment.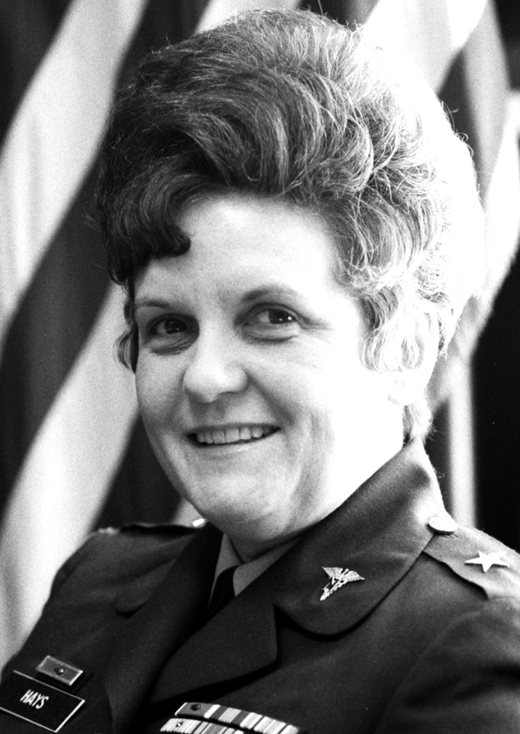 In between stints of overseas deployment as far-reaching as India and South Korea, Hays served as one of President Eisenhower's private duty nurses in 1956 and nurtured a very close relationship with the former general in the years afterward. When Hays was promoted to general more than two decades later, Eisenhower's wife, Mamie, presented her with the president's own general's stars from his time in WWII.
Hays rejected burial at Arlington National Cemetery in order to be interred along with her family at Grandview Cemetery in Allentown, Pennsylvania, where they settled when she was 12. Though born in Buffalo, New York, she regarded Allentown as her true hometown because her parents' mission for the Salvation Army had previously moved the family to many different places before settling in the Lehigh Valley. Her father, Daniel McCabe, was born in Ballymurphy, County Carlow, and her mother was of Welsh ancestry.
"She was an amazing woman who accomplished some great things and lived life on her terms," Doris Kressly, Hays's niece, told the Allentown Morning Call. "She lived a magnificent life and I'm glad she got to live it the way she did." In addition to Kressly, Hays is survived by several more nieces and nephews. Her husband, William A. Hays, died in 1962.
–Mary Gallagher
John Mahoney
1940 – 2018
Actor John Mahoney died in February at the age of 77 of throat cancer in Chicago. A fixture of the Chicago theater community with a sharp sense of humor, Mahoney was best-known for his role as Frasier Crane's surly ex-cop father in NBC's Frasier.

Born to Irish parents in 1940 in Blackpool, England, Mahoney first visited the United States at age 11 when he came to Chicago to visit his elder sister. He returned with his sister's sponsorship in 1958 and became a citizen in 1959. Following work as an editor for a medical magazine and later as an English teacher, Mahoney discovered acting, albeit later than most. In 1979, he was invited to join the fledgling Steppenwolf Theatre by Gary Sinise and John Malkovich, both nearly 15 years his junior, because the ensemble of 20-somethings realized they needed an actor who could credibly play older, fatherly roles. Mahoney's niche was set.
"By the time I started my career, most people had given up and started selling insurance," Mahoney told the Chicago Tribune in 2004. "I didn't have so much competition."
While his success on Frasier made his a household name, following the show's finale in 2004, Mahoney returned to Steppenwolf full-time, occasionally taking film or TV gigs if he thought them interesting. But his main passion was the stage. He appeared in more than 30 productions for his home theater, including a 2008 production of Conor McPherson's The Seafarer, which Tribune critic Chris Jones called "perhaps Mahoney's most devastating performance, if only for the way it emphasized his inherent frailty."
In 2002, Mahoney appeared in the Chicago Irish Repertory Theatre's production of Eugene O'Neill's Long Day's Journey into Night, which he later took to the Galway Arts Festival, beginning a love affair with Galway City that would last the rest of his life. In a 2015 interview with the Galway Advisor, he said, "I'm not just saying this to blow smoke up you, but my two favorite places in the world are Galway and Chicago."
– Adam Farley
Dorothy Malone
1924 – 2018
Academy Award-winning actress Dorothy Malone died in January at the age of 93. Best known for her role as Constance MacKenzie in the 1960s series Peyton Place, Malone had a long and eventful career in film and television, working with a number of Hollywood legends, including Rock Hudson and Cary Grant. Malone's biggest critical success came in 1957 when she won the Oscar for Best Supporting Actress for her seductive portrayal of Texan oil heiress Marylee Hadley in Written on the Wind.
Dorothy Eloise Maloney was born in Chicago in 1924 to Robert Ignatius and Esther Maloney, devout Irish Catholics. The family soon relocated to Dallas, where Malone attended the Ursuline Convent before beginning a pageant career and modeling for Neiman-Marcus. She attended Southern Methodist University intent on studying nursing, but eventually found her way to drama. In 1943, she signed a contract with Warner Bros., shortened her name to Malone, and launched a 50-year screen career that ended with her role as Hazel Dobkins in 1992's Basic Instinct.
Malone, who was never shy about her priorities between family and acting, regarded her two daughters, Mimi and Diane, as her primary bosses, and her role as mother paramount to any on-screen jobs she would have. On Peyton Place, she accepted a salary decrease to ensure that she would be home by 6 p.m. during the week and would not have to work weekends. She also paid tribute to the role of mothers in family life throughout her career, telling the Chicago Tribune in 1985, "I never turned down a mother role. I started out as a very young girl in Hollywood doing westerns, portraying a mother with a couple of kids."
In addition to her daughters, Malone is survived by her brother, Robert, and six grandchildren.
– Mary Gallagher