Reflections on Twenty-Five Years of Irish America and New York University's Glucksman Ireland House.
℘℘℘
Terry Golway assembled Irish and Irish-American writers to give voice to Being New York, Being Irish, a tribute to Glucksman Ireland House on its 25th Anniversary. The name, Glucksman Ireland House, always seemed somewhat offbeat, as "Glucksman" and "Ireland" don't sound like they belong together. But they do. Lew Glucksman, a Jewish American, loved all things Irish, most particularly his Irish-American wife, Loretta Brennan Glucksman.
The 1993 opening of Glucksman Ireland House was a unique sight, even for Greenwich Village. A bagpiper led a procession of writers, poets, musicians and academics, described by Seamus Heaney as a combination of the "Indomitable Irishry of mind / With the Big Apple of Knowledge." The march ended at 1 Washington Mews, where Loretta, Lew and Taoiseach Albert Reynolds cut the ribbon and opened the doors. Once those doors were opened, scholars seeking a masters degree or studying the Irish language walked in. As did, over time, Liam Neeson, George Mitchell, Bono, Pete Hamill and curious New Yorkers of every ethnicity. It was in Glucksman Ireland House that Patricia Harty, editor and co-founder of this magazine, met, on a an otherwise empty elevator, the shooting star of Irish America, John F. Kennedy Jr.
The timing was as serendipitous as a rainbow – the early days of Glucksman Ireland House coincided with the early days of the Celtic Revival of the 1990s. Suddenly Irish was "in": its music, movies, writers and riverdancing were everywhere, and it was finally acknowledged that, yes, Ireland did indeed save civilization. House director Robert Scally explained the resurgence: "We had outlived the old parochial ideas of what it means to be Irish." But before that, Scally says, "Irish history was something the Clancy Brothers sang about." Glucksman Ireland House changed all that. Two years after opening, it hosted an event recognizing the 150th Anniversary of the Irish Famine, an international conference on world hunger making An Gorta Mór even more relevant today.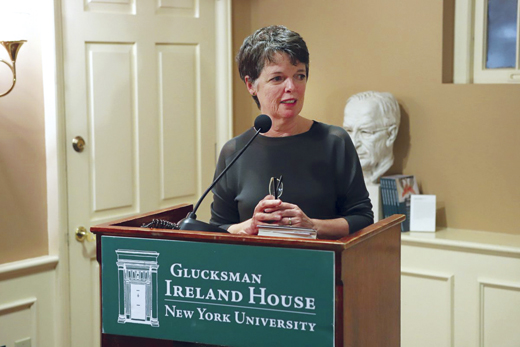 Colum McCann opens Being New York, Being Irish with a Joycean riff on the Irish, the Diaspora ("we are a scattered people") and the immigrant experience. Alice McDermott tells of her childhood disdain for Irish music, only to have her son, Patrick, become a virtuoso on the Irish tin whistle and flute. He was, as his teacher explained, playing for his ancestors. Dan Barry waived his own Irish-American experiences to give a loving and humorous story about Frank McCourt and the phenomenon of Angela's Ashes. Irish-born mystery writer John Connolly recalls one of his early book signings in New York, where his sole fan dispatched him to buy beer.
Colm Tóibín, author of Brooklyn, arrived in New York in 1989 as a member of the new breed of Irish immigrants, so much freer than those that came before. Yet he still felt the "old ghosts lingering…Irish people coming to America in search of a last chance." Ray O'Hanlon of the Irish Echo talks of today's even newer breed who, when they look back at "home," see an Ireland no longer drenched in poverty but one caught up with America and Europe. They see an Ireland that will soon be the only English-speaking country in the EU.
Paul Muldoon's poem "1916: Eoghan Rua Variation," is witness to the Rising in the style of Eoghan Rua or Owen Roe, an 18th-century poet / playboy / prophet. Former poet laureate Billy Collins submits "Irish Spider," beautiful, simple and strange. Another fine poet who just happens to be the president of Ireland, Michael D. Higgins, thanks Glucksman Ireland House for giving newer generations of Irish-Americans access to their culture and heritage.
Peter Quinn, as gifted an historian as he is a novelist, also thanks Glucksman Ireland House for its commitment to renewing Irish identity. Quinn laments later generations of Irish Americans who prefer to look to the future, ignoring the history of their ancestors. If they studied the 1916 Rebellion, they would learn how a ragtag army wrested freedom from the greatest empire in history. "The dream proclaimed on O'Connell Street in 1916 allowed Ireland to resume its place among the nations of the world. Glucksman Ireland House provides a home for that dream in the heart of New York City, at the global crossroads of people and ideas."
During World War II, a U.S. sailor, the offspring of Hungarian Jews, found himself in Ireland and fell in love with the country, its people and culture. The love stayed embedded in his heart, later leading him to Loretta Brennan Glucksman and Glucksman Ireland House. Together, determined to bring Irish Studies to NYU, they brought its president, Jay Oliva, to Ireland and so began the genesis of their dream. In time Loretta and Lew built a home in Cork, fittingly in the city of Cobh, the departure point for so many Irish leaving for New York. It was there Lew received a degree from University College Cork, it was there he was named "Honorary Corkman" and it was there he died in 2006.
But it's Loretta Brennan Glucksman who wins the greatest honor of all, a poem written for her by Seamus Heaney. He praised "this lass of Allentown" for her generosity and grace, likening her to Maud Gonne:
"She is foremost of those that I would hear praised"
Said Yeats of Maud but for us LBG
Is she to whom all glasses must be raised.  ♦
_______________
Rosemary Rogers co-authored, with Sean Kelly, the best-selling humor / reference book Saints Preserve Us! Everything You Need to Know About Every Saint You'll Ever Need (Random House, 1993), currently in its 18th international printing. The duo collaborated on four other books for Random House and calendars for Barnes & Noble. Rogers co-wrote two info / entertainment books for St. Martin's Press. She is currently co- writing a book on empires for City Light Publishing.