Eileen McDonnell, the Chairman & CEO of Penn Mutual Life Insurance Company, discusses her Irish heritage, breaking the glass ceiling, and the way forward.
℘℘℘
When parents tell their children that they can do anything, it's all too often taken with too many grains of salt. But Eileen McDonnell believed her parents. She had no reason not to. And it served her well. When she was applying for a vice president job, a position held by no other women in the company, she brushed off people citing her gender as a reason she wouldn't get it, telling them that it was irrelevant. They may as well have been saying she was unqualified because she had had chicken for dinner the night before. She knew she could do the job, and that was the only qualification that mattered.
Where others see obstacles, Eileen sees none. She chalks this up to naïveté, but I think it's rather a testament to her significant talent. She broke the self-fulfilling cycle that undoubtedly kept women before her out of the boardroom: there were no existing female vice presidents because people thought women couldn't do the job; people thought women couldn't do the job because there were no existing female vice presidents.
That soon changed. Although she says she fell into the insurance industry by accident (no wordplay intended), it really isn't that hard to believe that someone who was originally going to be a nurse would enjoy helping people on a large scale. It's the same passion. "Be passionate about helping others and this career will never feel like work," she says. That's no accident.
This passion for helping others can be traced back to her mother's selflessness and her grandmother's concern for global crises. In fact, she has great appreciation for her all her grandparents. The four of them came from four different counties in Ireland, met in New York, and raised families on Irish music and tradition. They came in search of the American Dream, that their children would one day be better off than they were. Today, as Eileen sits at her desk as chairman and CEO of Penn Mutual Life Insurance Company, a Fortune 1000 company, she recognizes that her grandparents' dream has been realized beyond their imagination.
Eileen honors her Irish heritage through her work. She handpicked her appointment date as CEO to be March 17, in honor of St. Patrick and her maternal grandparents' wedding anniversary. Soon after, the company color was changed from blue to green. Rugby players from over 300 U.S. colleges and universities now wear the Penn Mutual logo on their jerseys, as Penn Mutual became the title sponsor for U.S. collegiate rugby under Eileen. The rugby players aren't the only ones with team spirit. A cheerleader in high school and cheerleading coach in college, Eileen thinks of herself as a cheerleader for her Penn Mutual team, even being branded the "Chief Morale Officer" during the recession.
"Happy people, happy company." That is one of Eileen's pieces of advice. After getting to know her, one can see where she learned this throughout her life, and that these are words she does indeed live by. Born the fourth child of six to an elementary school principal and a homemaker, Eileen credits her professional diplomacy to her middle-child status. She bridged the gap from the older kids to the younger ones. Today, she uses those communication skills to maintain a flexible work environment for her employees, an environment that drew her to Penn Mutual in the first place.
She made it clear when she came on as CEO that her daughter and family came first, but she would give the company 110% of the time and effort she had left. She extends the same understanding to her employees. When the current CFO, Sue Deakins, first got promoted, she was going to have to give up her weekly Ladies Nine Hole League golf game to attend the executive team meetings, until Eileen suggested they just move their meetings. She knew they wanted Sue as CFO, she knew that Sue enjoyed golf, and she knew that the weekly golf game would keep Sue happy at work. It was a no-brainer. Happy people, happy company.
Eileen learned early in her career the value in adapting to new technologies and incorporating them into a business marketplace after witnessing Wang Industries, once a pioneer in office automation, fall to their demise because they didn't have a vision on how to move forward with personal computing.
Now at Penn Mutual they say, "Powered by people, enabled by technology." The company was founded 171 years ago, before telephones, when selling insurance consisted of going door-to-door to sell to their neighbors. Today, as we reach another inflection point, she acknowledges the need to embrace emerging technologies in order to find new ways of doing business that will propel them into the next era. Her background in analytics and programming prepared her for the problem solving and intellectual curiosity required of a CEO in an ever-changing industry. "It's just new techniques," she says. "But the needs are no less. As a matter of fact, they're getting more complex." It's the perfect job for someone so passionate about ad­dressing others' needs.
Even though in the United States women now earn more degrees than men, they make up half the workforce, and companies that employ large numbers of women outperform their competitors, there are still so few female heads of companies. Eileen McDonnell is breaking that cycle. Because she knows she can.
℘℘℘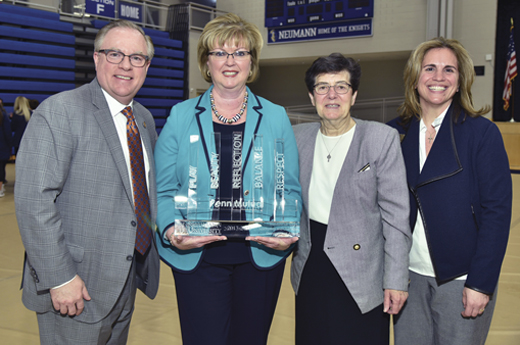 HERITAGE
We were Irish all the time: traditional food and culture and story and music. My grandparents were teaching us how to say the Hail Mary in Gaelic when we were younger, those kinds of things. And then, of course, there was always the St. Patrick's Day celebration because that was my grandparents' anniversary.
All four of my grandparents came from different counties in Ireland. They met here in New York and married and raised families.
They instilled in us a proud history of being Irish and a yearning to stay connected with Irish history and culture in Ireland, but they were proud to be Americans.
My mother's mother was Anna McIntyre and she was from Carrigallen in Leitrim. She came here as a teenager, worked domestic jobs, and was self-educated. She never had the opportunity to complete high school or college, yet could talk about things that were happening on the world stage. She was very interested in politics and global issues.
My mother's father couldn't read sheet music but was a great musician, always playing Irish music on the tin whistle and the flute and the accordion and the violin, all self-taught. His name was Martin King and he was from County Clare. He carried that tradition of music as we were growing up.
My father's father, Terence McDonnell, was from Monasteraden, County Sligo, and his mother was Veronica McNicholas from Bohola, Mayo.
LOVE STORY
My parents, Barbara and Bill McDonnell, had a great love story. They were married for 46 years. Truly, they were soul mates.
My father was the first college-educated person in his family. He was first a math teacher and then an elementary school principal for 25 years, and every year on St. Patrick's Day he would get on the P.A. system and declare that there was no homework in honor of St. Patrick.
My father taught me early on that God gave you two ears and one mouth for a reason, to listen twice as much as you speak. We used to call him "the Quiet Man," like the Cong movie. He was a quiet, good listener, but when he spoke, he spoke profoundly.
My mother was a homemaker, dedicated to her children. I definitely believe I was able to learn from her about putting others first. She trusted me with responsibility at an early age. She had the right balance of being there to help and guide you, but at the same time give you the skills and the runway to be able to fly on your own. We remain really close.
My parents had six children over eight years, and I'm dead center age-wise between them. It was a very big family by American standards, but it taught me diplomacy. I learned how to get along with multiple personalities in a household. Certainly being in the middle, being able to bridge the gap from the older children to the younger children, I absolutely believe that has helped me throughout my career.
We grew up in a traditional household with traditional values. We went to church every Sunday. My dad set high expectations for us. He was a great listener, and really understood who we each were uniquely. And my mom was always around, selflessly dedicating herself to our family. I really grew up in a loving home.
FIRST JOB
I always worked. I started babysitting back when I was twelve years old, and I've been working, one way or another, since then. I worked multiple jobs in high school and college, but my main job was at a local library.
Normally they didn't take high school kids, but they thought I was responsible enough. At one point the library started opening on Sundays. Nobody wanted to work on Sundays, but I volunteered because we got paid extremely well, and I really enjoyed the independence I had from earning a good living. People ask me, "Why are you successful?" It's because I'm willing to do things others are unwilling to do. I go back to that moment when nobody would work on Sunday, and I said I would work every Sunday.
INSURANCE POSITIVE
I love the purpose. I am connected with the mission of helping others. Every day we're looking for solutions to help people live life to the fullest. Our products work while you're alive, but our products are also there when people need them most: when someone prematurely dies, or if there's a concern over whether or not a business can continue. We're there. We're the people coming to help. That has really been what I am focused on: how do I help others, help others? So even though I didn't become a nurse, helping people is what attracted me to insurance, and, more importantly, for 30+ years I've been dedicated to that.
CHEERLEADER FOR HER TEAM
I was a cheerleader in high school, and then in college my high school hired me to be a cheerleading coach. I still am a team cheerleader today – I see my CEO job as chief cheerleader. It's all about the team and it's all about cheering for them to do their best.
As a matter of fact, I joined Penn Mutual in 2008 as the Chief Marketing Officer just before the economy crashed in September. I was the CMO, and they dubbed me the "Chief Morale Officer."
BREAKING THE GLASS CEILING
It's interesting, because I was naïve. I really didn't see obstacles. By age 27 I was made a vice president at Equitable. When I was going for those positions, people would say to me, "What makes you think that you're going to get that job? There are no other women in that position. And you're also young." And I looked at them like, "What does that have to do with it?"
I didn't see it the same way other people did. It might have been naïveté, but my frame of reference in my mind said that I could do these things.
My parents gave us the confidence to believe that we could do or be anything we wanted, and I just believed them; I didn't doubt them. Parents encouraging their children early on to believe that they can do anything could just be the spark that ignites something wonderful.
EARLY MENTORS
My principal in high school was the late Fr. Desmond. He was very disappointed in my choice of college studies. I was going on to a local school to be a nurse, and as I was leaving my senior year, he told me that I was destined for greatness, and that I could lead an organization someday. My principal had planted a seed. He saw something early on that I hadn't seen.
Back in that day, women were directed to become nurses, teachers, secretaries, administrative professionals, and homemakers. So I took the traditional road, but I knew from the first day that I didn't really want to be a nurse, and after my sophomore year I changed my major. Personal computers were coming on the scene, and they just captured my imagination about what the potential could be.
Molloy College was a predominantly female school, so my computer classes were not male-dominated. But when I went to Wang, it was primarily men. It was fast-paced, and you learn how quickly you have to innovate and be creative, which has helped me in my career. That was an exciting time to be at Wang, but I watched the company go from its peak to a fall from grace very quickly, and that's how I ended up at Equitable. I found it by accident, which is how a lot of people come into the insurance industry.
I worked with all men and I was really very fortunate because those men wanted to help me succeed. I never asked someone for help who was unwilling to help me. I think that a lot of women in particular may be afraid to ask for help. By my asking for help, showing my vulnerabilities and being willing to learn, they wanted to help me, and then they were proud to see me advance. I think decision makers at the time saw in me their own daughters who were going to be entering the workforce. They wanted to help me because they recognized their daughters would soon need help and they'd want someone to return the favor.
I could not be where I am today if I did not have men wanting to help me and see me succeed. For instance, a man named Mike Martin at Equitable was insistent on the fact that I received the appropriate title of vice president. I was coming from being a director, and they had a series of progressions of titling before you became a full vice president. But he really went to bat for me, and I went from director to full vice president, skipping two titles. He felt that if they were going to ask me to do the same job as the other vice presidents, but I didn't have the title, I wouldn't have the political clout to get the job done, and it would be a self-fulfilling prophecy that the first woman in that role wouldn't be successful. He wanted to make sure that I had not only the appropriate titling and positioning to be successful, but he also argued that I needed to be paid like my male counterparts.
MOTHERHOOD
After my dad's illness and spending a lot of time with my family, I recognized that I wanted one myself. I found myself in my forties, having spent the time building my career, and never settling down in a relationship that allowed me to have a family. So, I took time off to adopt my daughter Claire from Russia.
I knew I had great family support and still do, but I didn't know if I could still meet the demands and challenges of the senior level executive that I was at the time with a new baby, so I left my role as president of New England Financial, announcing that I was adopting a child and stepping out of my corporate career. I don't ever like to do anything I can't do well, and I wasn't certain that I was going to be able to manage motherhood comfortably and also have a career simultaneously. I took a hiatus, during which I was teaching, consulting, and acclimating to motherhood with my daughter.
Claire is fourteen and she's in eighth grade. She's Russian, but she likes the Irish stuff. My godmother, my mother's sister, is Sheila Claire. I'm Eileen Claire, and I named my daughter Claire to carry on the name. My grandfather came from County Clare, so I'm sure that factored into everyone having Clare in our names, but with the "I."
When she was younger, someone at school told Claire that she wasn't Irish. And I said to her, "What's your name?" And she said "Claire McDonnell." I said, "Sounds Irish to me." I told her that the Irish welcome everyone to be Irish. Not only on St. Patrick's Day, but every day. She loves being part of our Irish tradition.
CAREER BREAK
During my hiatus [from the insurance business], I was a professor at The American College. What I was initially hired to do was take over the research chair for women in financial services, do specific research around the behavioral sciences of women and money, and integrate it into all of the other financial curriculum. Women represent over half the population, and 60 percent of our country's wealth is in the hands of women today, so they wanted that included in their entire curriculum. I was also on the faculty for their master's program as a professor of the leadership course, part of the master's degree in management.
Coming from a family of educators, I always thought that at some point in time I would be a college professor. The hiatus really gave me the opportunity to fulfill another dream, and I loved the intellectual challenge of teaching in a master's program.
WOMEN AND MONEY
The purpose of my book, Marketing Financial Services to Women, is to shine a light on the unique financial planning needs that women face, among them their longer life expectancy than men, and the gaps in income during child-rearing years.
I was quoted in the Wall Street Journal back in July of 1995, when I was at Equitable, about women and money. It was something that I always had interest in. I was able to bring that research from my hiatus with me to Penn Mutual. Fast forward to today, some of the same commentary can be made about women. We just announced the launch of a company called myWorth. It's a business focused on bridging the confidence gap of women and their money. Most women, single, married or widowed, face challenges having financial confidence, no matter how strong they are in their field of study. myWorth is really facing that head-on with the hope of having women gain the confidence that they need. This, to me, is a worthy legacy I can leave as a woman.
Today half of our clients are female, and we have closed the gap on how much insurance coverage women have against their male counterparts. There is plenty more work to be done, and I believe that we are the best-positioned company in the financial services industry to really address this issue. Not only do we have a female CEO who is passionate about this, I have both a board and an executive team that are over 40 percent female. So we walk the talk here.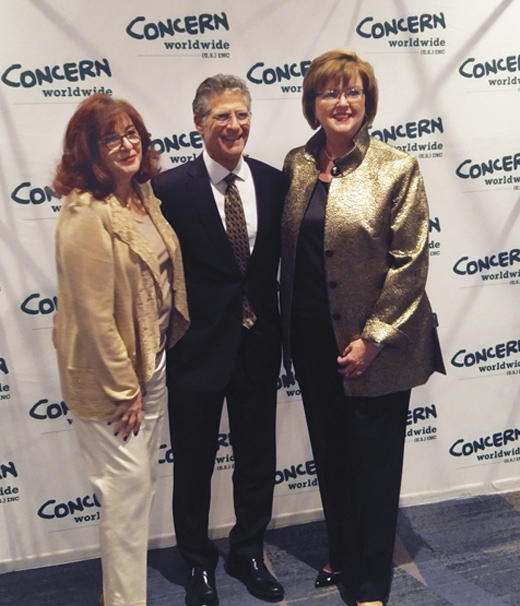 COMPANY CULTURE
During my hiatus, I had the opportunity presented to me at Penn Mutual, which was a family-friendly environment. When I was interviewed, I told them that if they weren't going to be comfortable with me prioritizing my daughter first, then I wasn't the right person. But I also told them that I would give them 110 percent of my time and effort, just maybe in a non-traditional way. And from the time I've gotten here, that flexibility has worked.
In today's business world, you have to create more flexible environments because people want to have lives. They want to have a family life, they want to have a work life, they want to do both well, and you have to take a non-traditional look at that in order for that to happen. My encouragement to women is that there are environments out there, they do exist, that allow you to have it all. You just have to find them. I was really blessed to find this opportunity here at Penn Mutual.
We continue to foster that environment. It's part of the way that we operate here, the way we conduct business. Everybody has their version of life, whether it be aging parents, young children, a pet, or your interests. It doesn't really take a lot, but it's that flexibility that makes the difference. It's not complicated. People overcomplicate it.
At the end of the day, women, no matter where they are in life, end up with different responsibilities outside of the workplace. Companies must recognize that their dedication and commitment to family obligations doesn't diminish from their interest in being professional and doing a great job at work. Up to this point, there has been confusion that if you prioritize family first, then you're not dedicated to your professional life. That's bias that has held women back from wanting to be able to do well, and from men considering women for those positions.
There are a lot of "Eileenisms," as we call them here. One of them is: "Happy people, happy company."
ADVICE
For women: find the right climate. For the insurance industry: be passionate about helping others and this career will never feel like work. That's it to me.
IRELAND
My appointment date as CEO was March 17 by design. I picked the date as a nod to my Irish heritage, and it was also my grandparents' wedding anniversary – my mother's parents, the Kings.
I went to Ireland for the first time about thirty years ago, and I was there again this past July. My sister and her husband were renewing their vows after 25 years of marriage. Our cousin is a priest in Kilmovee, and he came over to Ashford Castle to perform the ceremony.
I took 23 of my family members on a tour of Ireland. We went to Knock, the Cliffs of Moher, Dublin, Quilty – we went all over.
My mother had been to Ireland before with her mother and sister, but my father had never been, so I took them there two years before my father passed away. He was able to go to his parents' home, and then we went on to London, where he met his mother's three siblings that he had never met before. They couldn't come to the United States because of immigration at the time, so they went to England. It was emotional. It was really wonderful.
AMERICAN DREAM
I think the American dream is absolutely still attainable. You have to believe in your dream and work hard and stay focused to get it. Your destiny is in your own hands, but you have to navigate your future and chart your course. Believe in yourself first. You can't ask anyone else to believe in you unless you believe in yourself. I do believe that the American dream is alive and well for those who are willing to dedicate themselves to accomplishing it. Find a way. Find your own path. You have to find your own path because it's not going to be the same for any two individuals.
My proud uncle, my mother's brother, who also was named Martin King, was a subscriber to Irish America magazine. He would share it with my mother, and he would say, "I don't understand why Eileen Claire isn't in this magazine!" He would say that. I was more junior in my career at the time, and he was just a very, very proud uncle. But now my mother says, "Boy, your Uncle Martin would love to have seen you on the front cover!"
AWARDS
Receiving the Ellis Island Medal was one of my proudest moments.  Representing those of Irish descent and of course my own family, all of this recognition with the Irish community is deeply meaningful for me because all four of my grandparents left Ireland when they were in their late teens, and they came to this country looking for better opportunities. They left their parents behind and they came with hopes for a better future. I think about their journey, and where I am sitting right now is why they did it. They couldn't have imagined. What an awesome responsibility for me to represent them well, and to give back to the Irish community as a result of it.  ♦ Maggie Holland