In Sotheby's in London, on November 21, a sale of Irish art from the collection of Brian P. Burns – one of the most significant collections of its kind in private hands – brought a total of $4,204,562, the highest total for a private collection of Irish art sold at auction. The transaction brought Sotheby's overall total for Irish art sales this season to $7.7 million.
The auction opened with a flood of bids for Rowan Gillespie's The Settlers. Here, a humble 19th-century couple, cap in hand and a small bag by their feet, have made their journey to America. The elongated and frozen poses have shades of Grant Wood's American Gothic. The figures are loosely based on a photograph of Gillespie's great grandparents who emigrated to Montreal in the mid-19th century. His great-grandfather found success within his lifetime, working for the Chicago and Grand Trunk Railway.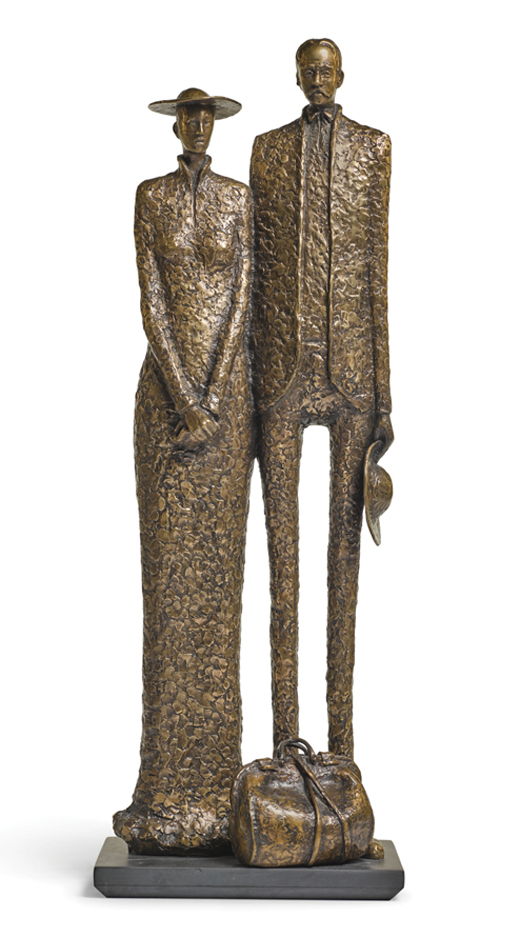 It was one of six works by the artist, all of which were sold.
The sale was led by Roderic O'Conor's "Romeo and Juliet", which sold for $464,331, the highest price for the artist at auction in ten years, and Jack B. Yeats' Misty Morning, which brought in $364,833.
Sir John Lavery's Armistice Day, November 11th 1918, Grosvenor Place, London was acquired by Imperial War Museums, selling for $318,909.
There were bargains to be had too. One painting, perhaps one of the most evocative in the collection, Bankrupt by James Brenan (1837-1907), sold for just 50,000 pounds. Bankrupt is one of Brenan's many subject paintings where Brenan brings before the public his concern for the state of the Irish poor, especially their education. ♦ Maggie Holland