On November 8, the Ireland-U.S. Council, a premier transatlantic business organization, held its 56th Annual Dinner at the Metropolitan Club in New York City. The council was founded in 1962 to assist in preparations for U.S. President John F. Kennedy's visit to Ireland, and to maximize the positive outcomes that this historic occasion would generate.
The Council presented the 2018 Award for Outstanding Achievement to Brenton L. Saunders, the chairman, president and CEO of Dublin-headquartered Allergan, to mark his notable and important achievements in building bonds between America and Ireland. The award is a citation of distinction and has been presented to some of the leading figures in Ireland and the United States.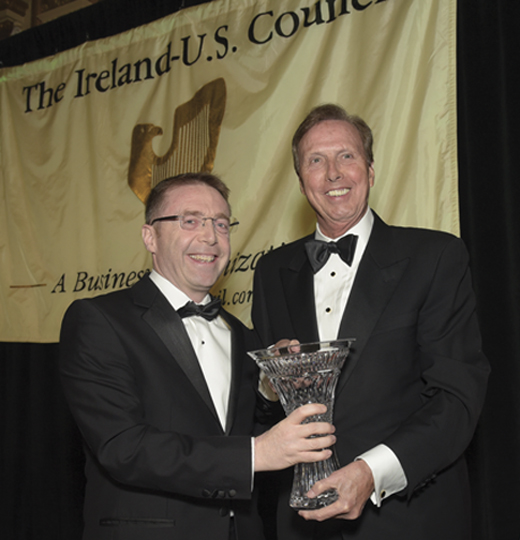 The Council presented their Lifetime Achievement Award to the president of Quinnipiac University Dr. John L. Lahey, in recognition of his highly successful and distinguished career in American education and his enduring and sustained commitment to enhancing the educational bonds and cultural connections between America and Ireland. Under Dr. Lahey's 31-year leadership, Quinnipiac University went from a small local college of 1,900 students and three schools to a major national university with 11,000 students, nine schools, and an indispensible polling institute. As chairman of the board of the New York City St. Patrick's Day Parade, he rescued the parade from controversy by orchestrating the admission of previously excluded gay groups.
The Cúchulainn Award was presented to Dr. Peter Fitzgerald, chief executive and founder of Randox Laboratories. The award, named after an Irish mythological hero, is designed to mark significant achievement in building relations between Northern Ireland and America.
Dr. Fitzgerald, who started his business in a chicken shed in Crumlin, announced in February that Randox will be investing £50 million into three new Centres of Excellence in Northern Ireland, which will deliver cutting-edge technologies to diagnose conditions like cancer, heart conditions, and infectious diseases. ♦ Maggie Holland