On Tuesday April 16, 2019, Dónal Clancy and Rory Makem performed in a special concert at the Tommy Makem Arts and Community Centre (TMAC) in Keady, County Armagh. The center is just a stone's throw from the Makem homestead where their fathers, Liam Clancy and Tommy Makem, met for the very first time 64 years ago.
Tommy died in 2007 and Liam in 2009, but they live on in the music they created together. (Their last appearance on stage together was at Irish America's Irish of the Century dinner in late 1999).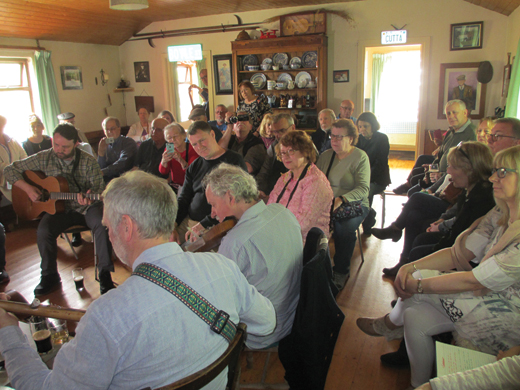 The duo's sons, Dónal and Rory, are themselves acclaimed musicians and singers with several years of performing at sold-out venues across the U.S. and Canada, as well as England, Scotland, and Ireland. The April 16 event was a very special evening of music and reflection, as the sons shared stories of their fathers' illustrious musical careers and joined with other musicians in singing the great ballads and folk songs that the Clancy Brothers and Tommy Makem, the most popular Irishmen in America in the 1960s, had made famous.  ♦
_______________
For information about TMAC, call +44 28 3752 1810 or  email johnmakem@yahoo.com.