Imagine Ireland. What do you see? Patchwork green fields, stone walls, crystal streams, ancient ruins, horses…and lace. From manor house to country cottage, windows are draped with the delicate webwork. Sofas, tabletops, dressers, beds, and tea trays hold lacy runners, scarves, and antimacassars. Brides seem like angels haloed in billowing veils.
Casual observers see only frilly bits here and there. Practical eyes note that doilies protect furniture and lace curtains let air circulate while keeping insects and peeping eyes at bay. Romantics are drawn into the spell of earlier times when frothy lace quickened the beat of a lover's heart.
Love of lace is woven into the fabric of Irish life. Its history can be traced back to a macramé fringe worn around 800 B.C. In the old hero tales, Cuchulain's wife, Emer, was renown for her needlework skills. Saint Patrick's retinue included three embroiderers. In the Middle Ages, knotted hair nets kept long locks tidy. In the 16th century, Europe's ruling class wore gold and silver lace fashioned by Ireland's men! In fact, when lace made with white linen thread was introduced in the 17th century, Mrs. Richard Barry (Lord Mayoress of Dublin 1601-1611) scoffed at the innovation, saying it looked cheap and could be blown shapeless by the wind. But it was easy to clean so it quickly became favored by both sexes.
Archives in the National Museum of Ireland's Art & Industry Collection record that the first time lace-making enabled impoverished citizens to earn income dates from April 1636, when the earl of Cork paid a lacemaker 10 shillings to teach the craft to a "poor begging girl." In 1655, the government bolstered the industry by setting tariffs on imported lace. As with any forbidden fruit, taxation made lace more desirable. Around 1740, the Royal Dublin Society encouraged the craft with annual judgings and financial awards for the finest work.
Initially, all lace was crafted using bobbins. Designs were interwoven with fine threads around pins tacked onto paper patterns that were laid over pillows. This "pillow lace" was exquisitely fine, but it was tedious work. In 1809, the English inventor John Heathcoat devised a loom to produce fine cotton net yardage, enabling two new types of lace to emerge: Carrickmacross and Limerick. Though both styles are worked on a net base, the methods differ. In Carrickmacross lace, sheer fabric designs are appliqued on net, which is then embellished with embroidery stitches. Limerick lace designs are created by weaving fine thread through the net in a process similar to darning.
In 1816, Mrs. Grey Porter, wife of the rector in Donaghmoyne (a village just east of Carrickmacross, County Monaghan) collected applique laces while honeymooning in Italy. Together with her personal maid Ann Steadman, the two needlewomen copied the Italian work. In 1820, they established a lace-making class so local women could earn much-needed income.
While Carrickmacross lace had a philanthropic beginning, Limerick's lace-making began as a commercial enterprise. In 1829, Charles Walker, a retired clergyman, opened a workshop with 24 young English women who made fine run-lace. The center boasted its adolescent workers (ages eight to 13) received "safe, profitable, and suitable employment, which will remove the indolence of apathy, poverty, misery, wretchedness, and all the unfortunate circumstances…of our unemployed peasantry."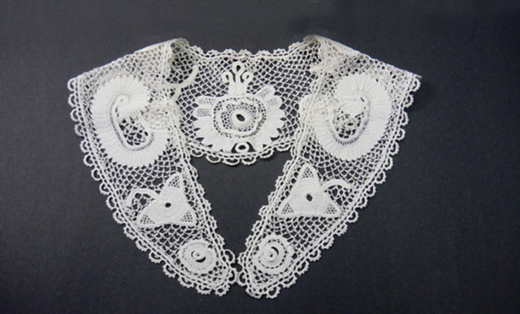 When famine devastated Ireland (1845-47), lace-making became a widespread cottage industry. Work was laborious, but no money was needed for tools and there were thousands of willing workers. Manor house mistresses, who learned needlework as part of their genteel upbringing, opened lace centers to help their tenants survive, then sold their products to friends and contacts abroad.
During that period, two other lace-making techniques emerged. In Youghal, County Cork, Mother Mary Ann Smith of the Presentation Convent purchased a piece of Italian needlepoint lace from a peddler. Stitch by stitch, she unraveled it, studied its construction, then taught the technique to her students. But the fine work required such patience it never flourished, remaining a product of convent schools.
In the fishing village of Blackrock, also County Cork, sisters at the Ursuline Convent ornamented altar cloths and priests' vestments with lacy crochet. When famine struck, they shared the skill with their students, who became so expert at what had been considered "nun's work" that the local economy improved. From convent to convent, the art spread through the south and into Kildare, where Mrs. W.C. Roberts opened a crochet center that sent teachers out across Ireland.
Families in the mountains around Clones, County Monaghan, were particularly hard hit by the famine. Mrs. Cassandra Hand, wife of the local rector and savvy about business, sent for one of the Kildare teachers. Using lace scraps from Spanish monasteries as patterns, they devised how to reproduce it in crochet. Their raised motifs were so popular that Clones designs were registered to protect them from imitation.
It was during the Famine that Irish lace earned its legendary reputation. Clever needleworkers mastered traditional patterns, then created distinctive Irish designs. In cottages across the island, flashing needles and hooks produced a cascade of shamrocks, roses, harps, butterflies, ferns, and wildflowers. As demand for Irish lace grew, so did demand for new designs. Lace schools added drawing classes. Art colleges offered lace programs. Irish lace took top honors at international exhibitions. When boots cost 60 cents, a lace skirt inset sold for upwards of $18.00! Ironically, it was Ireland's poorest countryfolk who outfitted the wealthy in London, Paris, and New York. Many families put away enough lace money to buy their first milk cow, assemble a daughter's dowry, or pay for passage to America.
Inevitably, inexpensive machine-made lace eroded the market for the costly handmade product. Automation ushered in by the world wars nearly tolled the art's death knell. As the master lacemakers passed on, designs which had been closely guarded family secrets died with them until only a few remembered the craft.
Thanks to the efforts of a few dynamic women, Carrickmacross and Clones lace are experiencing a revival. Sisters at the Saint Louis Convent took over the Carrickmacross lace-making center in 1888. Almost a century later, Martha Hughes became interested in the craft and founded the first modern Irish lace co-op. In 1988, the convent formally turned over their lacemaking operation. "The sisters were emotional at the ceremony" notes Martha. "They had guarded the craft for 100 years, but they knew it was time to hand the responsibility over to a new generation that could carry the tradition into the next century."
It was different in Clones. By 1989 only two elderly lacemakers could recall how to coax thread into intricate crochet lace. Concerned that the skill might be lost, Mamo McDonald of the Irish Countrywomen's Association sought help from Marie Connoly, a local needlecraft expert. As each family had specialized in a single motif, Marie learned one by one how to make roses, shamrocks, fans, lilies, grapes, vines, Celtic wheels, and starbursts. When only the joining stitch, the Clones knot, remained a mystery, an aged villager demonstrated its 13 stitches, and Marie became the first 20th-century woman to learn the skill. Together, Marie and Mamo founded the Clones lace guild (irishlaceguild.com) that sponsors annual lace-making classes.
℘℘℘
Irish-Italian Lace
It's no coincidence that shamrocks are a design motif in much of the crochet lace made by Italian women on Isola Maggiore, an island on Lake Trasimeno in Italy's Umbrian region. By the beginning of the 20th century, Irish crochet lace was renowned across Europe. In 1904, seeking a way to help island women supplement their families' incomes, local aristocrat Marchioness Elena Guglielmi brought in several Kildare crochet teachers and opened a lace-making school. The students' exquisite work became known as punto da Irlanda ("the Irish stitch"), and Irish crochet lace, originally devised to imitate Venetian needle lace, returned full- circle to Italy and launched a successful cottage industry. Isola Maggiore's lace-making school closed after WWII, but the Irish crochet lace tradition continued as an important artistic expression of heritage. Today, a museum in the Palazzo delle Opere Pie hosts a collection of old and new lace work, and punto da Irlanda is still taught to younger generations.
℘℘℘
Wedding Heirlooms
In 1840, when England's Queen Victoria married Prince Albert, she wore a gown of white Carrickmacross style lace, launching the "white" wedding tradition that brides have followed ever since. More than a century later, both Princess Diana and Kate Middleton embellished their wedding ensembles with Carrickmacross floral designs. Brides seeking to honor their Irish heritage can custom order handmade wedding veils destined to become family heirlooms from The Lace Gallery (www.carrickmacrosslace.ie) in Carrickmacross, County Monaghan. Advance planning is essential as even a fingertip veil enhanced with simple motifs will require six months or more to fabricate!
Brides who admire vintage finery have another option. The Sheelin Lace Shop (sheelinlace.com/home-3) in Bellananeck, County Fermanagh in Northern Ireland offers a variety of antique Irish lace. Items include wedding veils and headpieces, bridal purses and handkerchiefs, plus christening gowns and bonnets newlyweds will treasure for their family's future. A collection of rare exquisite pieces is displayed in the shop's museum.
For more information on classic Irish lace, Dover Publications (www.doverpublications.com) offers several excellent books on the subject, including some with instructions on how to make it.
℘℘℘
~ RECIPES ~
Lace Cookies
As the name implies, these cookies have many holes and look like lace. But they're much easier to make!
2 tablespoons unsalted butter
1⁄4 cup granulated sugar
1⁄4 cup light brown sugar
1⁄4 cup light corn syrup
1 pinch of salt
1⁄4 cup all-purpose flour, spooned & leveled
1⁄2 cup finely chopped almonds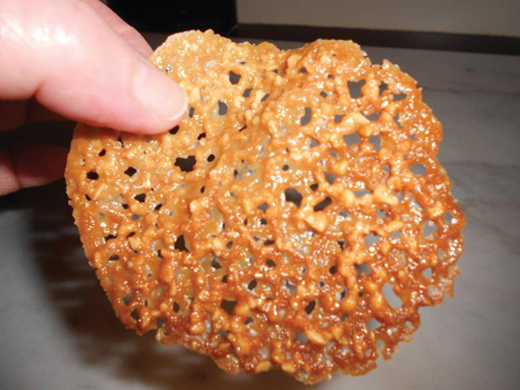 Heat oven to 375°F. In a medium saucepan, combine the butter, sugars, corn syrup and salt. Cook over medium-low heat, stirring occasionally until smooth. Remove from heat and mix in flour and almonds just until incorporated.
Drop level teaspoons of the batter 4" apart onto parchment-lined baking sheets. Bake until golden brown, approximately 6-8 minutes.
Cool on the baking sheets (8 / 10 minutes), then transfer to wire racks to cool completely. NOTE: Watch carefully when cooking, as oven temps tend to vary and sugar burns easily. Makes 36 cookies. (Personal recipe)  ♦