An old-time bar in Brooklyn, Farrell's has served as a community center since the 1930s, and is the last marker of what was once a thriving Irish neighborhood.
Farrell's Bar, on the corner of 16th Street and 9th Avenue in Brooklyn, has been in the same location in Windsor Terrace since 1933. It was the very first bar to open in New York after Prohibition. The writer Pete Hamill once said: "Of all the bars of the neighborhood my father might stop into, Farrell's was the one he kept returning to until the end of his life."
It's the last Irish saloon left in a neighborhood where gentrification has moved rapidly. Once within a five-block area there was one on almost every corner: Langton's, McCauley's, Val's, McNulty's, Kerrigan's, O'Neill's, Lanahan's, Devaney's, and Connie's Corner.
What kept most of them open for so long, all through World War II and into the '50s and early '60s, was simply a celebration of Irish working-class life in their back rooms, celebrating first holy communions and confirmations. They were places to ease the pain of mourning at a time when neighborhood wakes lasted as long as three days, and places to find out who was hiring.
The Irish of the Windsor Terrace that I grew up in during the '40s and '50s made their livings working the docks of nearby Red Hook. Men with names like Towey, Welsh, Walsh, and Maloney worked as trolley car operators on the McDonald Avenue line that ran out of the car barns on 19th Street and 9th Avenue. "Red Mike" Quill (the founder of the Transport Workers Union) represented them.
Others worked as sandhogs and ironworkers. Some worked as gravediggers at Greenwood Cemetery over on 20th Street and 9th Avenue. Many became cops or firefighters.
There were once nine movie houses a short distance from each other between Windsor Terrace and Park Slope. Many of the women of the neighborhood worked in them as ticket takers, others, like my mother from Williamstown, Galway, worked as domestics at private houses on Fuller Place near Holy Name Church.
Some worked in the factories that once lined nearby 18th Street like the walls of an ancient village. Or they worked in one of the two laundries in the neighborhood, the Cascade Laundry on Prospect Avenue near 9th, and further down Prospect, the Pilgrim Laundry. Somehow the women managed to juggle raising large Irish families containing as many as eight kids with the grueling work of a steamed-filled laundry room.
Over the years the writers Pete Hamill and Jimmy Breslin became a part of the lore of Farrell's and the neighborhood. Many films and beer commercials were shot using it for interior and exterior shots, and they still are. Congressman Peter King was known to campaign here years ago, and still occasionally stops in for a beer.
Jimmy Houlihan spent many years working behind the stick at Farrell's before Eddie Farrell sold the legendary saloon to him and two other bartenders, Danny Mills and Timmy Horan, in the late '90s. Houlihan, who is now the sole owner of the bar, has continued to carry on the charitable traditions that Eddie was known for. He realized that something special, something rare had been passed along from the Farrell family to him, Danny, and Timmy, so he keeps the tradition of giving and caring for the neighborhood of Windsor Terrace going.
Each year he organizes numerous fundraisers to help the local Catholic church and school. And if you ask him, he'll tell you that it doesn't matter to him if you are new or old to the neighborhood – if you need help, Farrell's will help you.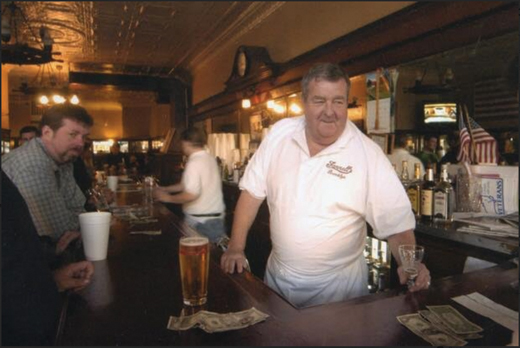 Once, after the pastor of nearby Holy Name Church mentioned to him that the paint was peeling off of the walls of the classrooms of Holy Name Parochial School, Houlihan volunteered to paint it. In a scene straight off of the pages of a Frank Capra script, he rounded up over 300 people, most of them patrons of his bar, and they all showed up with their own paint brushes and ladders. They painted the school for free over the course of a weekend – all 35 classrooms.
The story spread all the way to Washington, where U.S Rep. Charles Schumer entered it into the Congressional record. The writer Denis Hamill called it a Brooklyn version of an Amish barn-raising.
When I asked Pete Hamill, who recently moved back to Brooklyn, about going back to Farrell's Bar, he paused, and then he said, "Pat, I would only see ghosts if I went back there."
The last time he did go back to Farrell's was in the spring of 2016. He was there to shoot part of a documentary that Jonathan Alter was producing about him and Jimmy Breslin, called Deadline Artists. I remember being in there that afternoon writing about it. As he sat toward the front of the bar, Jonathan Alter asked him what music he associated with Farrell's when he looked back on his drinking days there.
The question seemed to float in the air for a while as he thought about it. "Early Rock 'n' Roll," he answered, as he stared toward the wide front window of the bar.
Once, when he was a younger man, home from the Navy, he could stare out that window onto 9th Avenue and it would be like he was looking at a picture of his old Holy Name Parochial School yearbook: all the faces he remembered through his life would be going by, like they always did.
And if he thought hard enough, memory would bring back an image of him as a young boy hurrying by the bar on some cold winter Sunday morning, carrying his altar boy surplice folded under his arm as he headed toward the first mass of the day at Holy Name Church on the hill.
Over the years these images of youth would play on and on in the wide front window, changing slowly with the decades passing, eventually ending. In their place now, new images appear: images of nannies pushing strollers and young "hipsters" jogging by, as the swirl of time continues its slow movement over 9th Avenue.
But inside Farrell's Bar, time seems to stand still. The old hammered tin ceiling that so many generations of fathers and sons drank under is still there.
So are the long thick mirrors behind the bar that reflect the images of white-aproned bartenders carrying out the ritual of bringing large buckets of ice up from the basement, and dumping them over the coils of the taps. Like they always have.
Farrell's serves only two beers on tap, Budweiser and Stella Artois in large quart containers for $8.00. In the '40s and '50s, they served only one beer, Rupert Knickerbocker.
They still use what looks like cut-down baseball bats to crush the ice and move it around the taps. Longtime bartender Michael O'Donnell, who knows much about the history of Farrell's, told me that when Timmy Horan passed away recently, the ice bat he used for so many years was buried with him.
A talented, award-winning local filmmaker, Jay Cusato from Park Slope Films, has been working on a documentary about the bar. Asked why did Farrell's stand the test of time, he said, "It's basically the same bar as it was in the 1930s." He is calling the documentary Why Farrell's?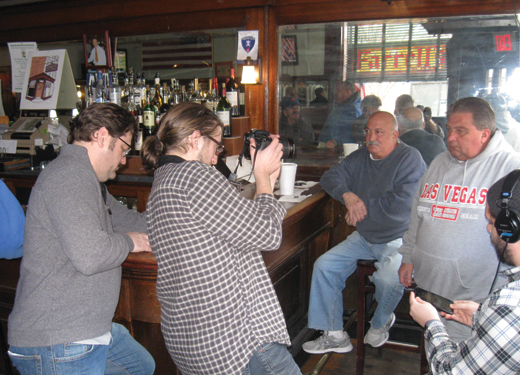 Over the years, Farrell's has become a place where the oral history of Windsor Terrace is stored. It's a history of a neighborhood that was once teeming with Irish working-class families, a history that few of the "hipsters" moving into the neighborhood know about.When they drive across the Prospect Expressway, they have no idea that once there was another part of Windsor Terrace here, parts of it buried underneath the concrete of the highway now.
In the late '40s, Robert Moses started construction on the Prospect Expressway, a massive highway project that ran through Windsor Terrace and displaced over 1,000 families, most of them Irish and Italian working-class.
That part of Windsor Terrace once stood like a small town on its own. Irish women of the neighborhood went off to work in the factories of 18th Street that are now all gone. There was the Lucky Penny variety store on the corner of 9th Avenue, and a few doors down there was a barber shop, and Frank's Italian restaurant, all rowed up like a scene from an Edward Hopper painting. And across the street, on the corner of 19th Street there was Gus's Diner.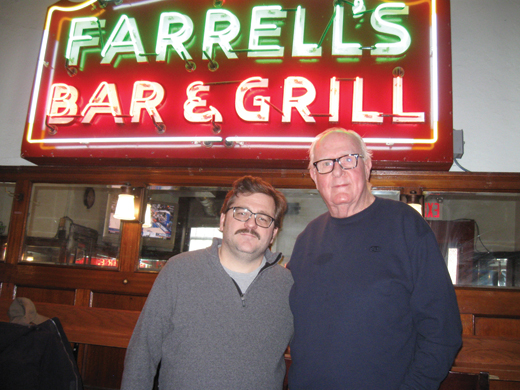 Gladys Mastrion, who moved over to Staten Island some years ago, comes back often to Farrell's. If you ask her about the Prospect Expressway and Robert Moses, she will tell you that her grandfather lived at 373 19th Street his whole life and that "in 1952, Moses took his house and gave him $2,000 for it."
Memories of what once was in Windsor Terrace, history, and tradition are slowly fading with time. Not long ago I attended what will probably be the last Irish wake in the neighborhood. The wake, which took place in Farrell's Bar, was held for Jacky Malone, a retired NYPD officer I grew up with.
For over 40 years you could usually find him standing at the same spot at the back of the bar next to the old phone booth. After living most of his life just a few doors down from Farrell's, he moved upstate to be closer to his family.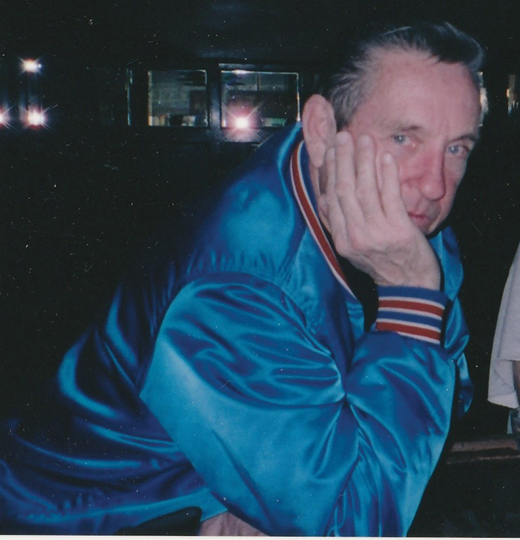 When he died in 2017, they posted information on Farrell's cork bulletin board about a memorial service that would be held for him at nearby Holy Name Church. His sister Snooki brought his ashes down from Lake Luzerne in a polished wooden box. After a funeral mass and a police honor guard ceremony, the crowd formed into a procession, and they all walked down 9th Avenue to Farrell's Bar. Snooki led the way, carrying Jacky's ashes with her.
Inside Farrell's, there was food spread out on tables, the juke box was playing, and you could hear the roar of a large crowd of Jacky's friends and family as they called up memories of their times with him. His sister Snooki walked back to the spot where Jacky always drank and placed his ashes on the bar. Pints of beer and Jameson's whiskey were ordered, and soon the afternoon took on the mood of a Joycean wake.
Like Pete Hamill, whenever I go back to Farrell's now I see ghosts. When I stand where Jacky Malone once stood, and stare into the wide mirrors we both stared into when we were young, I can still hear him asking me, "You still writing all that crap for the newspapers?"
And I would smile and say, "Yeah, Jack, I'm still writing all that crap for the newspapers." And he would turn and smile back at me, knowing he had just paid me the highest compliment that you could get in Farrell's – no matter how long you were gone from the bar, you were still part of Farrell's enough to be teased. Then he would say to the bartender, "Give Pat a beer." ♦
ABOUT THE AUTHOR
Pat Fenton, 80, passed away on January 5, 2022. Pat was a freelance writer and newspaper reporter in the tri-state area, whose pieces have been published in the New York Times, New York Newsday, the New York Daily News, Irish America, and New York magazine, among others. He worked as a New York City taxi cab driver, bartender, radio host, and court clerk in the NY State Supreme Court. His acclaimed account of working as a cargo handler at Kennedy Airport, Confessions of a Working-Stiff was published in 1973 in New York magazine.
In 2015 his play, Stoopdreamer was entered into Origin's First Irish Theatre Festival of 2015 and was nominated for five awards. In June 2021, Pat's book on the singer, Harry Chapin, was published to much success. In the book, Searching for Harry Chapin's America, Pat describes his road trips to the towns and people that inspired Harry Chapin's most famous songs.
Pat is survived by his wife, Patricia, and their two children, Patrick (Mireya) and Kelly (Doug), his loving grandchildren Miquel and Christopher.
Services will be held on Sunday, January 9, 2022, at Massapequa Funeral Home, 4980 Merrick Rd., Massapequa Park, NY 11762. Service hours are 2:00 – 4:00pm and 7:00pm-9pm. He will be buried on Monday, at St. Charles Cemetery in Farmingdale, NY.
In lieu of flowers, please send donations in memory of Pat Fenton to Memorial Sloan Kettering Cancer Center or Long Island Cares, The Harry Chapin Food Bank.
Pat contributed greatly to Irish America through the years including his most recent article which was an excerpt from his book Searching for Harry Chapin's America published in July 2021.
A 17th Street St. Patrick's Day
Lost Footage of the Deadline Artists: Jimmy Breslin and Pete Hamill
Drinking With John Kerouac in a Rockaway Bar