Pat Fenton takes us back to an earlier time of celebrating St. Patrick's Day on 17th Street in Prospect Park, Brooklyn when the Irish bars overflowed with families, friends, food, and music. It is a time Pat remembers fondly as he not only celebrated St. Patrick's Day but also his birthday.
---
When the long, cold winter ended, and the hint of spring came in with another Saint Patrick's Day, to live in the cold-water flats on 17th Street was a gift. It was always about music and memory. The music defined who we were, and listening to it again, growing older, stirred up memories that brought me back to the neighborhood, brought me back to 17th Street and 9th Avenue in Windsor Terrace, Brooklyn in the 50s and 60s.
Recently I played an old Ruthie Morrissey vinyl record that I picked up in a Salvation Army thrift store. It was probably once owned by someone who remembered her playing live throughout the Irish bars of Rockaway Beach for many years along with the Mickey Carton Band, places like Fitzgerald's Hotel on Beach 108th Street.
Here she was singing the "Irish Soldier Boy" again, singing "Home to Mayo," singing "Wild Colonial Boy," and "Green on the Green": "and I'm off to join the IRA, and I'm off tomorrow morn…" She was singing the Irish music I grew up with on 17th Street at 483, top floor left. And I could see my dad again, Andy Fenton, hunched over the radio on a Saturday night, shot of rye whisky next to him, listening to an Irish station bringing him home again across the ocean to #20 on the Long Walk in Galway, Ireland where he was born, a place he would never see again.
And as I poured a beer and listened to her I could picture the old jukebox in Joe Ryan's bar up on the corner of 17th Street and 9th Avenue. Jukeboxes in the 40s and 50s looked like jukeboxes, not some complicated programmed computer hanging on the wall that cost you a dollar a song.
You looked down at the faded yellowed labels of rows and rows of songs, never seeming to change as generations played them over and over again. You just dropped a quarter into the slot and you could play three songs. For a quarter you could fill the room with memories.
Joe Ryan, who came over from Ireland many years before, was a quiet, conservative type Irishman whose eyes were filled with the wisdom of bar experience. When I first tended bar for him part-time, when I was in my twenties, he quietly sat me down and explained the quirks of certain customers to me and what I should try to avoid when serving them. And always wear an apron he told me.
Before he became the owner of the bar he named "The Shamrock," it was called "Kerrigan's" and somewhere in its history it became "Bill's Corner." Through each one of these name changes, over decades, it served generations of Irish Americans who came of age on 9th Avenue. Its official name was Prospect Park west, but we only knew it as 9th Avenue.
I can see Ryan's bar now on Saint Patrick's Day, glasses of Rheingold tap beer all rowed up down its long, cigarette-scarred length, and next to the glasses were these small bottles of strong Guinness they had then, and Irishmen like my father from Galway mixed their bitter taste into the watery Rheingold beer to bring the memory of a long-ago taste back to them. During the 40s and 50s tap beer was served in seven-ounce glasses in neighborhood saloons. There were no pints of beer then.
On Saint Patrick's Day all the bars of the neighborhood, places like Ryan's and Dan McNulty's bar, which was directly across the street from it, would fill up, people would even stand out in front with containers of tap beer in hand, and the police from the 72nd Precinct would never bother them. It was a different world then. Irish music would play and in the side kitchens of the bars, large pots of corn beef would slowly simmer along with quarter sections of cabbage, all of it soon to be served like a feast on fresh loaves of rye bread from the local bakery.
Neighborhood bars were family places at that time and People would bring along their kids who delighted in sliding under the tables, chasing after each other as they ran out the side entrance of the bar and back into the front entrance. Seventeenth Street and long stretches of 9th Avenue was filled with large Irish families, many with more than ten kids in them. Seventeenth Street alone, from 9th to 8th Avenue, was said to have more kids on it than any other block in Brooklyn.
The Murrays would be there, the Langs, and Billy and Rosy Kennedy, the Murphys, and the Laux family, and Jack Malone, and John Scully, and Bob Rice. And the Irish music would play on and on as we celebrated another Saint Patrick's Day. Ruthie Morrissey would be singing Home to Mayo" …."take me home to Mayo to dear old Mayo across the Irish Sea…" And there would be a haunting, lonely sound to her voice that I never forgot.
As the sound of laughter and song drifted through the room, over it all would be the wonderful voice of Jack McCarthy coming from the large black and white RCA television set that hung by chains on a thick board above the bar. And it would mix in with all the laughter and singing in the room. "And here they come, down the Queen of Avenues, New York's Fighting 69th." And he would follow that in his great voice by reciting an 1877 Irish poem by John Locke, "Dawn on the Irish Coast", all of it coming in muffled through the noise of the crowd. All of it creates a beautiful Irish sound.  
D'anam chun De! but there it is—
The dawn on the hills of Ireland !
God's angels lifting the night's black veil
From the fair, sweet face of my sireland !
O, Ireland! isn't grand you look—
Like a bride in her rich adornin !
With all the pent-up love of my heart
I bid you the top of the morning ! 
The morning would bring the beginning of another day of working the rivet machines in the metal factories of 18th Street for some, driving city busses for others, working as conductors down in the subways, selling tokens from a booth at the Windsor Terrace entrance, working the ticket booth over at the old Sanders Theatre on Bartel Pritchard Square. But this day, this Saint Patrick's Day was ours. As Harry Chapin once wrote in the words of a song called "Remember When the Music Came from Wooden Boxes… we believed in things, and so we sang…"
It was always about music and memory. We didn't have much, but it was enough. It was enough.♦
Read Pat's article The Last Irish Saloon about Farrell's Bar in Brooklyn.
Read John Locke's Dawn on the Irish Hills of Ireland
Editor's Note: Sadly Pat passed away on Wednesday, January 5, 2022. A long-time contributor and friend to Irish America, Pat is missed but his writing lives on.
---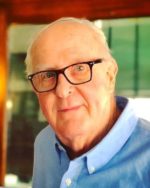 Pat Fenton grew up in Windsor Terrace in Brooklyn and worked as a court officer. He has written for a number of publications, including his popular piece on Farrell's Bar for Irish America. He also wrote a play, "Stoopdreamer," about the historic Irish saloon. On July 16, 2021, Pat released Searching for Harry Chapin's America as a 40th commemoration of the musical icon's death in a car accident in 1981.