My father was wanted by the F.B.I. Specifically, by J. Edgar Hoover himself.
℘℘℘
The founding director of the Federal Bureau of Investigation had heard of Tommy Connor's prowess on the baseball field. A star player in Washington, D.C., in the 1920s, Dad had graduated from high school at 15, put himself through college by 17, and went on to play Triple-A 3rd base for the old Boston Braves. When after three years the dream of playing in the Majors appeared stalled, he enrolled in law school, which is where Mr. Hoover tracked him down.
Though hardly athletic, the head of law enforcement was fiercely competitive (not to mention vindictive) and with the U.S. government starting an interdepartmental baseball league that season, the little man desperately wanted to win the league championship – even if he had to drag the future captain of the FBI team (and the bureau's basketball team) out of law school!
Hoover may also have been impressed by my father's reputation as a tough Irish kid, though his aggression was usually directed toward bullies. In high school, an older and bigger kid is said to have stopped by so Dad could walk him to school and out of harm's way. And yet with women and children, Dad was a sweetheart of a man, gentle and devoted to his family and to his mother, Catherine Casey, who had come over on the boat from Cork in the 1880s.
Catherine was 11 years old, traveling alone, and seasick the entire time. Passing through Ellis Island, she somehow made her way to Rhode Island, where her relatives had settled. She was small and vivacious, a successful businesswoman with a feisty spirit and, on occasion, a sharp tongue seasoned with a brogue. She tolerated no fools. A favorite saying of hers about men she wasn't impressed by went, "I'd like to buy him for what he's worth and sell him for what he thinks he's worth!" She was Dad's bond with the motherland, a bond reaffirmed by her stuffing his and his siblings' pockets with hot potatoes for them to warm their hands with on the walk to school in winter, and once there, presumably for them to eat.
In 1932, the agents won the government league championship the first season and Hoover wrote, in heroic prose and at great length, letters praising the captain's leadership and play.
When the team came in second the following year, however, the imperious director (did I mention that he was vindictive?) sent Dad packing to Chicago – at the time the most dangerous city in America. There with fellow agents he helped track down many of the most notorious criminals of the day, including Baby Face Nelson, Ma Barker and the Barker Gang, and the most infamous character of them all – the most wanted man in America at the time – John Dillinger.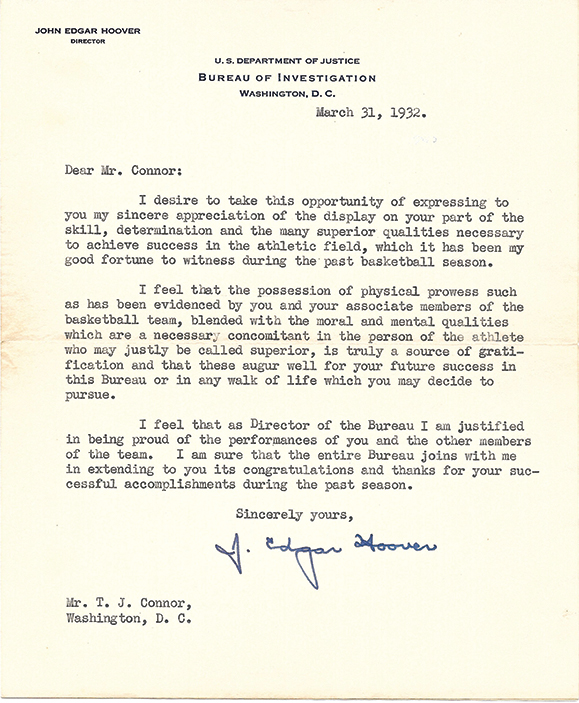 For more than a year, Dillinger and "the Dillinger Gang" had roamed the Midwest, robbing 24 banks and four police states and eluding authorities. (When asked once "Why banks?" Dillinger famously answered, "That's where the money is!")
On the night of July 22, 1953 my dad and fellow agents received a tip that the colorful American gangster and his girlfriend would be going to see a movie at the Biograph Theatre on Chicago's North Side. Stationed at the side door of the theatre in case Dillinger caught wind of the posse outside and tried to flee, Dad was dressed in a white suit and straw hat and carried a Thompson submachine gun. Dillinger, it turned out, was dressed exactly the same way. Chicago police, learning of the FBI's presence, descended on the theater and, mistaking my father for the bank robber, came close to shooting him and asking questions later.
When my father died in 1997 at the age of 91, he was the last surviving federal agent at the theatre the night Dillinger was killed. That, at any rate, was how The New York Times, the Washington Post, and Time Magazine summed up his life. To me and my sister, though, he was the gentlest of men and the most loving father a child could have. ♦