The extraordinarily gifted Emmett Kelly, who turned clowning into an art form.
Though he was most certainly a clown, Emmett Kelly's performances were wistful rather than slapstick. Instead of wearing cheerfully bright clothes and having a prominent grin painted on his face, Kelly flouted clownish convention, wearing dark-colored rags and having a face forever contorted in sadness. Even though he went decades without smiling onstage, he brought smiles and laughter to millions.
Emmett Leo Kelly was born on December 9, 1898, in Sedan, Kansas, a small farming community near the railroad. The railroad industry employed his father, Thomas Kelly, an Irish immigrant who named him after the executed Irish nationalist Robert Emmett.
When he was about age seven, Kelly and his family relocated to Houston, Missouri. There he began to show an aptitude for drawing, and eventually decided to take a mail correspondence cartooning course. As a young man, he left his small town for Kansas City, seeking to become a cartoonist.
His lack of education, which ended at grade eight, proved an obstacle to finding the jobs he wanted. So he was compelled to earn money by painting signs and working at carnivals, as related by Jan Onofrio's Kansas Biographical Dictionary. He received his first taste of professional clowning when he landed a spot with the Frisco Exposition Show that was visiting Kansas City.
Kelly eventually found a position as a cartoonist with an advertising film company. During this period, he created "Weary Willie," the disheveled and dejected hobo-clown who would become his famed stage persona. Though he found his cartooning job agreeable, he could not resist the urge to return to the stage.
So he became part of a small trapeze act. There he met his first wife, Eva Moore, a trapeze artist with whom he performed. Their marriage, which took place in 1923, lasted 12 years and produced two children. He later had a brief, childless marriage to Mildred Richey. In 1955, he married Elvira Gebhardt, with whom he had two children. They remained married until his death.
For the first part of his stage career, Kelly performed as a trapeze artist and a traditional white-face clown. He had wanted to try performing as hobo-clown Weary Willie but was unable to persuade circus higher-ups to okay the character. That all changed with the Great Depression, which forced millions of Americans into desperate poverty. During this era, a significant number of males became train-riding drifters, known as "hobos." They were a common sight across much of America. Now there were countless people interested in Weary Willie. Indeed, in those depressed times, many could personally identify with him.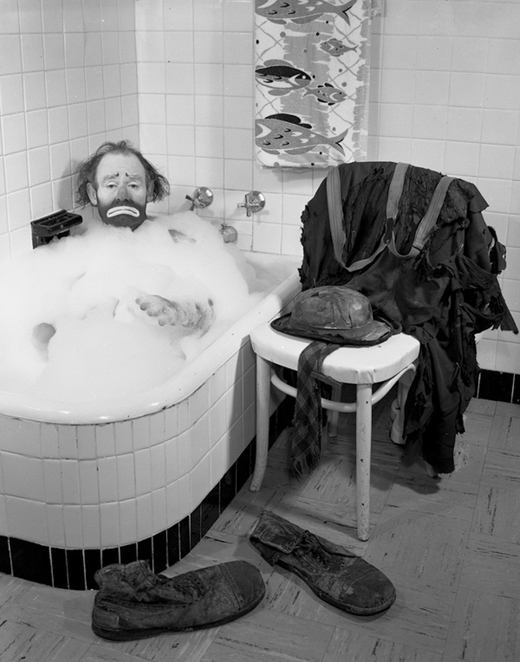 Weary Willie was a hard-luck but lovable slob. His eyes, large and expressive, would peer at the
audience. Willie's stare was seemingly bottomless in its mournful resignation. About his stage persona Kelly remarked, "I don't feel funny when I'm this hobo character. I'm a misfit, a reject. Life is passing me by."
This "reject" was much in demand, however. Aside from making numerous nightclub appearances, Kelly and his alter ego spent much of the 1930s touring with circuses in the U.S. and U.K. The prime of his career started in 1942, when he became a star attraction for Ringling Bros. circus.
His audience was international and sometimes highly prominent. According to a 1947 LIFE magazine article, Winston Churchill and the Queen of Spain enjoyed his routine, though Kelly remembered that Ethiopian emperor Haile Selassie seemed rather indifferent to him.
Many audience members, however, actively sought to cheer him up. Weary Willie might be offered peanuts or even a cake. But he was not inclined to accept these handouts. Instead, he would sit on the side of the stage, eating a raw cabbage, while staring into the eyes of the audience.
In his more active moments, he might hang his tattered laundry on a tightrope. Or he would try to cut a wooden board in half (but the saw would get stuck), or try to open a peanut with a sledgehammer (always ending in disaster). He might play solitaire, until a losing streak forced him to abandon the game in frustration. Then he would sweep up after the other performers. For his signature act, he would use a broom to sweep up the spotlight that followed him on stage.
Though Kelly said that he also had a rather solemn temperament in real life, family members recall that he was no stranger to having a fun time. He also functioned well in crucial moments. On July 6, 1944, Kelly, who eschewed hard liquor but loved beer, was having a drink in his dressing tent when he heard the sound of crackling. Seeking to identify the source of the sound, Kelly saw that the main circus tent was engulfed in flames.
This event became known as the Hartford Circus Fire, the cause of which remains unknown, but the results of which claimed about 170 lives, the majority of them very young lives. On that infernal day, Kelly emerged as one of the heroes: aside from carrying pails of water, he helped usher dazed and panicked people to safety by way of the candy vendor's exit.
The fast-acting Kelly and his weary alter ego retired from Ringling Bros. in 1956, though Weary Willie continued to appear in movies and on TV shows and commercials.
The year 1967 saw the establishment of the Emmett Kelly Museum (emmettkellymuseum.com) in Sedan, Kansas. This museum commemorates the life of the clown whom Sedan's inhabitants are proud to call a native son.
Kelly died of a heart attack in Sarasota, Florida, on March 28, 1979, at age 80. Aside from his legacy as a performer, he left behind family members who sought to emulate him, often too much for his liking. His son, Emmett Kelly Jr., not only became a clown but also used his father's character Weary Willie. This was a source of conflict between the two and resulted in years of estrangement.
Kelly's grandson, Emmett Kelly III, left his job as an accountant to follow in his predecessors' clownish footsteps. He did not use the Weary Willie character, but was a less mournful clown, known simply as "Willie." Of course, neither of the younger Kellys found success like the first Emmett Kelly – the sad clown extraordinaire who captivated millions without speaking a single word. ♦