A scientist who has found a promising treatment for Crohn's Disease honored at Irish America's Healthcare / Life Sciences Awards
There were wonderful personal stories among the 50 Healthcare and Life Sciences honorees that attended Irish America magazine's awards dinner last Thursday night, September 12, at the Metropolitan Club in Manhattan.
Frankly, in a world full of doom and gloom and political strife, it was wonderful to be among a group of healers and visionaries whose focus is on preventing and combating disease. 
The festivities began with Judy Collins – the legendary folk singer wowed the crowd with her renditions of "Both Sides Now" and "Amazing Grace." Collins set the tone for an evening full of high points, chief among them the keynote address by Kevin Tracey, the award-winning neurosurgeon and immunologist, an explorer on the frontier of a new, hybrid field – bioelectronic medicine.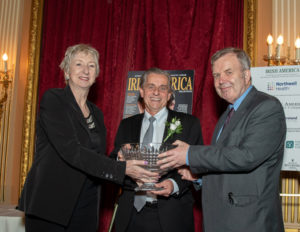 Dr. Tracey, one of the most admired scientists in the U.S., is being touted as a future Nobel Prize-winner, and it's easy to understand why.
"After my mother passed away, I remember sitting on my grandfather's knee and asking him to explain why the doctors couldn't take the tumor out. He explained that they couldn't do that without damaging my mother's brain. I remember saying to him, 'someone should do something about that.' He said, 'Well, maybe you will.'"
He also talked about a young girl in his care who died from sepsis, a tragic event that initiated his research on inflammation.
He credited his father, who, left to raise Kevin and his two younger siblings, never faltered and always had a positive approach to life. And he gave full credit to his wife, Patricia, for providing the stability and family environment and loving him, for him and their four daughters, the center of his universe.
Among those who were there to honor Dr. Tracey was Kelly Owens. After suffering from Crohn's disease for 15 years, Kelly heard about the clinical trial for a device based on his research. She and her husband Sean sold all their assets so they could move to Amsterdam for her to take part in the trial. After receiving the implant, she promptly went into remission, becoming one of Dr. Tracey's proudest success stories. Kelly joined Dr. Tracey onstage after his address.
Tracey also made special mention of Michael Dowling, the president and CEO of Northwell Health, which is a major sponsor of the research that the Feinstein Institutes does. Dowling, once a penniless immigrant from Limerick, now oversees 70,000 employees at Northwell, the largest medical group in New York State, known for its innovative outlook.
Dr. Tracey was one among many "best and brightest" honorees who have helped improve the lives of thousands of patients using their surgical breakthroughs and innovative practices. There was Dr. Patricia Broderick, who invented the brain sensor now known as the Broderick probe. Dr. Kevin Curran is a pediatric oncologist at Memorial Sloan Kettering. He is a pioneer in CAR_T, which uses the body's own immune system to fight cancerous cells attacking it.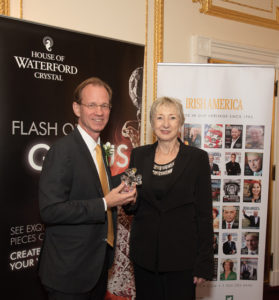 Also present was honoree Dr. Thomas McGinn, who has overseen the expansion of both the scope and size of Northwell's research enterprise; John Nolan, who is doing groundbreaking research at Waterford Institute of Technology; Dr. Margaret Rice, a professor at the New York University School of Medicine; and Eileen Sullivan-Marx, the dean of NYU College of Nursing.
Those are just a few quick pictures of those who were there at the event, co-hosted by Northwell.
Singer Niamh Hyland finished off the evening with her heartrending performance of "Isle of Hope, Isle of Dreams," reminding us all that we are immigrants, and the contributions of the Irish in building this great nation.
We Irish really do have a lot to be proud of. Irish America's honorees set a wonderful example.