A Chat with Mary Higgins Clark
The Queen of Suspense did not come by her title overnight – Mary Higgins Clark's 40+-year career in literature and consistent domination of the New York Times Best Seller list have made her a household name in the mystery genre from the release of her very first suspense thriller, Where Are the Children? She has since been renowned for her ability to keep her readers suspended on knife-edged tension up to the last second. Narration and ingrained bias from multiple perspectives, blocked or faulty memories in key characters, and a range of sinister motives from several suspects are key tools that Clark uses to craft a puzzle that takes an eagle-eyed, discerning reader to solve before the big reveal that never disappoints.
Clark is a shining exemplar of the adage that it is never too late for your dreams to be realized. After losing her first husband Warren at 36, she scraped by writing scripts for radio shows to support her five children on her own, making the time to write from 5:00-7:00 am each morning. Her rise to fame as an author only launched in her late 40s, after years of perseverance.
That perseverance is a resonant echo of her Irish heritage, which oddly enough shines brilliantly through her heroines, as well. Clark's own father, who died when she was 11, was an immigrant from County Roscommon, and her mother was a first-generation Irish American. They both ingrained in her the value of a good story, which has served her well over the years.
Her latest novel, Kiss the Girls and Make Them Cry, explores the vicious underbelly of corporate America in a post-MeToo era, as victims of sexual harassment in the workplace of a news outlet are dying in incidents too systematic to be coincidental. For her interview with Irish America, Clark delved into heritage, her process, writing through loss, and more.

You've been working with Alafair Burke on the Under Suspicion series, and before that you worked with your daughter Carol on several Christmas-themed suspense works. How does the process change when working with a co-author? Is it vastly different when the co-author isn't your daughter?
When I worked with Carol years ago, we sat side by side to write together. Although we were doing suspense, our goal was to have a lot of humor in the books. With Alafair, the strategy is different. We meet and lay out a plot, and then Alafair gets started on the writing. She sends me the pages and I edit them to assure that they have the same feel as one of my solo novels.
On using song titles / lyrics for book names: It puts a chilling spin on some beloved songs, which has a great payoff in the novel itself. But what inspired that choice? When are they selected in the process of the entire project?
I always liked when a song title or a line from a nursery rhyme might give a glimpse of what the plot is about. The first time I used this was on my third novel. I was halfway through the manuscript when I was sitting with a friend in Washington, D.C. I gave her a brief description of the plot and told her I was fishing for a title. She asked me which was my favorite nursery rhyme. I told her it began, "When the bough breaks…" We finished the next line together: "…the cradle will fall." I immediately realized I had the title for my book. That was the beginning of using familiar lines from songs and nursery rhymes as titles. Obviously I stuck with that strategy with my latest, Kiss the Girls and Make them Cry.
You've mentioned that each project begins with the questions "What if?" or "Suppose?" Could you walk us through the inspiration for this latest novel: what were those questions asking in this instance?
When searching for an idea for a novel I try to choose a topic that people are talking about. I knew the MeToo movement and the issues it raised would be with us for a long time. But I wanted to add a new twist to the stories that were being reported in the news. Almost any corporation would prefer to keep a MeToo situation quiet by settling with the victims. Suppose the corporation went a step further. What if the company was so desperate to keep the scandal from becoming public that women who refused to remain quiet started to die from accidents? With that thought in mind, I knew I had the idea for a story.
Mount Vernon Love Story (originally Aspire to the Heavens – I love this title, personally) found a second wave of greater success after being re-released. Would you consider historical fiction again, now that you're a well-known name? If so, who / when about? An Irish story? I also liked the title Aspire to the Heavens. It was George Washington's mother's family motto. But it didn't work well when I was an unknown writer. The few stores that carried the book put it in the prayer book section! That said, it was a good story. I'm so pleased it found new life and success as Mount Vernon Love Story. I don't think I would try another historical fiction novel. Trying to write a solo book every year and collaborate with Alafair on a second book fills my writing schedule. As for an Irish story, I've already done that in my autobiography Kitchen Privileges.
You've said yourself you have "shamrocks on [your] DNA" – so do your protagonists, usually. What do you feel your Irish heritage has brought to you as an individual? Does it bring the same to those characters fortunate enough to share it?
I've always believed the Irish were born storytellers. When I was young, if I kept quiet at the table I was able to listen while the adults discussed extended family members and people in the neighborhood: "This one is up to no good," or, "Her late husband was barely in the ground when she remarried," or, "The last time I saw him on the street, I knew he wouldn't be with us much longer. He had death in his eyes." They spoke about life's struggles interspersed with faith and humor that would see them through. This philosophy that helped me overcome life's challenges invariably found its way into my characters. My heroine is typically a nice young woman who does not go looking for trouble. It finds her. Her life is invaded by evil. Her strength of character and her faith in God and herself will allow her to prevail.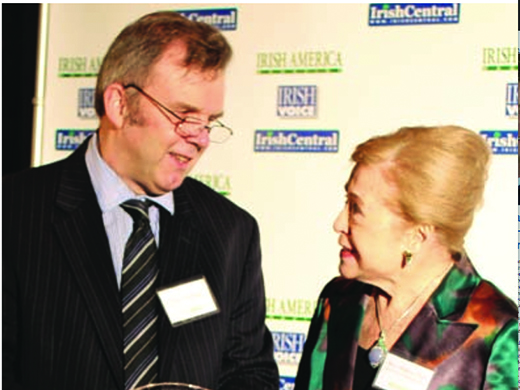 Some of your novels have been adapted into films with stars including Nastassja Kinski, Gabrielle Anwar, Kim Cattrall, and even Carol! To what degree were you involved in the making of those films? Did you find it rewarding? Or frustrating to deal with the story changes?
My involvement is rather minimal. Screenwriting is a different talent than writing novels. I pretty much leave that to the experts in that field. If they have to change something in the plot to make it work better on the screen, so be it. So far I believe the adaptations have been a mixed bag: some quite good, others really disappointing. I wish the great filmmaker Alfred Hitchcock had been around to create a movie out of one of my stories. I loved what he could do with psychological thrillers.
We were so sorry to hear when your husband, John Conheeney, passed away a year ago. The story of how the two of you met and made a match later in life was incredibly heartwarming just to read about, and we're so sorry for your loss. Have you found writing during this time to be a helpful task, or cathartic in any way?
Yes, I have. It's not so much cathartic. It's more about filling a void. When a beloved spouse or family member dies, there is an empty space where that person used to be. If you have an activity you love, one that you can lose yourself in, that's healthier than spending the whole day dwelling on what you've lost.
There is an intensely psychological element to most of your books – in many cases the key to the mystery relies on memories a character has blocked out or can't access without help, and the narrative is often in the hands of a depraved and/or calculating killer. Is it difficult to go to such a dark place? How do you channel something like that well enough to write from such an alien perspective?
It's easy to understand the motivation behind the good things people do: generosity, kindness, altruism, fairness. As a writer I'm equally interested in the driving forces behind evil acts: hatred, greed, jealousy, revenge, anger, mental illness. Whether they're doing good or evil, people have reasons for what the actions they take. The optimist in me that I instill in my characters gives them the tools they need to defeat the evil which has invaded their lives.
You've described the series of clues and dead-end leads that confront the reader throughout your novels as "breadcrumbs and smooth stones" in an incisive Hansel and Gretel metaphor that sums it up quite nicely. Is it important to you that the reader be able to figure out whodunit with the evidence at hand before the killer is revealed, or do you prefer they be surprised?
I want a discerning reader to have a good chance prior to the end to figure out who the killer is in my story. The last thing I want, and that I find disappointing in some books I read, is to have the killer come totally out of left field. The writer created no case for that character to be the killer. I love it when my readers tell me "I missed this clue," or "I should have paid more attention to what happened in this scene." They're telling me that in hindsight they had sufficient information, enough "breadcrumbs and smooth stones," to solve the mystery on their own.

Your mastery of suspense thrillers is renowned across the globe, but you've mentioned you also wrote poetry and short stories when you were a young girl and earlier in your career. How did you find your niche?
My niche found me. In my twenties and thirties I had a houseful of kids. I managed to find the time to write short stories. At that time magazines such as the Saturday Evening Post would publish original fiction from new writers. The short story market dried up and I wanted to try something more lasting. Another key motivation was that my husband had died and money was tight. Although the historical novel Aspire to the Heavens didn't sell, it proved to me that I could start, stick with, and finish a book. I took a look at my bookshelf to see the types of novels I most enjoyed reading. They were mysteries and suspense stories. Three years later I finished Where Are the Children? and my life changed forever.
Your latest novel explores sexual harassment in the workplace in a post-MeToo world. What are your feelings on the movement, and its reverberations on the corporate and political level?
It goes without saying that women who are victimized should be listened to. Their accusations should be taken seriously. On the other hand, we have to recognize that not all accusations are true. The accused also have rights. It's tough to get the pendulum to stop in the correct place in the middle. I'm not a sociologist or a philosopher. I don't have solutions to the difficult issues raised by the MeToo movement. But as I thought more about it, I quickly recognized that a company going to extremes to cover its MeToo problems would be the basis for a good story.
Do you have any advice for young / aspiring writers?
The best advice ever given to me was, "Write what you know." Use the situation you're familiar with whether it's medical world, banking, academia, and set your story there. There's a better chance it will ring true. The other thing I would do is explore the opportunities to self-publish. If readers enjoy your story, they will recommend it to their friends.
Thank you, Mary Higgins Clark. ♦