Hosted by the Irish American Partnership, women's leadership breakfasts in Boston and Washington, D.C., featured Ambassador Samantha Power and Senator Joan Freeman, founder of Pieta House and Darkness Into Light.
Held in early January throughout rural Ireland, Nollaig na mBan, or "Women's Christmas," is an old custom for which women would gather and take a break from the housework associated with the festive period. For nearly a decade now, the Irish American Partnership has reinvigorated the traditional celebration of women's hard work and collaboration with breakfasts highlighting Irish female leaders and the positive impact these women have worldwide.
In Boston, former U.S. ambassador to the United Nations Samantha Power was recognized for her deep commitment to humanitarian causes and public service throughout an outstanding career in journalism, academia, politics, and diplomacy that has blazed a trail for the next generation of female leaders.
In a frank conversation with media powerhouse and Cork native Samantha Barry, editor-in-chief of Glamour, former ambassador Power discussed growing up in Dublin, her working relationship with former president Obama, balancing motherhood with the Security Council, and the power of one person to make a difference.
Ambassador Power credited her Irish roots with instilling the importance of storytelling within her – a skill that she expertly employed in her advocacy and diplomacy: "In my Irish family, being able to tell a lovely story has always been a means of fitting in and drawing people in," she explained.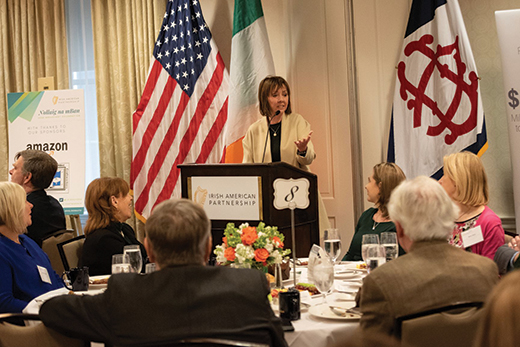 As part of the morning's program, the Partnership presented a $10,000 grant in Ambassador Power's honor to University College Cork, which will be used to fund an early intervention initiative in disadvantaged schools to introduce third-level education to young girls. The education-focused non-profit organization also donated a gift of $5,000 to Barry's primary school, Scoil Barra National School in Ballincollig.
At its eighth annual Washington, D.C., celebration, the Partnership awarded a $10,000 grant to Pieta House, Ireland's first suicide and self-harm prevention organization, in honor of its founder, Irish Senator Joan Freeman. Freeman was recognized for her groundbreaking advocacy and work administering therapeutic services to people in the acute stages of distress and their families, which changed the face of mental health in Ireland – and beyond. Throughout her accomplished career as a psychologist, advocate, and politician, Freeman stressed that the common thread has always been "being surrounded by strong, Irish women."
The Irish American Partnership connects Irish and Irish-American communities directly with education and community programs in Ireland, north and south, honoring its heritage by investing in Ireland's youth. Since 1986, the Partnership has raised more than $33 million for Irish children, students, schools, and communities in need, empowering the next generation by equipping teachers and community leaders with the resources they need to educate and inspire.
For more information on Irish American Partnership events, including its New York Leaders Breakfast on April 23, please visit www.irishap.org.