Tourism Ireland hosted a stellar event at The Lotte New York Palace Hotel in New York City on January 28 to launch its 2020 marketing plan – an extension of the 2019 "Fill Your Heart with Ireland" campaign. Guests from all over the U.S. and Ireland filled the beautiful ballroom at the Palace for a night of celebration and discussion.
Alison Metcalfe, Tourism Ireland's head of North America and Australia, opened the event with grace and style, and the good news that tourism is booming in Ireland, and that there are high hopes that this trend will continue into 2020 and beyond. She introduced Niall Gibbons, Tourism Ireland's CEO, who continued on a positive note, and made fast work of the figures, revealing that 11.2 million tourists visited Ireland last year, generating €5.8 billion for the economy and supporting 350,000 jobs all over the country.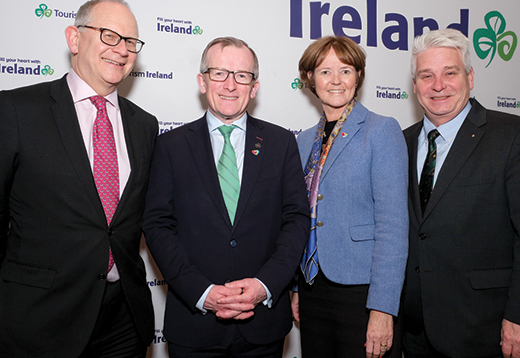 Metcalfe and Gibbons also touched on reasons why Ireland is a year-round destination, the many festivals in Ireland that run throughout the year that allow visitors a personal experience of meeting locals, and the "Green Is the New Black" plan to boost the annual Global Greening initiative with big sales around St. Patrick's Day, inspired by the North American Black Friday, when retail prices are heavily discounted for 24 hours.
Bill Byrne, the Aer Lingus executive responsible for the airline's North American business, also highlighted the ease of access, and the fact that all major U.S. cities now have direct flights into Dublin. An Irish American from Chicago, Byrne engaged the audience with recollections of his own travels to Ireland as a child and the long journey from Shannon to Mayo, contrasting that to a recent visit, when he drove from Dublin to Galway in two hours.
Another high point discussed was Galway City's designation as a European Capital of Culture.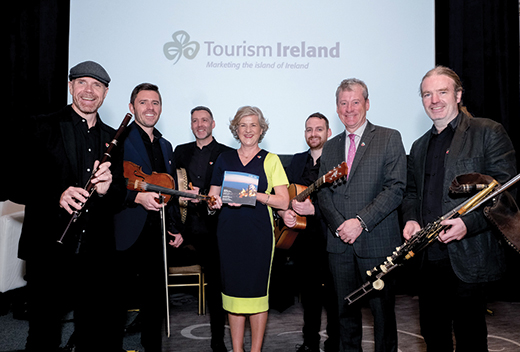 Bridgette Brew, Head of Tourism Engagement at Galway 2020 European Capital of Culture, talked about the program line-up, which includes an astonishing 2,000 events planned. She noted that while the city will serve as the central hub of the festivities, the region's landscape will also be a feature. One event is highly anticipated, and planned to coincide with St. Patrick's Day: Finnish artist Kari Kola is creating a massive light artwork that will illuminate the Connemara Mountains. ♦