---
---
Mayo on the west coast and Louth on the east, boast some of the most historic sites in Ireland, and now locals living in the area of the Cooley Peninsula and Ballina can expect many the curious traveler on the trail of President Joe Biden's Irish ancestors. (All images: Tourism Ireland).
---
Wee Louth and Mighty Mayo – what do they have in common? Well, certainly not their size nor their location in Ireland, but as it happens, they share one very important son: President Joseph Biden. With his mother's Blewitt ancestors hailing from Ballina, County Mayo, and her Finnegan family traced back to the Cooley Peninsula, Co. Louth, the 46th President of the United States has been hailed as the 'most Irish' U.S. leader since John F. Kennedy.
As the third-largest county in Ireland, Mayo is known for the length of its coastline (the longest in Ireland), its tenacious footballers, its majestic mountains, and its historical treasures. And now the county is delighted to count a US president among its famous sons and daughters.
Thirty years to the day after Ireland elected its first female president, Ballina native Mary Robinson, the north Mayo town clocked up another political win with the word filtering through that Joe Biden was on course to win the US presidency. Car horns sounded, champagne corks popped, the New York Times and other members of the world press watched on, and there was a definite sense of history being made.
Ballina, the capital of North Mayo, is the ancestral home of president Biden's great-great-grandfather Patrick Blewitt, who settled in Scranton, Pennsylvania in the mid-1800s. With a reputation as a world-class angling destination, and its mix of buildings old and new, the town is a picturesque place to visit, and the mix of beautiful scenery and historic treasures (including Moyne Abbey and Rosserk Friary) ensures there is something to suit all tastes.
Other well-known people with Mayo roots through the centuries include Granuaile (aka Grace O'Malley), land league campaigner Michael Davitt, inventor Louis Brennan, opera singer Margaret Burke-Sheridan, Admiral William Brown (founder of the Argentine Navy), former Taoisigh Charles Haughey and Enda Kenny, Princess Grace of Monaco, Olympian Martin Sheridan, prominent New Yorkers William and Paul O'Dwyer, and writer Sally Rooney.
Louth, on the other hand, is Ireland's smallest county in landmass terms, but it's also the second-most densely populated. Well-known sons and daughters include actor Pierce Brosnan, musical group The Corrs, soccer player Steve Staunton and Irish America co-founder Niall O'Dowd (although born in Tipperary, he grew up in Drogheda).
Named for Lúgh, one of the ancient Irish gods, Louth prides itself on being a land of legends, and on its connections to ancient stories, kings and heroes. The best-known of these stories is probably the Táin Bó Cuailnge (The Brown Bull of Cooley) – featuring Cúchulainn and warrior Queen Medb of Connaught, and a highly-prized bull in Louth.
The famed Cooley Peninsula, well known in Irish mythology and home to one of Ireland's loveliest scenic drive routes, was home to president-elect Biden's other great-great-grandfather Owen Finnegan, who moved with his family (including Biden's great-grandfather James) from their townland of Templetown to the US (first New York, and then Scranton) in the 1840s. Relations still living in the Louth area include Ireland rugby internationals Rob and Dave Kearney.
The gorgeous backdrop of the Cooley Mountains is an unmissable view from the ruins of Kilwirra (St. Mary's) Church at Templetown – the site is associated with the Knights Templar order founded in the twelfth century.
President Biden has already visited both counties, and promises to revisit at some point during his presidency – once travel resumes in the wake of the disruption caused by Covid-19 – but what can you expect to find if you visit either county in the near future? There are a slew of interesting places to see in both Mayo and Louth – sit back and let Irish America take you on a brief, whistle-stop tour of some of the highlights, all from the comfort of your armchair!
Left: Westport, Co. Mayo, a bridge over the Carrowbeg River. Right: Templetown Beach, Co. Louth. (Images: Tourism Ireland).
Must See Mayo: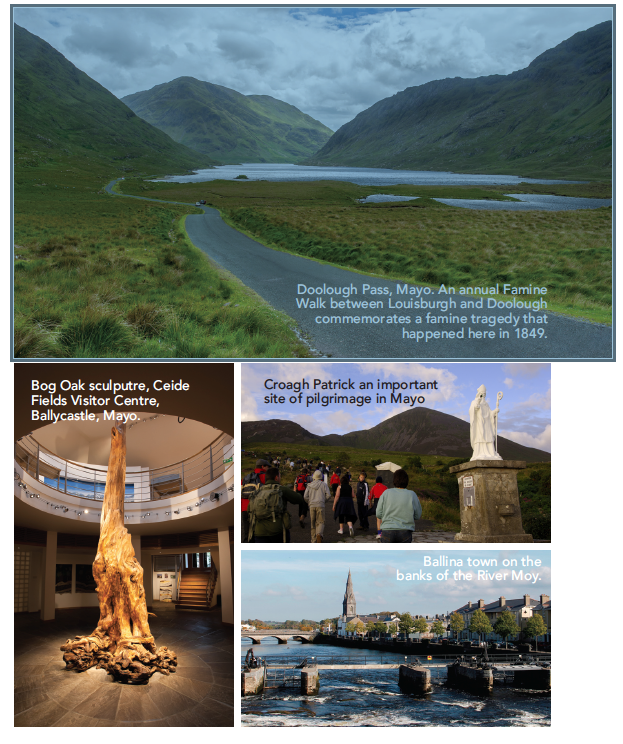 National Museum of Ireland – Country Life: its extensive folklife and folklore collection gives a great sense of what life was like in rural Ireland in days gone by.
Croagh Patrick: Mayo's iconic mountain, a place of pilgrimage and, in recent years, a feature in endurance races held in the town of Westport.
Great Western Greenway: forty-two kilometres of walking and cycling heaven which takes in the pretty towns of Achill, Newport, Mulranny and Westport.
Salmon Fishing on the River Moy: the beloved home away from home over many years for former Irish soccer manager Jack Charlton, who died earlier this year.
Jackie Clarke Collection: impressive private collection, housed in a renovated old bank building – includes letters from Michael Collins, Douglas Hyde and Michael Davitt, as well as personal items belonging to leaders of the 1916 Rising.
Ceide Fields: a tantalizing glimpse of prehistoric life and farming in Ireland.
Mayo Dark Sky Park: official recognized as one of the best places in the world to view the wonders of the night sky. Located in Ballycroy National Park, also worth a visit in daylight.
Westport House: the house itself is a treasure trove of décor, period features and portraiture, while the grounds house lovely walks and amusement rides for all ages.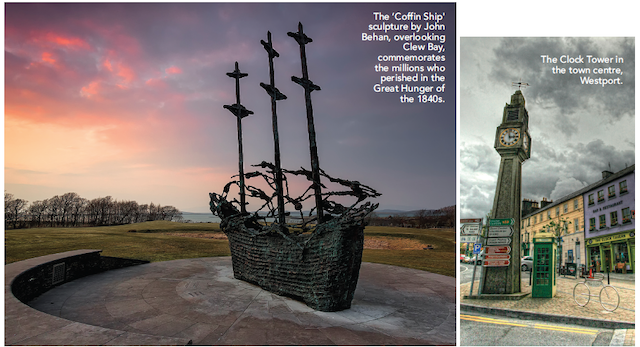 Let's Go Louth: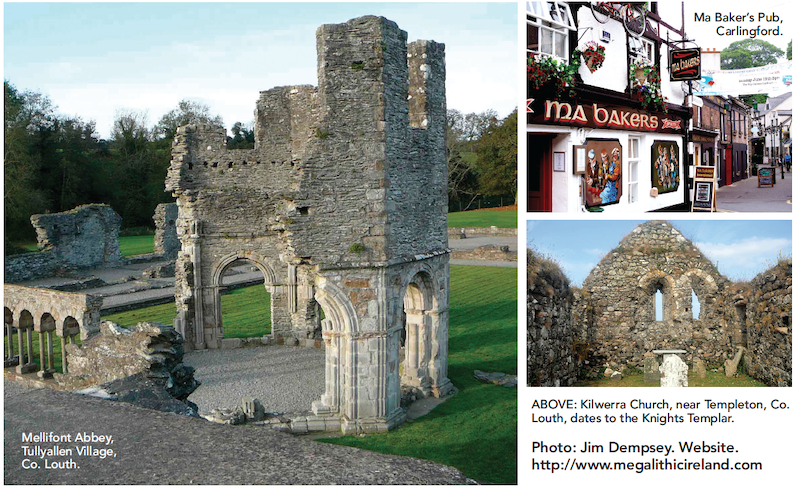 King John's Castle: also known as Carlingford Castle, it acquired the name King John's Castle after the monarch supposedly stayed there for a few days in the 11th century. According to local legend, he began to draft the Magna Carta there.
Monasterboice High Cross and Round Tower: the site includes the remains of two churches, and an earlier round tower. One of its three high crosses, an impressive five and a half metres tall, is regarded as the finest high cross in Ireland.
Millmount Museum and Martello Tower: originally settled by the Normans, and playing a crucial part in Drogheda's defence during the Cromwellian conquest, the fort is now a museum which can be seen from all parts of the town.
Ardee Castle: the largest fortified medieval Tower House in Ireland or Britain was used as Ardee's courthouse until 2006.
Cúchulainn's Stone: a standing stone near Dundalk, believed to date to the Bronze Age, and traditionally associated with the death of legendary Irish warrior Cúchulainn.
Old Mellifont Abbey: the headquarters of William of Orange during the Battle of the Boyne in 1690, and now largely in ruins, the Abbey is a national monument and is accessible to the public.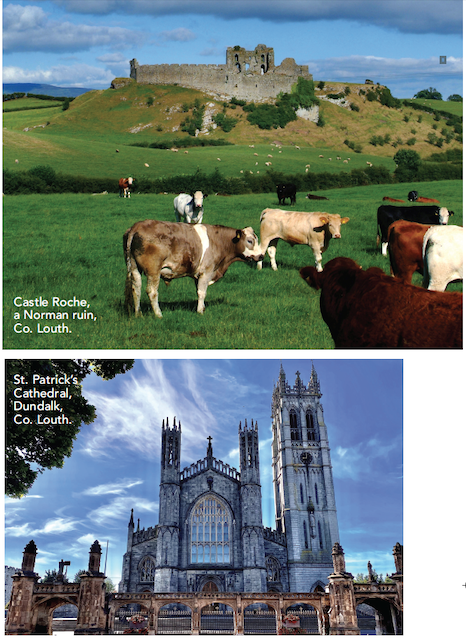 ---
Darina Molloy, former assistant editor of Irish America magazine, returned to live in her native Mayo in the spring of 2000, after six very enjoyable years in New York City, with her husband and (then) baby daughter. The intervening years in Mayo have produced three more children and a career change from journalist to librarian. So, she still works with words, just from a different vantage point.
---